Republican senators are trailing Democratic challengers in several races nationwide, including contests in Arizona, Iowa, Maine and North Carolina.
The Senate is currently controlled by Republicans, who hold 53 seats in the upper chamber. Democrats have 45 seats, and two seats are held by independents who caucus with the Democratic Party. In the November election, Democrats aim to flip the balance of power, meaning they'd have to maintain all their current seats while also picking up four now held by Republicans.
GOP Senators Martha McSally in Arizona, Joni Ernst of Iowa, Susan Collins in Maine and Thom Tillis in North Carolina all appear to be falling behind their Democratic rivals, according to the latest polling averages compiled by Real Clear Politics. McSally trails her challenger, Mark Kelly, by about 5 points, while Ernst lags behind Theresa Greenfield by an average of 1 point. Sara Gideon is ahead of Collins by about 2.5 points, and Tillis trails Cal Cunningham by an average of 4.2 points.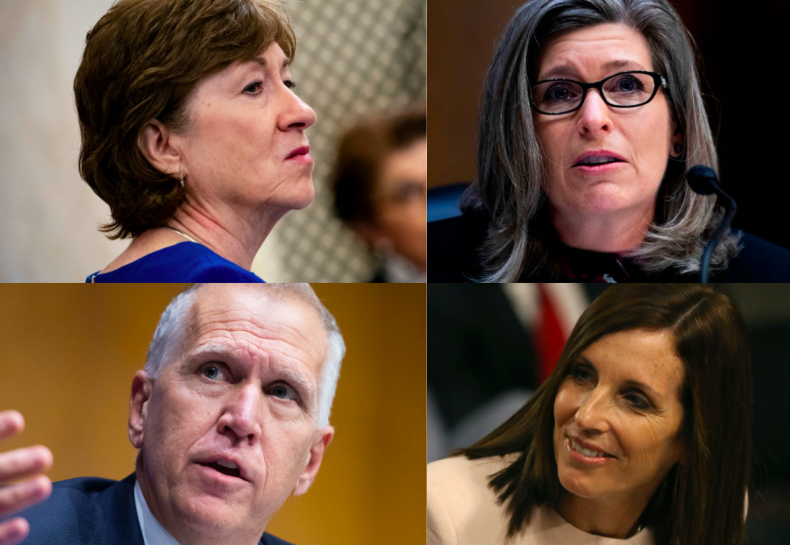 The most recent poll out of Arizona, conducted by CNBC/Change Research from July 10 to 12, showed Kelly, an astronaut and engineer, with the support of 52 percent of voters, compared with McSally's 45 percent. However, another recent survey, carried out by CBS News/YouGov from July 7 to 10, showed a narrower lead of just 4 points, with Kelly backed by 46 percent and the GOP incumbent supported by 42 percent. Another July poll, by OH Predictive Insights, shows Kelly ahead by 9 points, 52 to 43 percent.
In Iowa, the polls show a tight race between Ernst and Greenfield. The most recent survey in the state, conducted by The Des Moines Register from June 7 to 10, shows Greenfield ahead by 3 points, with 46 percent to Ernst's 43 percent. But a Public Policy Polling survey from April showed Ernst narrowly ahead, backed by 43 percent of voters, compared with Greenfield's 42 percent.
Collins trails Gideon by 4 points in the most recent poll in Maine, which was conducted from July 2 to 3. In that survey, Collins was backed by 42 percent of respondents, while her Democratic challenger was supported by 46 percent. A previous poll, carried out in February by Colby College/SocialSphere, showed Gideon ahead by 1 point, with 43 percent, compared with Collins' 42 percent.
Cunningham appears to have a more significant lead against Tillis in North Carolina. A survey conducted by CNBC/Change Research from July 10 to 12 showed the Democrat ahead by 7 points, supported by 49 percent, compared with Tillis' 42 percent. Public Policy Polling found similar results in a separate July poll, which showed Cunningham ahead by 8 points, with 47 percent compared with the incumbent Republican's 39 percent.
If Democrats manage to flip the seats in Arizona, Iowa, Maine and North Carolina while maintaining all their current seats, they would gain a Senate majority of 51 seats to the GOP's 49. However, incumbent Democrats could lose tight races as well. In Alabama, Democratic Senator Doug Jones is facing a difficult challenge from Republican candidate Tommy Tuberville. If Republicans and Democrats split the Senate, with 50 seats each, any tied votes will be decided by the vice president, making the presidential race all the more significant to both parties.
Currently, presumptive Democratic candidate Joe Biden appears to have a significant advantage over President Donald Trump. A poll published Sunday by ABC News/The Washington Post showed Trump trailing Biden by 15 points nationwide among registered voters. Separate polling from July by Fox News showed Trump behind by 8 points, with just 41 percent backing the president and 49 percent supporting Biden.