Republicans' County Fair 'Squad' Dartboard Promotes 'Violence Against Women of Color,' Democrats Say
A pair of booth games set up by a local Pennsylvania Republican Party featured the faces of several Democratic Party congresswomen and drew accusations of "violence against women" and "childish" behavior.
The chairman of the Fayette County GOP said a dartboard featuring the tacked-up photographs of "Squad" members Alexandria Ocasio-Cortez, Rashida Tlaib, Ayanna Pressley and Ilhan Omar as well as other Democratic leaders was "all in total fun." But the Pennsylvania Democratic Party and a few Fayette County Fair attendees in Uniontown said the dart game encouraged "violence against women of color" at a family event in which children are present.
The county GOP group took down the dart board this week after several social media posts blasted it as "extreme poor taste."
But Chairman Bill Kozlovich told KDKA-TV he will keep the cornhole (bags) boards which has holes drilled in the mouths of Democratic House Speaker Nancy Pelosi, Senator Chuck Schumer, California congresswoman Maxine Waters and Pennsylvania Governor Tom Wolf.
"This was just a way of people having a little fun and a conversation starter," Kozlovich told the Pittsburgh Tribune-Review Wednesday. "It was for people to have fun and laugh at. I quit taking count of how many people came up and said, 'Where's the board?,' 'I don't see the boards,' 'I want to play.'"
"It was all in total fun, there was no malice involved," he added to CBS Pittsburgh, explaining the corn hole game has been around for years. "You got to have a little fun. I don't care if you're a Democrat or a Republican."
But one lifelong Fayette County Fair visitor railed against the event as inappropriate for a family-friendly event, saying the "Squad" dartboard inspires "violence against women" and "racism."
"When you have faces of women on a dartboard, I just think that sends the wrong message on so many different levels, violence against women, the whole question of racism comes in," Cunningham told KDKA-TV. "It took it to a level of violence and divisiveness that I haven't seen before. If the Democrats had it in their booth, I would have had the same reaction. I just don't think it has a place anywhere."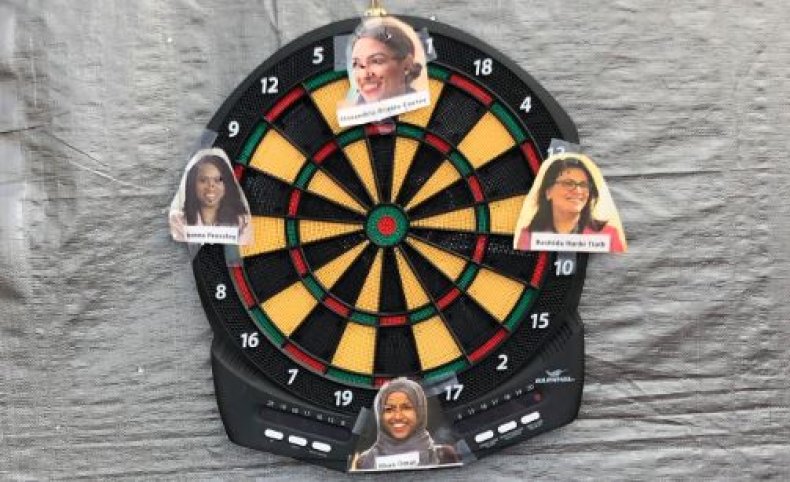 A Republican representative for Fayette and Somerset counties joined the state Democratic Party in criticizing the local GOP booth's choice of games.
"I was shocked to learn about the recent actions taken at the Fayette County Fair and cannot stress enough how wrong it was. Disagreement over issues is the basis of our republic and part of a healthy democracy, but when that disagreement veers into anything that can be seen as promoting violence against others, it is simply unacceptable," Rep. Matthew Dowling said in a statement.
The outdoor tent featured a "#walkaway" sign encouraging fair attendees to change their voter registration over to the Republican Party using the popular conservative hashtag. Pictures posted to social media also show a cardboard cutout of President Donald Trump giving a thumbs up and a campaign poster for Republican Fayette County clerk of courts candidate Tina Allen, a North Union Township resident.
"This is unacceptable and in extreme poor taste. Is this what the Republican party has come to?" another angry attendee wrote on Facebook Monday.
The Pennsylvania Democratic Party also issued a statement criticizing the local GOP group as well as calling on the state GOP chairman to "condemn white supremacy."
"Today, we called on the PA Republican Party's new chairman, Lawrence Tabas, to condemn white supremacy within his party and put forth a plan to combat it locally. Richard, the PA GOP can't be silent when Fayette County Republicans simulate violence against Congresswomen of color, tossing darts at their faces as children look on."