Republican State Senator Defends Saying Biological Parents Should Raise Children: 'Designed by Our Creator'
A Republican state senator in Indiana defended his position that biological parents should be the ones to raise children, excluding same-sex couples, single parents and blended families, among other nontraditional familial arrangements.
In a post on his campaign website, Senator John Crane said, "Marriage, as designed by our Creator, is to be between a man and a woman. And social science has repeatedly confirmed that the ideal scenario for a child's well-being is to be raised in a home where both biological parents are present and lovingly invested in their upbringing."
He continued, "We recognize that in our fractured world, the real is not always the ideal. And yet, because the ideal model of marriage and family serves the best interests of all people and societies, it should be pursued whenever possible."
Crane defended the post, which he said was written back in 2016 when he was running for his first term, to The Indianapolis Star. "I don't think I'm going to pursue any personal legislation to that end, but everything we are doing within government is trying to do what we believe is right," he said.
However, Crane has been previously criticized for other legislation that affects the LGBTQ community, such as a bill he co-authored that would have required transgender residents to provide medical paperwork to identify a gender different from their birth gender on their driver's license. The bill was not passed.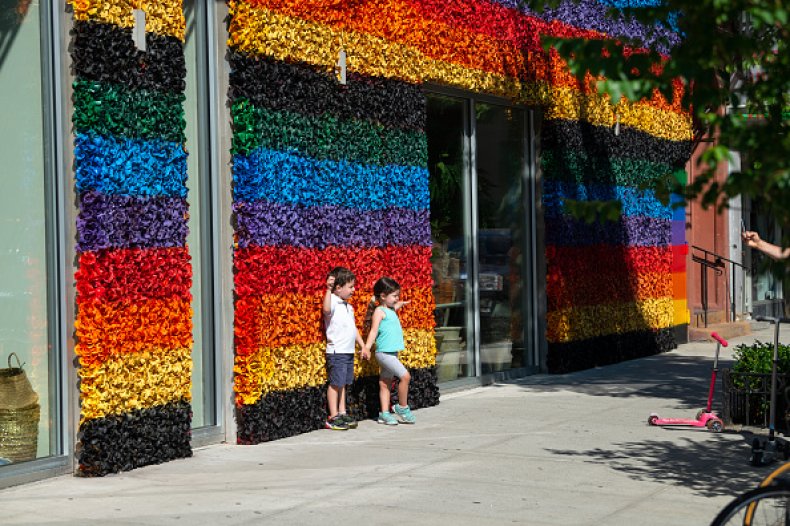 The senator's Democratic opponent in the upcoming election penned an op-ed for LGBTQ Nation condemning Crane's position. "I'll put this bluntly: LGBTQ families in Indiana are under attack by my opponent John Crane simply because of DNA," Stan Albaugh wrote.
Albaugh, a U.S. Air Force veteran who is the parent of a blended family, said, "Blood does not define family—love does." He went on to defend LGBTQ mothers and fathers, who "have shown America the love they give their children is the same as straight families."
Crane's remarks were also criticized by Indiana's first openly gay lawmaker, state Senator J.D. Ford. Ford called out Crane in a Facebook post, saying, "I am tired of my Republican colleagues pretending to care when I know just how they feel."
"I reject Senator Crane's notion that I wouldn't be a good dad. Being a dad is something I've always considered and to see Senator Crane say being a dad isn't "ideal" is hurtful if I'm being honest. How does he get to decide who will be a good dad and who is not?" Ford wrote.
Crane told the Star that Ford had taken his comments "out of context."
"It's my position that a kid needs a good mom and a good dad," Crane said. "[Ford] assumed that meant I thought he would not be a good dad."
He said he understands his parenting views cannot always be pursued and commended those who are forced to raise children outside of a traditional marriage. "Blended families and single moms are doing their best to raise kids. I think it's a very noble task," Crane said.
Newsweek reached out for comment to Crane's office, which said he had nothing to add "to his basic position that he believes kids need both moms and dads."
Correction 07/23/20 4:53 p.m. EDT A previous version of this story said Albaugh was a Navy veteran.