Ex-Republican Strategist Believes Pence Will Be Replaced, Suggests Nikki Haley 'Wants To Be Vice President'
In a Tuesday interview on MSNBC's Morning Joe, former Republican strategist Steve Schmidt theorized that former U.S. Ambassador to the United Nations Nikki Haley "wants to be vice president on the Republican ticket in 2020." Schmidt also said he believes that Vice President Mike Pence is waiting to be cut loose by President Donald Trump in favor of Haley.
Schmidt, who worked on campaigns for George W. Bush, Arnold Schwarzenegger, and John McCain, told MSNBC that Haley's claims that former Secretary of State Rex Tillerson and former White House Chief of Staff John Kelly were forming a coup against Trump are "not particularly credible," but were indicative of her political aspirations.
"She wants to be vice president," Schmidt told host Willie Geist. Schmidt, who renounced his GOP membership in June 2018 in opposition to the Trump administration and Republicans' unwavering support for it, also speculated that Haley is positioning herself in Trump's good graces and would serve his interests well. "[Trump] has an enormous problem with women, suburban women particularly. He's entirely transactional; loyalty is a one-way street," he said, suggesting that Haley's memoir With All Due Respect was entirely motivated by her efforts.
Schmidt also posited that Pence is likely aware of his precarious standing. "I think Mike Pence is probably hanging out back there thinking, 'Hey, I've got a 1 in 365 chance at picking the day that Trump's going to dump me from the ticket and put her on,'" Schmidt said. He also explained that Haley "would serve [Trump's] immediate political interests in a way that Pence can't."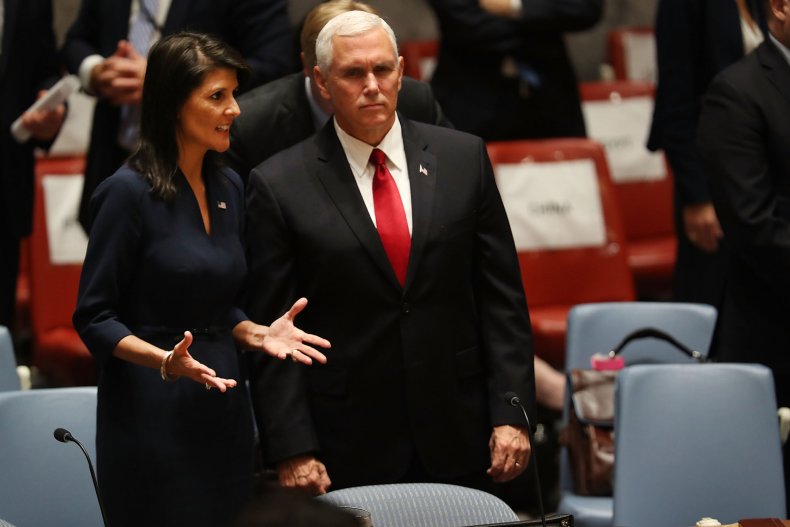 While promoting her new book, which came out Tuesday, Haley has spoken about her experiences working with Tillerson and Kelly. She has continually noted that the two tried to "undermine" Trump from inside his cabinet. "Tillerson went on to tell me the reason he resisted the president's decisions was because, if he didn't, people would die," Haley said in a CBS Evening News interview on Sunday. She criticized the decision to anchor Norah O'Donnell. "Instead of saying that to me, they should've been saying that to the president," she said.
Reinforcing her loyalty to Trump, Haley has also spoken out against the ongoing impeachment inquiry in the House of Representatives. "Impeachment is literally the worst punishment you can do to a public official, and here you've got a situation where there was no investigation and the aid flowed as it was supposed to," she said during an appearance on NBC's Today on Tuesday.