Republican Suggests 'All Our Foreign Aid is Quid Pro Quo': 'That's a Relatively Common Occurrence'
Republicans have argued that all U.S. foreign aid amounts to "quid pro quo" and suggested it "doesn't matter much anymore" if the ongoing impeachment inquiry finds that President Donald Trump withheld military aid to Ukraine in attempt to pressure the country to investigate a political rival.
One GOP representative reportedly told The Washington Examiner there were few in the party's midst who would consider impeaching the president, even if there was no longer doubt of a quid pro quo existing regarding aid to Ukraine.
Speaking to the website, another Republican questioned whether anything discussed in the impeachment inquiry "merits throwing out the votes of 63 million people."
The comments were published by The Washington Examiner as public impeachment inquiry testimonies increased pressure on the White House and President Trump, who has been accused of temporarily refusing to release military aid if Ukraine did not announce investigations into former Vice President Joe Biden, his son Hunter Biden, and a conspiracy theory concerning Democratic National Committee servers.
In the latest public impeachment hearing, U.S. Ambassador to the European Union Gordon Sondland told lawmakers and TV cameras that the president's personal attorney Rudy Giuliani demanded Ukraine announce the investigations in exchange for the arrangement of a White House visit for Ukrainian President Volodymyr Zelenskiy.
The diplomat also said he "came to believe that the resumption of security aid would not occur" until probes into Biden and the Democratic Party were launched.
Sondland's testimony on Wednesday came after former National Security Council official Tim Morrison, giving testimony on Tuesday, said Sondland told Zelenskiy's aide Andriy Yermak that "the Ukrainians would have to have the Prosecutor General make a statement with respect to the investigations" if they wanted military aid to be released.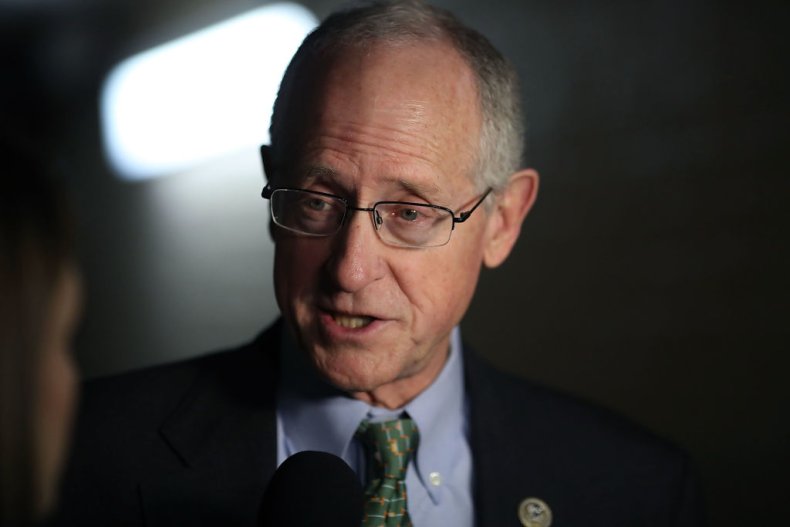 Speaking to The Washington Examiner as the impeachment inquiry kicked up a notch, Rep. Mike Conaway of Texas said: "Asking people to do something in order to get the foreign aid, that's a relatively common occurrence with all of our foreign aid.
"You could say all of our foreign aid is quid pro quo."
Rep. Tom Cole of Oklahoma also told the outlet that his colleagues were not worried about any quid pro quo, arguing it "doesn't matter much anymore."
His House GOP colleague Mario Diaz-Balart also questioned whether there was any information unveiled during the impeachment inquiry that warranted "throwing out the votes of 63 million people," suggesting he saw no case for President Trump's removal from office.
The comments obtained by The Washington Examiner mark a change in the Republican approach to impeachment proceedings since the party's defense strategy was leaked earlier this month.
In the 18-page document, the GOP were far less blasé about the possible existence of a quid pro quo, and seemed to be focused on making points "fatal to the Democrats' allegations."
House Republicans were instructed to hone in on the fact that both Trump and his Ukrainian counterpart Zelenskiy said there was "no pressure" on the July phone call between the leaders that prompted the launch of the impeachment inquiry.
The document also drew Republicans to the fact aid was eventually released without investigations taking place or being announced.
GOP representatives will be involved in further public impeachment hearings this week, with Laura Cooper, the deputy assistant secretary of defense for Russia, Ukraine and Eurasia due to appear in front of lawmakers on Wednesday afternoon.