Republican Support for Trump's Handling of Coronavirus Plummets 12 Points: Poll
Republicans approval rating of President Donald Trump's handling of the novel coronavirus pandemic has decreased by 12 points, according to a new poll.
The poll, which was conducted by ABC News/Ipsos, surveyed 711 U.S. adults from July 7-8. The poll has a margin of error of plus or minus 4.1 percentage points.
According to the poll, 78 percent of Republicans said they approve of Trump's handling of the coronavirus, while 22 percent said they disapprove. In a similar poll, also conducted by ABC News/Ipsos from mid-June, 90 percent of Republicans approved of Trump's handling, showing a decrease by 12-points among this group.
Overall, the poll found that regardless of political party affiliation, 67 percent of Americans said they disapprove with Trump's handling of the ongoing pandemic, and 33 percent said they approve. The percent of Americans who say they support Trump's virus response is a decrease from previous polls, as one conducted in mid-June showed 41 percent of Americans approving.
Throughout the novel coronavirus pandemic, Trump has received criticism for his response, with many feeling that he has downplayed the severity. During a Fourth of July event in Washington D.C. Trump suggested that almost all of the cases of the novel virus were "totally harmless."
"Now we have tested almost 40 million people. By so doing, we show cases, 99 percent of which are totally harmless," Trump said at the time. "Results that no other country can show, because no other country has the testing that we have, not in terms of the numbers or in terms of quality."
Despite Trump's remarks, the new coronavirus, which causes the respiratory disease COVID-19, has infected over 3.1 million Americans, as well as causing at least 133,291 deaths.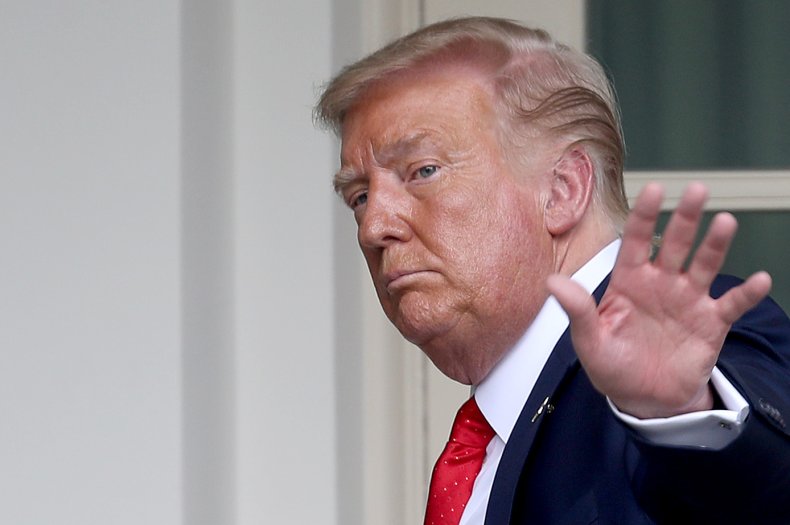 The poll also found that a majority of Americans disapprove Trump's handling of race relations in the U.S. According to the poll, 67 percent of Americans said they disapprove while 32 percent said they approve.
Following the death of George Floyd, a Black man who was in police custody on May 25, protests rallying against police brutality on Black Americans erupted across the country. During a press conference at the White House's Rose Garden shortly after Floyd's death, Trump referred to the protesters as an "angry mob."
At an early Fourth of July celebration at Mount Rushmore, Trump made similar comments in regard to Americans who want to take down controversial statues linked to racist actions.
"We are now in the process of defeating the radical left, the anarchists, the agitators, the looters, and the people who, in many instances, have absolutely no clue what they are doing," he said. "We will never allow an angry mob to tear down our statues, erase our history, indoctrinate our children."