Republican Ted Yoho Apologizes to Ocasio-Cortez But Denies Profane Encounter
Representative Ted Yoho of Florida issued a public apology on Wednesday for reportedly making profane comments to a colleague from across the aisle: Representative Alexandria Ocasio-Cortez, a first-term Democratic lawmaker from New York.
But while Yoho apologized, he denied that he called her a "f****** b****," as The Hill reported Tuesday.
"I rise to apologize for the abrupt manner of the conversation I had with my colleague from New York. It is true that we disagree on policies and visions for America, but that does not mean we should be disrespectful," Yoho said.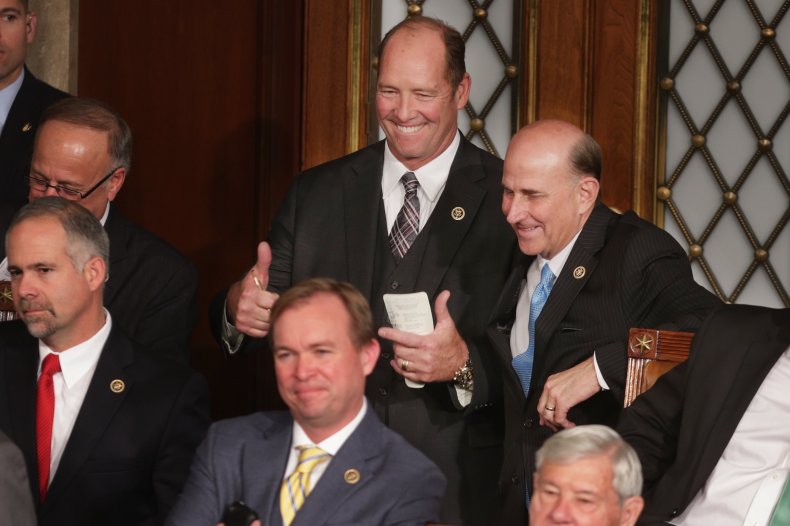 The encounter in question occurred on the front steps of the Capitol earlier this week and was overheard by a reporter. The Hill reported that the retiring Republican called the liberal firebrand "disgusting" and "out of your freaking mind" for suggesting poverty and unemployment were tied to a rise in New York crime. He later uttered "f****** b****" as he descended the Capitol steps, according to The Hill.
Yoho went on to refute the details of the exchange.
"Having been married for 45 years with two daughters, I'm very cognizant of my language. The offensive name-calling, words attributed to me by the press were never spoken to my colleagues," Yoho said. "And if they were construed that way, I apologize for the misunderstanding."
Yoho, a member of the conservative House Freedom Caucus who hails from Florida's rural north central region, vowed to "conduct myself from a place of passion and understanding." But he added: "I cannot apologize for my passion or for loving my God, my family and my country."
Ocasio-Cortez rejected Yoho's apology, saying on Twitter that it was "not an apology" accused the Republican of "refusing responsibility."
"I will not teach my nieces and young people watching that this an apology, and what they should learn to accept," she wrote, and went on to list her grievances. "Does not apologize or name any action he did. Does not accept responsibility. Lies (this was not a 'conversation,' it was verbal assault). Distracts by making it abt poverty (ironically). Says everyone else is wrong and the incident never happened."
Yoho's remarks came after House Minority Leader Kevin McCarthy (R-Calif.) spoke with him on Tuesday about the confrontation. Despite Ocasio-Cortez's criticism of Yoho's apology, House Majority Leader Steny Hoyer (D-Md.) said it was "appropriate" and hoped Yoho "feels that apology sincerely."
"The way we treat one another matters. Mr. Yoho needed no apology for his passion about poverty and for the downtrodden," Hoyer said on the floor. "But he ought to remember and acknowledge to whom he spoke so inappropriately was one of the strongest fighters in this Congress for those with the least, those who are downtrodden, those who are forgotten."
The encounter in front of the Capitol building was Ocasio-Cortez's first interaction with Yoho, according to the congresswoman. She posted a video to her Instagram account Tuesday evening, along with the song "Boss Bitch."
"I never spoke to Rep. Yoho before he decided to accost me on the steps of the nation's Capitol yesterday," Ocasio-Cortez tweeted Tuesday. "Believe it or not, I usually get along fine w/ my GOP colleagues. We know how to check our legislative sparring at the committee door. But hey, 'b*tches' get stuff done."
At least one prominent Republican came to the defense of Ocasio-Cortez in the wake of the incident, along with Democrats: Representative Matt Gaetz (R-Fla.), who often directs provocative rhetoric at Democrats.
"I can confirm that AOC gets along w many of her Republican colleagues on a range of things that don't have anything to do w legislation or politics," Gaetz tweeted Tuesday. "She is not a bitch."
This story was updated to include a tweet from Rep. Ocasio-Cortez.