A Republican lawmaker in South Dakota told a mother on Tuesday that he wasn't responsible for her family's health after she advocated a school mask mandate because members of her family have cancer.
The school board in Rapid City was meeting on September 7 to discuss the possible imposition of a two-week face mask mandate amid a surge in COVID cases in western South Dakota following the Sturgis Motorcycle Rally.
Phil Jensen, a member of the South Dakota House of Representatives, responded to one woman's comments by saying that he had empathy for her situation, but was not responsible for the health of her family.
During the meeting the woman, who was wearing a mask, said she relied on emails from the office of Superintendent Lori Simon to decide whether she should send her 12th grader to school each day.
She said that members of her family had cancer.
"COVID will kill them if they get it," the woman said.
Jensen responded to the woman's comments, first saying that he empathized with her position.
"But you know, I'm not responsible for your family's health," the Republican said.
Reporter Arille Zionts of South Dakota Public Broadcasting News attended the meeting and reported that Jensen had also said: "I'm not responsible for your family's immune system. We are all responsible for ourselves."
His remarks were reportedly met with both cheers and boos. Jensen has been a member of the state's house of representatives since January, 2021, and previously served in the state senate from 2013 to 2021. He was also a member of South Dakota house of representatives from 2009 to 2013.
The school board ultimately voted against imposing the two-week mask mandate, with just two members—Amy Policky and Clay Colombe—voting in favor of the measure. However, the board also voted 6-0 in favor of updating the district's COVID dashboard with building-specific numbers. This measure had been sought by those advocating a mask mandate.
Policky argued in favor of the mandate at the meeting, saying: "The hospitals are being taxed. Our schools are being taxed."
"Parents are not keeping their kids home when they're sick," Policky said.
However, school board president Kate Thomas, who has opposed mask mandates, told the meeting: "We can't and don't have the power to even talk about what parents are doing with their kids."
Rapid City Area Schools (RCAS) tracks the number of students and staff who have been diagnosed with COVID and who are self-isolating. At the time of writing, there were 35 active COVID cases among staff and 254 among students.
Additionally, 47 staff and 560 students were in isolation, while RCAS reported 118 of total recovered cases.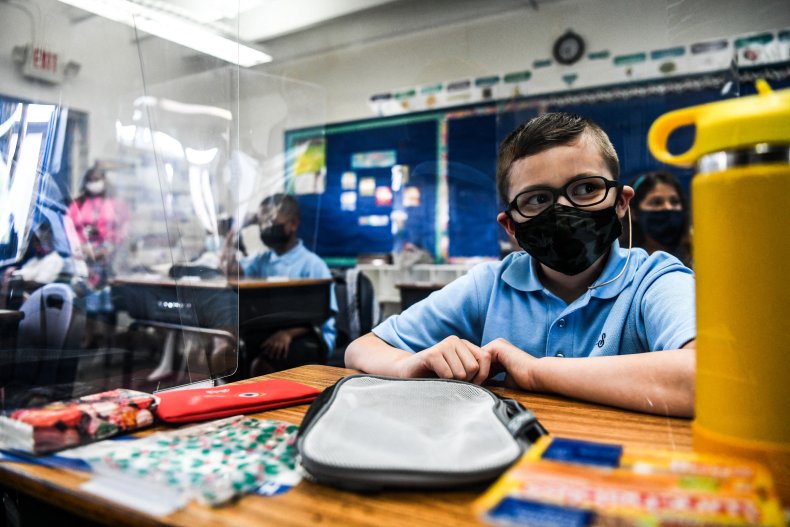 About the writer
Darragh Roche is a U.S. News Reporter based in Limerick, Ireland. His focus is reporting on U.S. politics. He has covered the Biden administration, election polling and the U.S. Supreme Court. Darragh joined Newsweek in 2020 from PoliticusUSA and had previously worked at The Contemptor. He attended the University of Limerick, Ireland and ELTE, Hungary. Languages: English, German.
You can get in touch with Darragh by emailing d.roche@newsweek.com.