Republican Tests Positive for COVID, Becomes 9th Confirmed or Presumed Case in Congress
Virginia Rep. Morgan Griffith tested positive for the novel coronavirus on Tuesday, becoming the ninth congressional member with either a lab-confirmed or presumed case of the respiratory infection.
Griffith's office announced his diagnosis in a statement shared to the Republican congressman's website. It confirmed the Griffith's symptoms are mild, and said he planned to carry out his usual responsibilities remotely during isolation.
"Congressman Morgan Griffith (R-VA) today was informed that he tested positive for COVID-19. Upon developing possible symptoms, he took the test and has since been self-isolating," read Tuesday's announcement. "Although he does not currently have significant symptoms, he will continue to self-isolate as he performs his duties on behalf of Virginia's Ninth Congressional District."
Newsweek reached out to Congressman Griffith's office for additional comments but did not receive a reply in time for publication.
Griffith's diagnosis followed eight confirmed or presumed cases of the coronavirus identified among congressional representatives. Florida Rep. Mario Díaz-Balart and Utah Rep. Ben McAdams were the first Congress members to test positive for COVID-19 on March 18. Four days later, Kentucky Senator Rand Paul announced he tested positive as well.
Paul's diagnosis came less than one week after his father, former Texas Congressman Ron Paul, wrote an article titled, "The Coronavirus Hoax," which his Institute for Peace and Prosperity published as a blog post online.
"Governments love crises because when the people are fearful they are more willing to give up freedoms for promises that the government will take care of them," the article suggested. Ron Paul identified as a Republican during his time in Congress, but later became affiliated with the libertarian party.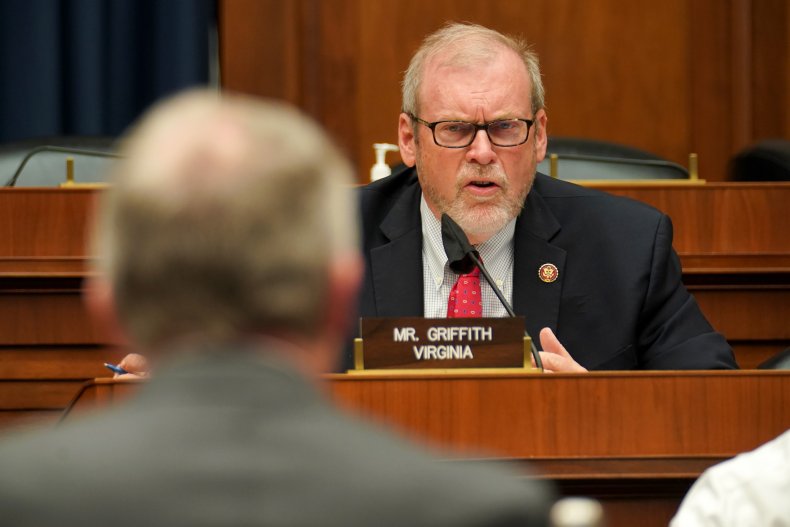 Three other House representatives—Florida Democrat Neal Dunn, Pennsylvania Republican Mike Kelly, and South Carolina Democrat Joe Cunningham—announced their respective COVID-19 diagnoses between late March and early April. All self-isolated and later recovered from the illness.
New York Rep. Nydia Velázquez, a Democrat, said she was diagnosed with a presumed COVID-19 infection on March 30. She has since recovered.
"In the wee hours of Sunday morning, I began to feel under the weather. I developed the abrupt onset of muscle aches, fevers, nasal congestion and stomach upset," Velázquez said in a statement. "I noticed that I could no longer smell my perfume or taste my food. After speaking with The Attending Physician by phone, I was diagnosed with presumed coronavirus infection."
South Carolina Rep. Tom Rice, a Republican, tested positive for COVID-19 last month. He announced the diagnosis in a June 15 Facebook post. Before Griffith's announcement on Tuesday, Rice was the most recent member of Congress to contract the disease.