Republican Tim Scott Calls Joe Biden's 'You Ain't Black' Remark 'Demeaning' and 'Race-Baiting'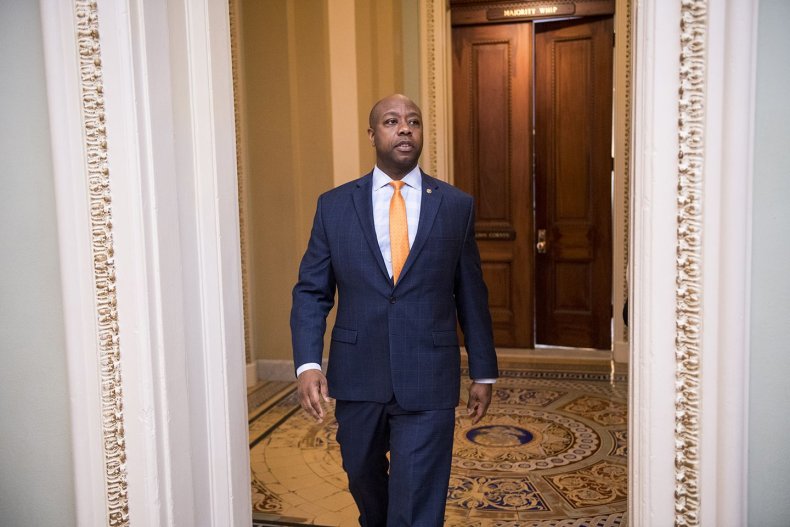 U.S. Sen. Tim Scott, the only black Republican in the chamber, accused presumptive Democratic presidential nominee Joe Biden of "race-baiting" after the former vice president told a radio host that he "ain't black" if he'd vote for President Donald Trump's reelection this fall.
"That is as arrogant and offensive and demeaning as I can imagine in this time we are living," the South Carolina senator told reporters Friday.
Scott, a vocal Trump supporter, called on Democrats to disavow Biden's remarks and tell Biden to stop making inflammatory statements.
"Race-baiting in the 21st century is an ineffective tool to attract one of the most intelligent voting blocks in the nation," he said.
Biden, 77, capped his video interview on the popular The Breakfast Club syndicated morning show by telling host Charlamagne tha God, "If you have a problem figuring out whether you're for me or Trump—then you ain't black!"
The comment has drawn swift backlash, particularly from the Trump campaign and his supporters.
"Only white liberals can get away with saying things like this," Trump campaign adviser Katrina Pierson told reporters in a Friday conference call.
"He truly believes that a 77-year-old white man should be able to dictate whether or not you are black based on whether you support him or not."
The Biden campaign has defended the remarks as being a joke.
Representatives from Biden's campaign did not respond to Newsweek's request for comment by publication.
However, Biden adviser Symone D. Sanders tweeted: "The comments made at the end of the Breakfast Club interview were in jest, but let's be clear about what the VP was saying: he was making the distinction that he would put his record with the African American community up against Trump's any day. Period."
CBS News reported that Biden apologized for his "cavalier" remarks during a call with black business leaders Friday.
"I should not have been so cavalier. I've never, never, ever taken the African American community for granted," Biden said on the call, according to CBS reporter Ed O'Keefe.
Trump and his campaign advisers have made regular appeals to black voters in recent weeks—hoping to chip away at a crucial Democratic voting bloc and one that has been of particular importance to Biden.
During a campaign stop in Michigan on Thursday, Trump held a "listening session" with leaders of the local black community and he's made frequent appeals by touting what he says are wins for communities of color under his tenure.
"One of the things I was most proud of was the minority community and all of the work we've done for the minority communities," Trump said during a Cabinet meeting Tuesday, reminiscing about the nation before the coronavirus outbreak took hold this spring. "Black unemployment, Hispanic unemployment, Asian unemployment was the best ever in the history of our country. We've never had anything like it. We've never had so many African American jobs ever in the history of our country, by far."
But Trump has faced backlash for incendiary and offensive remarks he's made about minority communities, as well, including calling the late U.S. Representative Elijah Cummings' Baltimore-based, majority-black congressional district a "rat and rodent-infested mess."
Scott defended the president and said he's held to a higher standard when he makes gaffes.
"Anytime the president sneezes inappropriately it's on the front page of the newspaper," Scott said on the call with reporters. "The press continues to give Democrats and Biden, specifically, a pass."
Scott also defended Trump's record in office, citing the promotion of Opportunity Zones in low-income communities, criminal justice reform and other policies that he said have bettered the African American community.
"I would love to have a policy discussion about what's happened in the past three years and compare it to the success and progress of, frankly, any other president," Scott said.
Trump, who was a frequent guest on the raunchy Howard Stern Show before becoming president, hasn't been on The Breakfast Club, but Pierson said she wouldn't rule it out.
"I'm a big fan of going to places where our voices aren't really heard," she said.