Republican Trump 2020 Challenger Slams President For Poll Numbers Rant on 9/11 Anniversary: 'He's Sick'
Former congressman Joe Walsh, who is primarying Donald Trump for the Republican nomination, slammed the president for tweeting about negative poll numbers on the anniversary of the September 11 terror attacks.
"It's not funny. On the morning of the 18th anniversary of 9/11, Donald Trump goes on a tweet storm complaining about how he's being treated," Walsh wrote on Twitter. "It's not funny. It's sick. He's sick. He's utterly unfit. He's INCAPABLE of thinking about anything but himself," Walsh added. The Tea Party conservative announced his primary bid against Trump in August, stating that the country couldn't take another four years of this leadership.
Trump spent a large part of Wednesday morning complaining about how "Fake News" media has treated him, especially the widespread coverage of his sinking approval ratings. He also spent time railing against his Federal Reserve chairman amid growing fears of a recession.
"If it weren't for the never ending Fake News about me, and with all that I have done (more than any other President in the first 2 1/2 years!), I would be leading the "Partners" of the LameStream Media by 20 points. Sorry, but true!" Trump wrote in one post.
The president discussed these topics in at least six tweets, while only posting about the 9/11 anniversary twice. One tweet was a photo featuring him and Melania Trump with the caption: "We will never forget." The other read: "Leaving the White House soon to speak at the Pentagon. My great honor!"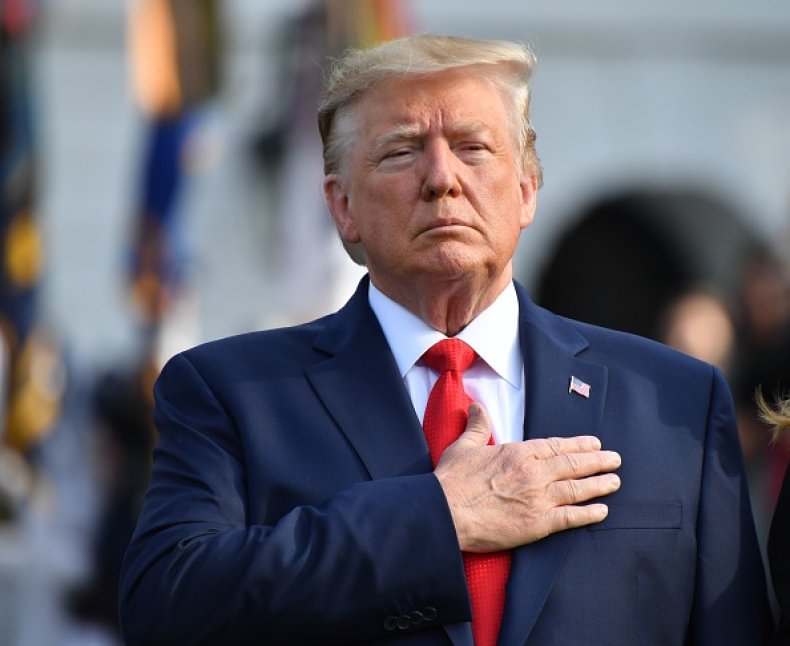 On Wednesday, a moment of silence was observed at 8:46 a.m. EDT, the time that the first plane hit the North Tower of One World Trade. Trump joined in the moment of silence on the South Lawn of the White House, along with hundreds of guests, including 9/11 survivors and first responders. He will also give remarks at a private ceremony at the Pentagon Memorial in Arlington, Virginia.
According to the White House, Trump's speech will be "honoring the nearly 3,000 lives that were tragically stolen from us on September 11, 2001."
The president has faced backlash recently for inviting Taliban leaders to Camp David so close to the anniversary of the terror attack. He later called off the meeting, which was to cover peace agreements in Afghanistan, due to the terrorist group's ongoing attacks in that country.
Republican congressman Adam Kinzinger, a former Air Force pilot, slammed Trump for inviting the group to the retreat. "Never should leaders of a terrorist organization that hasn't renounced 9/11 and continue in evil be allowed in our great country. NEVER. Full stop."
Trump later declared that U.S. peace talks with the Taliban in Afghanistan were "dead."