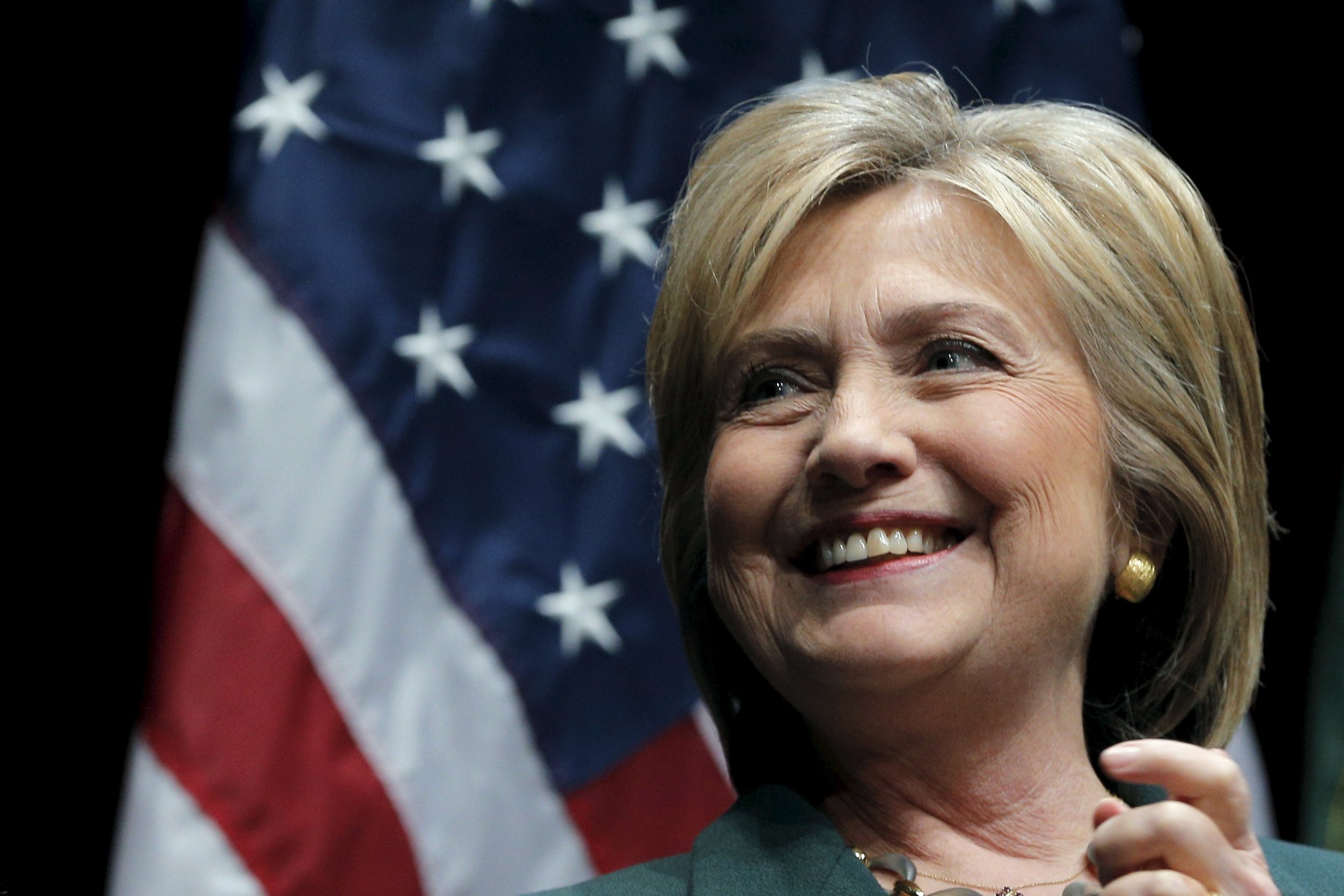 While Republicans gather in Las Vegas on Tuesday, their likely Democratic opponent will be keeping a cool eye on them from a Minneapolis party in her honor hosted by the liberal librarians' Rush Limbaugh, Prairie Home Companion radio host Garrison Keillor. That soirée is but one of a half-dozen celebrity-studded events on the Clinton cash-raking calendar this week, including tomorrow night's $27,000 per head Omaha fundraiser with Warren "Tax Me More" Buffett and Thursday's party in New York with Drew Barrymore and other glitterati.
Awash in cash, swanning among swells and buoyed by the spectacle of Trumpian excesses, the Clinton camp relishes the prospect of the fifth GOP debate as a bonanza of earned media, with its potential to further alarm and energize moderates and the Democratic base, while making Clinton look calm and steady in comparison.
Clinton supporter David Brock runs two pro-Hillary PACs, American Bridge and Correct the Record. He called tonight's show in Vegas an opportunity. "There is nothing like a GOP debate to clarify for the American people how anti-Muslim, anti-immigrant, anti-science, anti-gay and anti-women these candidates and their party truly is."
Democratic pollster Anna Greenberg, not working for Clinton, agreed: "What do Democrats want tonight? More of the crazy, whether it comes from Trump or Cruz. And anything that continues to diminish the Republican brand and shows it to be outside the mainstream."
Democrats look forward to a debate that forces candidates to tie themselves to front-runner Trump's statements on Muslims and Latinos. Since a majority of Republicans do support his ban on Muslims entering the U.S., while outside the party the notion is widely opposed, the other GOP candidates tonight will be forced do some delicate needle-threading.
"As we've noted for a while, the Republican field may not have Trump's poll numbers or press, but they share many of his positions," says a spokeswoman for the Clinton campaign, Christina Reynolds. "Tonight's debate offers an opportunity for voters to see that while their rhetoric may vary, their agendas and policies are extreme, out-of-date and remarkably similar."
Top Clinton supporters are touting the same message in advance of a debate they hope tars all the candidates with Trumpian xenophobia. "Ted Cruz, Marco Rubio and the rest of the GOP field must explain why they would be OK with a nominee who consistently spews racist and sexist rhetoric and why none of them have the courage to do the right thing by abandoning their Trump pledge and promising not to support Donald Trump if he's the nominee," says Justin Barasky, spokesman for the Hillary PAC Priorities USA. On a conference call with journalists yesterday, Representative Debbie Wasserman Schultz, chair of the Democratic National Committee, called the Republican debate "a race to the bottom" for a party "that will take us back to the McCarthy era or worse."
Trump continues to lead among Republicans, but top Democrats like Clinton campaign chairman John Podesta, former adviser James Carville and former President Bill Clinton have been predicting that Republicans will eventually nominate Ted Cruz. They ground their reasoning not on any breakout debate performances but on his conservative support, his pile of money ($26 million as of October 15) and his brains. A poll out this week put him ahead of Trump in Iowa.
In their Cruz prediction, top Democrats might also be engaging in some wishful thinking, because if the GOP nominee is not Trump or Cruz—men they believe and whom polls show Hillary Clinton can beat—the candidate they prefer not to confront in 2016 is Marco Rubio. An NBC/ Wall Street Journal poll conducted December 6 to 9 shows Clinton beating Trump by 10 points. But the two Republicans who bested her are Rubio and Ben Carson. Democrats can probably write off Carson, but Rubio does present a challenge if he manages to pull ahead of Trump and Cruz. Rubio is dangerous for two reasons: youth and ethnicity. Even though Rubio and Cruz are 44 and of Cuban decent, it's boyish Rubio who has made a point of playing up his millennial status, presenting his age as a leadership bonus, or as he likes to put it, a new man for "a new American century."
Democrats, therefore, will be watching Rubio tonight. "Trump's the man to beat in the debate," says pollster Greenberg. "And if Rubio is able to elevate himself by attacking Trump in the debate, that is probably something the Clinton campaign would not like to see. I think that the consensus in the Democratic circle is that Rubio is the candidate they least want to run against."
Age is important because 2016 is the first presidential election in which millennials could outnumber baby boomers at the polls—if they come out to vote, a big "if." Surveys show they are extremely disengaged. Democrats should be able to win a majority of those that do show up: According to a national poll released last week by the Harvard Institute of Politics, a survey of 2,011 18- to 29-year-olds found that 56 percent want a Democrat as president, with 36 percent preferring a Republican.
Besides his youth, Rubio has something else going for him. "Hispanic voters are more likely to have an ethnic affinity and the millennials are heavily minority," Greenberg says. "I could imagine Rubio getting young Hispanics voting for him, for reasons that are less about his age and more about Hispanics voting for a Hispanic."
The Rubio challenge is one reason superPAC Priorities USA has been hammering Rubio over ethics issues involving a book contract. Democrats hope the debate continues to force him to double down on some extremely conservative views, especially on abortion and gay marriage, that are out of step with millennial preferences. "I think most voters will see right through a politician claiming to be a man for the new century when nearly everything he wants to do from women's health to immigration to the economy would take our country backward," Barasky says. "Age doesn't equal enlightenment," Brock says. "He may be the youngest candidate in the race but his views are straight out of the 1950s. Other than his age, Marco Rubio doesn't have one thing in common with millennials."