Ex-GOP Congressman: Trump Embraces 'Most Evil Dictators' Who Talk Nice But Won't Accept Ally's Criticism
Former Republican Congressman Joe Walsh took aim at Donald Trump on Wednesday after the United Kingdom's ambassador to the U.S. resigned, following diplomatic memos containing criticism he had leveled against the president and his administration being leaked over the weekend.
Walsh, who served as a representative from Illinois and is also a syndicated radio host, drew a comparison between how Trump has now responded to a close ally compared to how he has reacted to an infamous dictator.
"The moral of the story? Always say nice things about Donald Trump and you'll be fine," Walsh, who regularly criticizes Trump despite being a Republican himself, wrote on Twitter.
"I mean, you can be one of the most evil dictators on the planet, but as long as you say nice things about Trump, he'll embrace you. But criticize him, even if you're an ally? Forget about it."
The former GOP representative was likely referring to Trump's routine praise for North Korea's dictator Kim Jong Un. Trump said last year that he and Kim "fell in love" and the two leaders have exchanged public praise for one another on numerous occasions. The two leaders also send each other letters, which Trump has described as "beautiful."
Sir Kim Darroch, the ex-British ambassador to the U.S., resigned on Wednesday after leaked diplomatic memos revealed he referred to Trump's White House as "insecure," "clumsy" and "inept." Trump hit back at the diplomat's criticism, referring to Darroch as a "very stupid guy" and a "pompous fool."
Historically, the U.S. and the UK have had a so-called "special relationship," generally standing together on international and foreign policy issues. Some tensions have arisen under Trump however, as British leaders have criticized his decision to withdraw from the Paris Climate Accord – which the entire world supports besides the U.S. – and his effort to undo the 2015 Iran nuclear deal.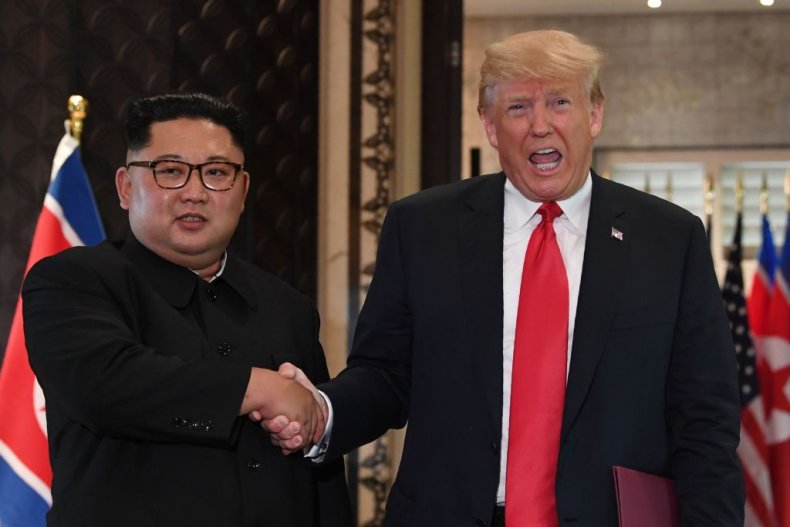 Walsh was not the only one to point out that Trump has shown more warmness to a dictator than he has to Darroch. CNN host Erin Burnett also drew a direct comparison between the president's reaction to the British diplomat and Kim Jong Un.
On Monday, Burnett said on her program OutFront that she believed the president had "a right to be upset," but she pointed out that Kim had previously insulted Trump as well. Prior to relations warming significantly between the president and the North Korean dictator, Kim had referred to Trump as a "dotard" and a "frightened dog."
"So, let's get this straight, if you are an American ally and you criticize the president and the administration with being clumsy and inept, then you're done," she explained. "But if you are literally a murdering dictator, you get love letters."