Republican Tuberville Accused of 'Open Appeal to Racism' at Trump Rally
Senator Tommy Tuberville faced accusations of making an "open appeal to racism" while speaking at former President Donald Trump's Nevada rally on Saturday night.
Tuberville, an Alabama Republican who was previously Auburn University's head football coach, gave a speech at the rally in support of Trump-backed candidates Adam Laxalt and Joe Lombardo, who are running in the state's highly competitive Senate and gubernatorial races.
During his speech, he attacked Democrats as being weak on crime. Crime remains a major issue for millions of voters ahead of the November midterm elections. Democrats have pushed for criminal justice reform policies to fix what they view as a system that perpetuates racial inequality. Republicans, however, say these reforms actually lead to an increase in crime.
"They want crime because they want to take over what you've got. They want to control what you have," he said to the cheering crowd. "They want reparations because they think that the people who do the crime are owed that."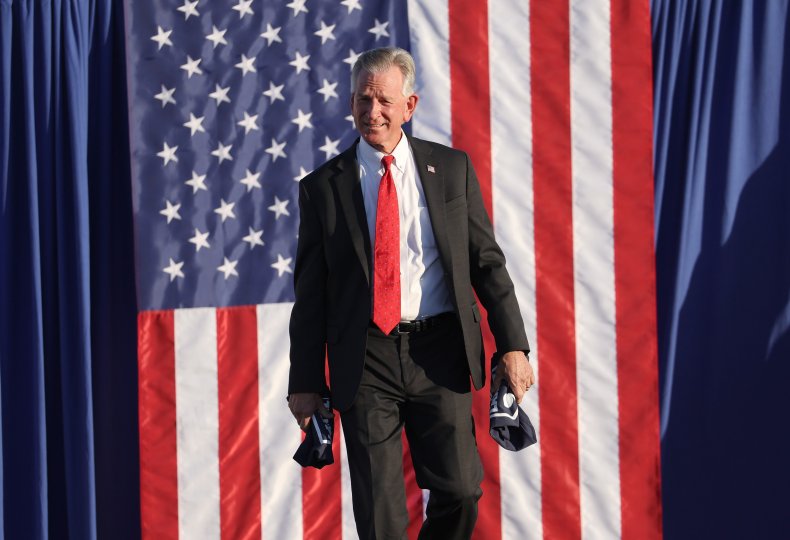 Reparations advocates say that descendants of slaves should be paid financial compensation for their uncompensated work and the historic racism they say has led to financial disparity between races. The NAACP defines reparations as "a financial recompense for African-Americans whose ancestors were slaves and lived through the Jim Crow era."
The senator's remarks were met with an onslaught of criticism on social media and on cable news on Sunday, with many accusing Tuberville of promoting racist stereotypes.
"A reminder that Tommy Tuberville was a collegiate coach for nearly 30 years, during which he coached scores of Black players. He made millions off their abilities, but here's what he really thinks about Black folks," tweeted political commentator Jemele Hill.
"This open appeal to racism by a Republican senator would make George Wallace and Lester Maddox proud. You don't have to be a Southerner like me to understand that "they" is Tuberville's substitute for a racial slur he can't say behind a microphone in 2022," tweeted MSNBC host Joe Scarborough.
NAACP President Derrick Johnson said in a statement sent to Newsweek on Monday that Tuberville's comments were "flat out racist, ignorant and utterly sickening."
"His words promote a centuries-old lie about Black people that throughout history have resulted in the most dangerous policies and violent attacks on our community. We've seen this before from the far-right, and we've seen what they can do when they take power," he wrote.
During a CNN panel Sunday morning, political analyst Bakari Sellers said: "He made tens of millions of dollars off unpaid Black men, as a football coach. He literally has the stature he has because people went out there and assumed the risk and incurred the risk of concussions, playing hard and everything. And for him to give these racist tropes? I mean, that infuriates me."
Nina Turner, a progressive political commentator who ran for Congress in Ohio in 2021 and 2022, added: "The 'they,' just flat out. He's talking about Black people. He should man up and say it. American descendants of slaves do deserve reparations in this country. But for him to equate a whole group of people as being criminal. You know what's criminal? Allowing people to languish in poverty."
Meanwhile, Congressman Don Bacon, a Nebraska Republican, offered a modest defense against Tuberville's accusations of racism, though he still urged him to "be more polite," during an appearance on NBC News' Meet the Press.
"I'm not going to say he's being racist. I wouldn't use that language. Be more polite. But we can't ignore—we have a 40 to 50 percent violent crime increase," he said.
Newsweek reached out to Tuberville's office for comment.
Updated 10/10/2022 1:27 p.m. ET: This article was updated with a statement from the NAACP.