Republican Violating Defense Policy with Military Uniform in Campaign Ads Infuriates Veterans
Representative Doug Collins, a Georgia Republican who is locked in a contentious intraparty battle for the Senate, has violated Department of Defense policy at least two dozen times in recent days by improperly using photos of himself wearing his military uniform in campaign ads.
The move has enraged veterans and advocacy groups, who want Collins—a chaplain in the U.S. Air Force Reserves—formally reprimanded for the inappropriate ads consistently posted on social media platforms. Collins has also infuriated officials within DoD, according to the watchdog and advocacy group Military Religious Freedom Foundation (MRFF).
"It's a flagrant violation of the military criminal code, and he should be visibly and aggressively punished," MRFF Founder and President Mikey Weinstein told Newsweek. "It's deplorable, it's despicable, it is hideous and wretched."
DoD Directive 1344.10, the official guidance for uniforms and political campaigning, states that uniform images may only be used if they are not the primary photo in an ad and must include a "prominent and clearly displayed disclaimer." The disclaimer must say that use of the image does not imply an endorsement from any military agency.
In the past five days, Collins has issued 24 separate campaign tweets and Facebook posts that violate the DoD policy. They range from content about his pro-life stance on abortion and criticism of his opponent, to touting Trump and boasting of his A+ rating from the National Rifle Association.
Since Collins is still an active reservist, the violations are punishable under the Uniform Code of Military Justice.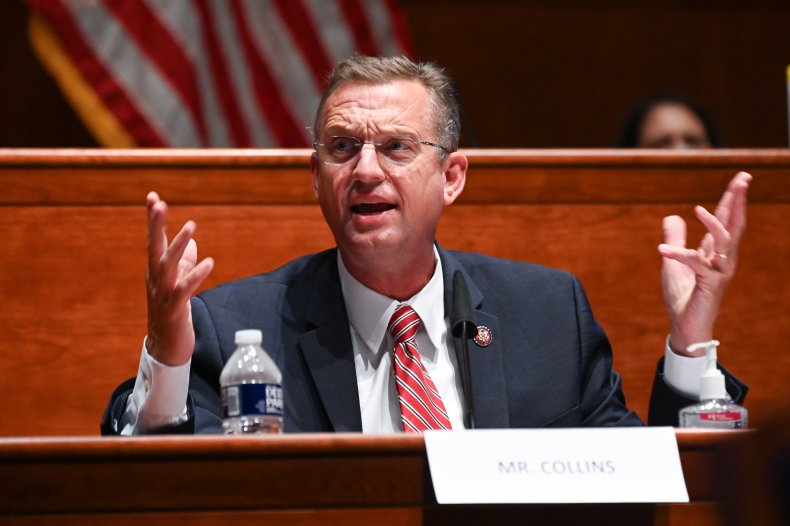 Weinstein sent a letter to Defense Secretary Mark Esper on Tuesday calling on the department to immediately impose criminal charges and court-martial Collins. Senior members of Esper's staff, as well as admirals, generals, senior executive service level civilians and military chaplains, have come to Weinstein outraged, he said. Weinstein declined to provide names, citing privacy concerns.
The Collins campaign did not respond to Newsweek's request for comment.
The DoD declined to comment and referred Newsweek to the Air Force. The Air Force did not respond.
Collins is a close ally of President Donald Trump, and any formal action from DoD could draw Trump's ire. The fourth-term lawmaker was one of the president's leading impeachment defenders as the former top Republican on the House Judiciary Committee. Much of Collins' Senate campaign message has centered on trying to convince voters that he is more of a Trump supporter than his GOP opponent, Senator Kelly Loeffler.
Collins rarely provides the proper disclaimer in ads that feature him in uniform, such as in an ad pinned to the top of his Twitter and Facebook accounts. However, the vast majority of his campaign ads do not, which have persisted for some time. Some ads feature a disclaimer that is too small to read with the naked eye, which is also in violation.
In several of the ads, the images show Collins donning his Air Force uniform in what appears to be Iraq. He is a lieutenant colonel who served in the Middle Eastern country from 2008-2009.
Other active reserve members in Congress, such as Representatives Max Rose (D-N.Y.), Adam Kinzinger (R-Ill.) and Tulsi Gabbard (D-Hawaii), have images of themselves in uniform on their campaign websites, but display the proper disclaimer and don't display them as the primary photos. Representative Ted Lieu's website does not include any images of the California Democrat in uniform.
The DoD investigated two Hawaii soldiers who appeared in uniform for a Democratic National Convention video this summer. It's not clear what the status of the probe is or if it was concluded. DoD declined to comment about the matter and referred Newsweek to the Army. The Army did not respond.
Collins' violation of DoD policy has caught the attention of veterans and veteran groups, who are demanding that the Senate candidate either properly use his uniform images or cease including them in ads altogether. Collins has also violated House ethics rules in the past, including when he used House floor footage in campaign ads and took content from his official government website to display on his campaign website.
"The military has a strong tradition of being apolitical and that must remain a constant even during these divisive times," NYC Veterans Alliance Deputy Director James Fitzgerald told Newsweek. "The DoD Reg is black and white for all political activity. We must uphold that standard to set the example for others not to politicize our Armed Forces."
Retired Army Sergeant Elena Duffy, who is a Purple Heart recipient, characterized Collins' use of his military service in ads as "tacky."
"If there were some relevance to the military in his advertising—if his alternate stance on war or the [Department of Veterans Affairs] from his opponent's is the focus of the flyer, for instance— then perhaps this use of years-old photos wouldn't seem so exploitative," Duffy told Newsweek.
Retired Army officer Fred Wellman, who is a senior advisor for Veterans Affairs at the anti-Trump group The Lincoln Project, labeled Collins' repeated DoD violations as "the most egregious example" he's ever seen of a political candidate "using his military service and uniform in his ads and campaign materials."
"As a currently serving U.S. Air Force Reserve Chaplain, he is directly undermining American's faith in an apolitical military," Wellman told Newsweek. "We must know that our military serves all citizens and not just Republicans and supporters of President Trump."
Wellman also wants charges brought against Collins.
"He should be prosecuted under the Uniform Code of Military Justice just as lower ranking service members have been for far lesser offenses of the same regulations," Wellman added.
Collins is in the midst of a rare intraparty fight for one of Georgia's Senate seats in a special election. The seat is currently held by Senator Kelly Loeffler, who was appointed to replace Republican Senator Johnny Isakson after he retired in December 2019 for health reasons.
Because of the way the state handles its elections, both Republicans will appear on the Nov. 3 ballot, along with their Democratic opponent. The National Republican Senatorial Committee has long called on Collins to drop out, warning that his candidacy could jeopardize the GOP's ability to maintain the seat. FiveThirtyEight lists the race as a "toss-up" as to whether a Democrat or a Republican will win.
The Loeffler campaign said that while they respect Collins' service, the improper campaign ads should end.
"We appreciate Congressman Collins' military service," Loeffler campaign spokesperson Stephen Lawson told Newsweek. "However, his repeated legal and ethical violations are deeply troubling—and Georgians deserve a U.S. Senator who follows the law, not one who breaks it."