Republican Who Shared Anti-Martin Luther King Meme Becomes GOP County Chair
Keith Nielsen, a Texas Republican party official who faced accusations of racism after posting a Facebook image featuring a Martin Luther King Jr. quote on a background next to a banana, has become chairman of the Harris County GOP despite saying that he wouldn't following outrage over his Facebook post.
After Nielsen posted the image around early June, web-users accused him of promoting a long-used racist trope comparing Black people to apes, gorillas, monkeys and other sub-human wild animals.
Republican Texas Lieutenant Governor Dan Patrick and Republican U.S. Representative Kevin Brady of Texas both encouraged Neilsen to resign.
Responding to those calls, Nielsen initially refused, writing on his Facebook page, "It is unfortunate that the sentiment of the quote and my admiration for Dr. Martin Luther King Jr. has been overshadowed by people's misinterpretation of an image... My hope is I will continue to be part of the solution and never part of the problem."
He never explained why the image had a banana in it.
Members of the Texas Republican Party said that on June 6, Nielsen announced his intention to resign as Harris County chair, stating "[I] must step aside as Chairman-elect ... and will not be taking office on Aug. 3rd."
However, Nielsen has seemingly backtracked on that pledge, because he failed to notify the state GOP party secretary of his resignation before midnight on Monday. Because he didn't, he is now officially the county's state party chairman.
Newsweek contacted Nielsen for comment.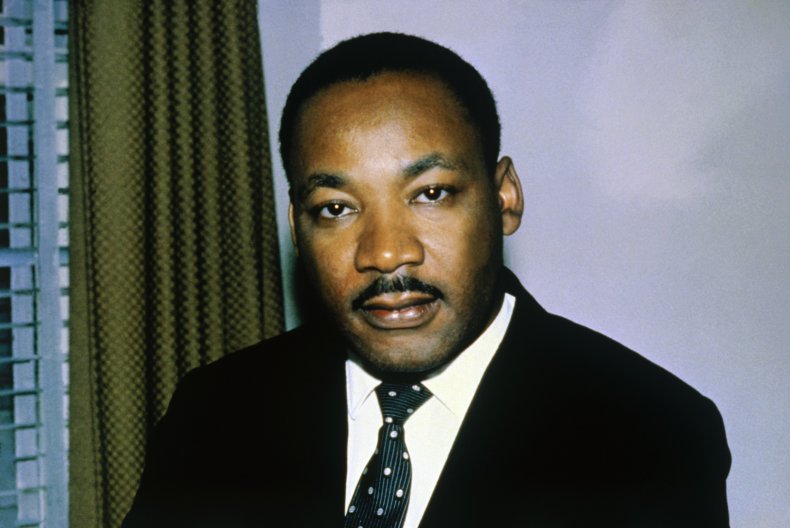 Party insiders worry that Nielsen's past may attract negative attention towards county GOP candidates who already face challenges amongst Harris' county's slightly Democratic-leaning voters, according to The Texas Tribune.
On Sunday night, more than 120 county precinct chairs signed a statement reminding Nielsen of his decision not to take office.
"We, the undersigned ... wish to thank Mr. Nielsen for his June 6th announcement of his declination to take the office. This difficult decision rightfully put our party over personal interest. This allows the Republican Party to move forward towards victory in November," the statement read in part.
But while the county precinct chairs' letter mentioned looking forward to electing a new Harris County Chairman with the state GOP Republican Party at an August 8 meeting, that action seems unlikely now that Nielsen has remained the county's chairman.
In a Tuesday tweet, Brady wrote "A bigot whose word is no good. This is not what the party of Lincoln stands for. He needs to be removed. Now."
It is unclear how the state GOP could forcibly remove an elected official after they assume their role.