Republican Wins Mayoral Race in 85% Latino Texas Town Where Hillary Clinton Won by 40 Points
The city of McAllen, Texas—a border town that went for Hillary Clinton over Donald Trump by 40 points in 2016—just elected a Republican mayor.
Javier Villalobos defeated Democrat Veronica Vela Whitacre by 206 votes in a runoff election over the weekend, according to unofficial election results reported by KRGV. Votes will be canvassed and certified by city officials on June 14.
Villalobos, an attorney and former chairman of Texas' Hidalgo County Republican Party, thanked his supporters and campaign team following his narrow victory.
"Thank you McAllen for trusting and believing in me. I promise to not let you down," he added.
Villalobos' win is part of a growing trend of incremental conservative success in south Texas, a usual Democratic stronghold and majority-Hispanic area. McAllen is home to roughly 150,000 residents, of whom 85 percent are Latino.
Clinton won Hidalgo County, which is home to McAllen, by 40.5 percentage points in the 2016 presidential election. But in 2020, Joe Biden's defeat over Trump was 17 percentage points—half that of Clinton's.
The Texas Tribune found after the 2020 race that Biden underperformed Clinton in 28 counties along the border or in south Texas. Clinton won them by an average of 33 points, while Biden won by a combined 17 percentage points.
At the congressional level, last year a Republican candidate came just three points shy of defeating Representative Vicente Gonzalez, whose district includes McAllen. Gonzalez had easily won re-election in 2018 by 21 points.
Steve Cortes, an adviser to Trump's 2020 campaign, was one of several Republican figures to celebrate the win on Twitter.
"Amazing news! McAllen, Texas is a major border town of 140,000 people. 85% Hispanic—and just elected a Republican mayor," Cortes wrote. "The macro realignment accelerates in South Texas, and elsewhere, as Hispanics rally to America First."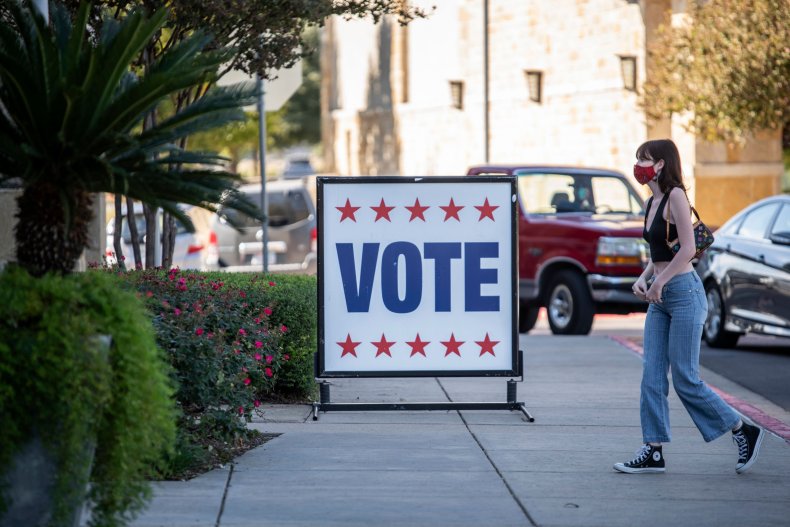 Ronna McDaniel, the chair of the Republican National Committee, called Villalobos' victory and another Republican mayoral win in Fort Worth a sign that voters are rejecting the Biden administration's "failed policies."
"Whether rejecting a crisis at the border or a squandered economic recovery, these municipalities moved decidedly toward the GOP, because our policies work," McDaniel wrote on Twitter.
Governor Greg Abbott also said the victory was a signal that Hispanic voters want to "help keep Texas Red."
"Republicans celebrate mayoral win in majority-Hispanic border city, McAllen, Texas," Abbott wrote on Twitter. "Republicans and Hispanics in Texas share common values, and more Hispanics are voting Republican and getting elected as Republicans. They want to help keep Texas Red."
Gilberto Hinojosa, the chair of the Texas Democratic Party and a lifelong resident of the Rio Grande Valley, told Newsweek that Republicans have been "mistaken" in claiming victory in the McAllen mayoral race.
"The reality is that voters went about this election by evaluating the individual candidate's personality and conduct within the community rather than their political party since the office is non-partisan," Hinojosa said in an email statement. "Republicans may be desperate to prove their party isn't shrinking while simultaneously imploding, but there is no doubt that McAllen remains a Democratic stronghold. Republican infighting has the Texas GOP weaker than ever, and meanwhile, Texas Democrats are strong, united, and speaking with one voice as we fight for the rights of Texans and the future of our state."
Update (6/7/2021, 4:10 p.m): This story has been updated to include a comment from Texas Democratic Party chairman Gilberto Hinojosa.