Republican Proudly Defends Not Reading Mueller Report: 'I Didn't Read The Bill Clinton Report Either'
Georgia Republican Rob Woodall offered a boastful explanation for why he has no interest in reading any part of former Special Counsel Robert Mueller's report, even citing his past disinterest in reviewing accusations against Bill Clinton in 1998.
Speaking with MSNBC host Kasie Hunt Sunday night, the congressman offered several defenses for not reading Mueller's report on the Russia investigation. He first claimed that his overwhelming "trust" in Mueller's integrity meant he did not feel the need to review anything unless the Special Counsel had specifically requested such a move.
As Hunt appeared a bit shocked by Woodall's proud dismissal of reading any word in the report, the Republican doubled down and offered the additional defense that he also had no interest in the "salacious" accusations against former President Bill Clinton.
"Have you read the Mueller report?" Hunt asked Woodall Sunday evening.
"I have not," he replied. "I said when we started this conversation that I trusted Mr. Mueller and he took a lot of slings and arrows throughout this process but every U.S. attorney I knew said this is a man of great integrity and he's going to lead this investigation."
"So why not read the report?" Hunt pressed.
"Well I have a concern when you put the entire power of the United States Justice Department behind anything. You can achieve an agenda, you can drive a message."
"So you think the Mueller report was just driving an agenda? Hunt asked again, appearing visibly frustrated with Woodall's seemingly unconcerned replies. "There's nothing there that's, like, worth figuring out?"
But Woodall dismissed Mueller's move to refer 14 cases to other offices, saying the special counsel had every opportunity and benefit handed to his team in order to complete the report.
"Obstruction is not a political issue, it is a criminal issue," Woodall said, arguing that Congress has no obligation to review his report despite many believing Mueller set a road map for impeachment proceedings. The former special counsel said a sitting U.S. president could not be indicted but that he would have said if President Donald Trump was exonerated—which he did not.
Woodall conceded Congress could review the investigation if they so choose, but he recalled not wanting to read into or pay attention to the salacious Kenneth Starr report and investigations into Clinton in the 1990s.
"I was a staffer on Capitol Hill in 1998 when Republicans went down this road and they thought it was going to be a wonderful thing to be able to impeach a sitting president and as you know Republicans lost seats in that 1998 election," he said. "The constituents I represent don't want to see criminal activity at any place, but they also don't want to see folks grinding their political axes when there are important economic issues, family issues, education issues that need to be handled."
At no point in the interview did Woodall suggest he could have simply been interested in the investigations of both Trump and Clinton instead of neither.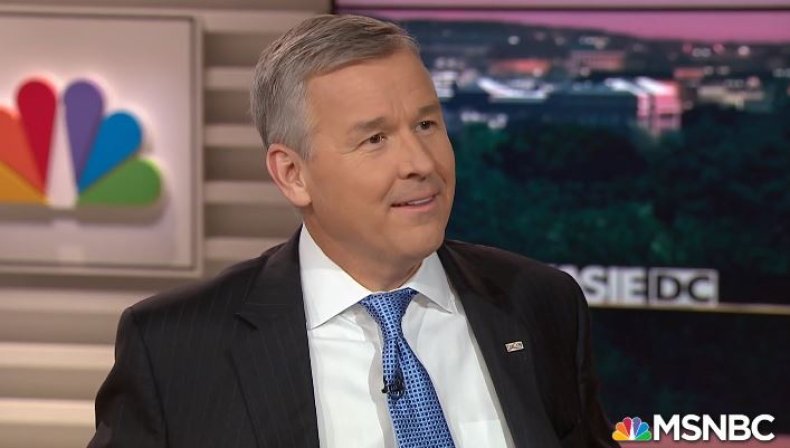 "As a concerned, curious citizen, I mean, you weren't interested to read it?" Hunt responded.
"I didn't read the Bill Clinton report, either. I didn't follow any of that salacious news," Woodall said.
"Folks are looking to turn that page," he finally reasoned. "I know people are pouring through that Mueller report looking for something to talk about again tomorrow and next week and the month after that."