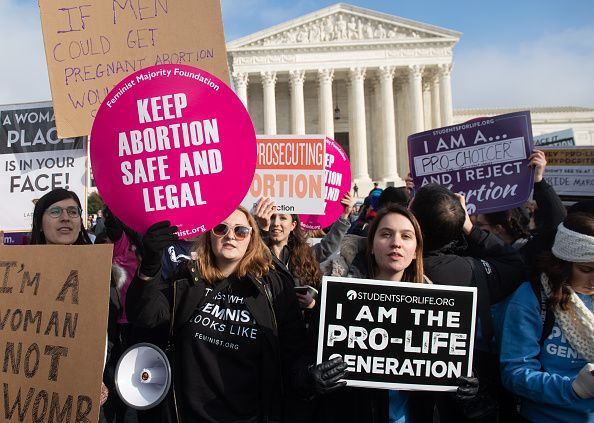 As America's abortion debate intensifies, Republican lawmakers are attempting to rally their conservative base by highlighting the fact that Democrats' Medicare for All plan would use taxpayer dollars to fund the procedure.
Representatives Steve Scalise and Greg Walden, two top Republicans in the chamber, wrote in a column for Fox News earlier this week that the health care proposal is essentially a socialist "government takeover."
"There is another deeply disturbing truth Americans need to know about their plan: it would mandate taxpayer funded abortions on demand and force health professionals to perform these abortions," the congressmen wrote. "This is radical and unprecedented."
While health care experts say Medicare for All will never pass in Congress—it's primarily an issue on the campaign trail—Republicans can use the abortion debate both to rally its conservative base and to reconnect with voter demographics that have shifted away from the GOP.
"Right now, Republicans are trying to throw everything in the kitchen sink and see what messaging sticks," Evan Siegfried, a political strategist and president of Somm Consulting, told Newsweek.
While voters may support a woman's right to choose, Siegfried noted that people "become more uncomfortable knowing that they are personally involved in financing abortion if they hear their taxpayer dollars are going toward it."
That discomfort might even help bring back voters who have started to leave the Republican Party in large numbers, including white, middle-class suburban women and seniors.
"That's worth a shot at this point. The worst-case scenario is that it rallies the base, which is staunchly pro-life. That's a big issue," Siegfried added.
Several 2020 Democratic candidates have introduced universal health care proposals, but the policy unveiled by Senator Bernie Sanders last month specifically includes "comprehensive reproductive, maternity and newborn care." While the term "abortion" is not explicitly mentioned in the legislation, Sanders has confirmed the procedure would be covered.
"When people hear Medicare for All, they think it's one unified concept, but in fact different Democratic candidates mean different things, and those may differ significantly from the Sanders bill," Nancy Nielsen, a health care policy expert at the University at Buffalo, told Newsweek. Nielsen previously served as a senior adviser at the Center for Medicare and Medicaid Innovation under the Obama administration.
"The Sanders bill has no chance of passing in this Congress, so this is an issue on the campaign trail but is not a looming possibility," Nielsen added.
Sanders has responded to conservative criticism of taxpayer-funded abortion on Twitter, writing that Medicare for All "doesn't dictate private health care decisions."
"That's what Republicans are doing by taking away a woman's right to control her body. Medicare for All will provide comprehensive reproductive coverage, including abortions, so that everyone gets the care they need," Sanders added.
Sanders' Medicare for All proposal would essentially kill the bipartisan Hyde amendment, which prohibits federal funding for abortion procedures. The amendment has been in place since 1976, though it's been changed over the years to include exceptions for when a woman's life is at risk or when the pregnancy results from rape or incest.
The Affordable Care Act, which Donald Trump has insisted on repealing and replacing, also does not allow the use of federal funds for abortion. The law was essentially an affirmation of the Hyde amendment.
Under the current health care system, Medicaid does not cover abortion procedures. Women who are covered by private insurance may have abortion costs included, though it depends on what state they live in and what kind of coverage they have.
Abortion rights advocates argue that the current Medicaid system is unequal and leaves behind women based on where they live, what kind of insurance they have or how much money they make.
Destiny Lopez, co-director of reproductive rights advocacy group​ All Above All, told Newsweek that Sanders' plan "would really level out the playing field in terms of abortion access and abortion affordability in this country."
The abortion debate has heated up over recent weeks after several conservative states passed laws restricting access to the procedure or banning it altogether. Alabama, Georgia, Mississippi, Kentucky and Ohio have passed some of the strictest anti-abortion legislation in the country as many conservatives aim forlegislation to challenge Roe v. Wade in the courts.
Nearly every single Democratic presidential candidate has condemned these laws and vowed to fix it if elected in 2020. Many have proposed safeguarding abortion rights by creating a federal law that would prohibit states from restricting access to the procedure. But Siegfried said abortion is "bigger than one political campaign."
"This has been years in the making," he said. "Years upon years of working to get a majority in the Senate, control of the presidency and to also build and grow conservative legal thinkers and scholars into judges. They've done that, and now it's what many in the conservative and pro-life movements have been waiting for."