Republicans Accuse Democrats of Trying to Deviate Cliffhanger California Special Election
Republicans in California could potentially pull off a feat that's rarely seen in this day and age, and that's to flip a Congressional district from blue to red in the Sunshine State. The 25th District is close in private polls for a special election to fill the vacated seat of former Rep. Katie Hill, but not a foregone conclusion in the long run for Democrats.
Democrats believe state assemblywoman Christy Smith could lose the upcoming election, but being on the ballot during November's General Election—with presidential nominees on the ballot—could refill the seat with a large turnout at the ballots.
"We don't underestimate how much of a Republican-leaning district this could be in May, but that will be a different electorate in November," Rep. Pete Aguilar (D-Calif.) said on politico.com. "We don't get in this to lose a race, but I do think that in November, Christy will be successful."
Winning the war is the ultimate goal for Democrats, but seemingly winning the battle right now is former Naval aviator Mike Garcia, 44, who has gotten a jolt of energy from Republicans in the northern L.A. suburbs.
This energy comes despite Hillary Clinton winning the suburbs north of Los Angeles in 2016 and current president Donald Trump trailing Democratic opponents in most polls heading into the 2020 presidential election.
The 25th District, and most of the region north of Los Angeles, is older and not as diverse as L.A. and its suburbs and inner city, which leads to a 9- to 10-point possible swing in May's special election.
"It is not a unique district. It is similar to many of the districts that we won in the fall," a Democratic consultant told Politico.com. "This was an anti-Trump response district, and if we're ebbing in those districts we need to find out why. We can't just brush it off."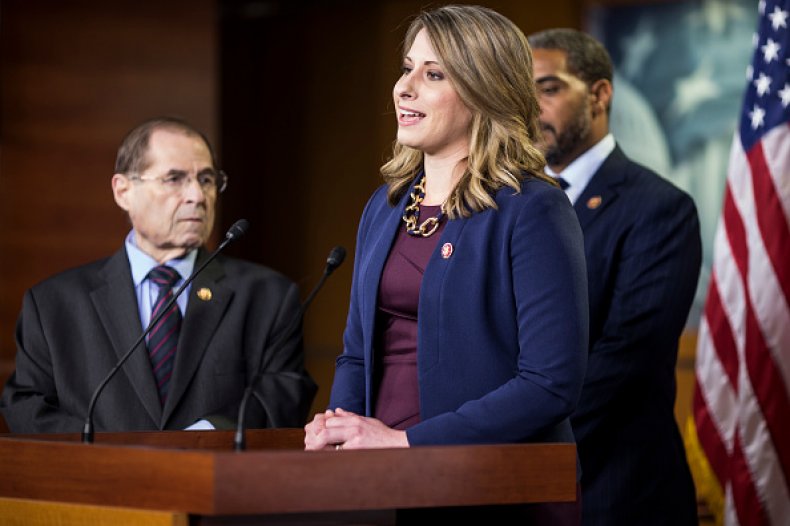 Democrats are expectingly thinking they will lose the seat in May, only to win it back by an invigorating voter base in November when the seat is on the ballot again, this time with a presidential race in the balance.
"I think that's why a lot of groups are kind of pushing the pause button," Aguilar said. "And I think it's a realization that the dynamics in this race in November are going to just be very different and lean our way significantly."
This means the Democrats could wittingly let its Congressional seat fall to the wayside for half a year in order to regain it for another two years—at the minimum.
Hill resigned after there were reports she had inappropriate sexual affairs with staff members.
The special election for Hill's vacated seat will be May 12, 2020.