Republicans Across the Country Are Joining the Fight to End the Death Penalty | Opinion
Criminal justice reform advocates celebrated this week when Oklahoma Governor Stitt granted clemency to death row inmate Julius Jones. Jones, who was convicted of a 1999 murder, has always insisted on his innocence, and Governor Stitt commuted his sentence hours before it was scheduled to take place.
Stitt deserves to be commended. And yet, the fact that it was left up to him is evidence of a broken system. That the death penalty still exists at all is a failure of policy, given how grievously marked by errors it is. Along with the botched executions, we cannot forget that more than 185 people have been freed from death rows due to wrongful convictions.
And as conservatives, we must fight this costly, unchecked government power that is shrouded in secrecy.
Indeed, we are. Though the media may hype liberal celebrities celebrating Julius Jones' commutation and others like it, across the country, Republicans are taking leadership roles in state efforts to end the death penalty. They are bringing their conservative principles and good common sense to help end a bad, outdated policy and move states toward smarter and more sensible criminal justice systems.
For example lawmakers in deep red Utah are considering ending the state's death penalty. Governor Spencer Cox, who has previously revealed his support for the death penalty, says he is now open to "reevaluating" his stance on the issue. He is joined by Utah County Attorney David Leavitt, another Republican who has said his office would no longer seek death penalty prosecutions.
As Salt Lake County District Attorney Sim Gill pointed out, the risk of executing an innocent person is always present: "If a pilot was good only 90 percent of the time at landing the plane, we would say that person shouldn't be flying," was how he put it. Meanwhile, Amelia Powers Gardner, a Republican Utah County Commissioner, points to fiscal discipline as a reason to repeal the death penalty. "I'm a fiscal conservative," she says. "I like to keep taxes as low as possible. When it comes to the death penalty, not only are we responsible for law enforcement, but we're also responsible for paying for the defense and the prosecution. And it's a really costly process."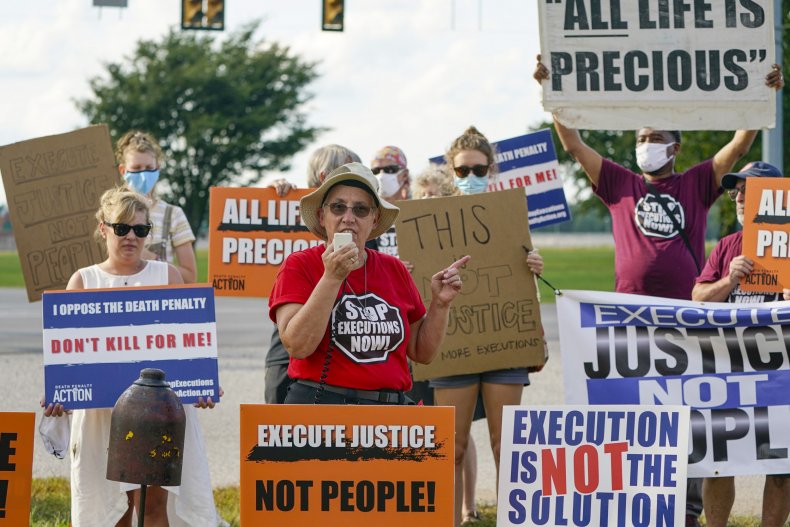 And this isn't just occurring in Utah. There is a nationwide trend of Republican- controlled state legislatures re-thinking capital punishment driven by the fiscal, moral, and cultural conservative values that should lead us to oppose the death penalty.
Virginia repealed the death penalty in March 2021 with bipartisan support. Pennsylvania, Kansas, Wyoming, Kentucky, Georgia, Montana, Washington, and Ohio all have had Republican-sponsored bills this year, with a total of 40 Republican sponsors.
In Ohio, a political bell-weather state that has become very red in recent election cycles, former Congresswoman and now State Representative Jean Schmidt and Sen. Stephen Huffman are Republican prime sponsors of bills to end the death penalty. They are clear that the death penalty is a contradiction to their conservative beliefs.
Huffman expressed his thoughts from a moral perspective: "There's one being that should judge [a] life and that's God. It should not be us to put them to death and be the judge," Huffman has said, while Schmidt acknowledged how the death penalty impacts people of color and those with economic disadvantages. "We recognize that people that are of color, people that have less means, tend to end up on death row more so than people with means or higher education," Schmidt told reporters.
Utah and Ohio are primed to continue the momentum toward ending a death penalty system that drains resources, fails murder victims' family members, and does not make anyone safer. And conservatives are at the forefront of these efforts, exemplifying common sense in the midst of complex issues. Passing these bills would bring much needed progress in the criminal justice reform policy arena.
We all want fairness, safety, and efficient government spending. When we look closely at the death penalty, it is clear that it meets none of these standards. Republicans concerned about these principles are building a national trend against the death penalty for others to follow, and these efforts should be acknowledged and applauded.
There have been 23 states that have eliminated the death penalty. Utah and Ohio have an opportunity to etch their names in the history books as agents of change. I hope they will maximize this moment, and that many others will follow.
Demetrius Minor is a preacher, advocate, relationship builder, and a writer. He has been the director of coalitions in Florida for Americans for Prosperity, where he worked in partnership with the NAACP.
The views in this article are the writer's own.