Republicans Are Battling to Be the Most Anti-Immigrant Candidate; Should Democrats Respond?
Republican candidates across the country are engaged in a cynical contest to prove they're the most extreme on immigration issues. If one GOP contender wants to use a deportation truck to "round up" undocumented immigrants and drive them across the border, well, his opponent can top that: He's got a "deportation bus."
As far as Democrats are concerned, it's a race to the bottom for Republicans, and one they don't necessarily need to weigh in on. While GOP candidates have so far aired more than 14,000 anti-immigrant television ads this cycle, Democrats have instead focused on issues like health care, opposition to Trump and social issues in their own television spots.
Democrats, who are largely united in their pro-immigrant rights stance, may see little reason to forefront the issue in their primary campaigns, since it won't do much to distinguish them from their Democratic competitors. But some say putting immigration issues on the backburner until the general election could give Republicans control of a narrative their opponents will find difficult to recast.
"If Democrats are silent on this issue, they will be giving up ground to Republicans who are hellbent on running anti-immigrant messaging in 2018," Matt Barreto, the cofounder of the polling and research firm Latino Decisions, told Newsweek. "The lessons of Obamacare in 2010 were clear: If you are silent and don't respond to attacks, they eventually become believable."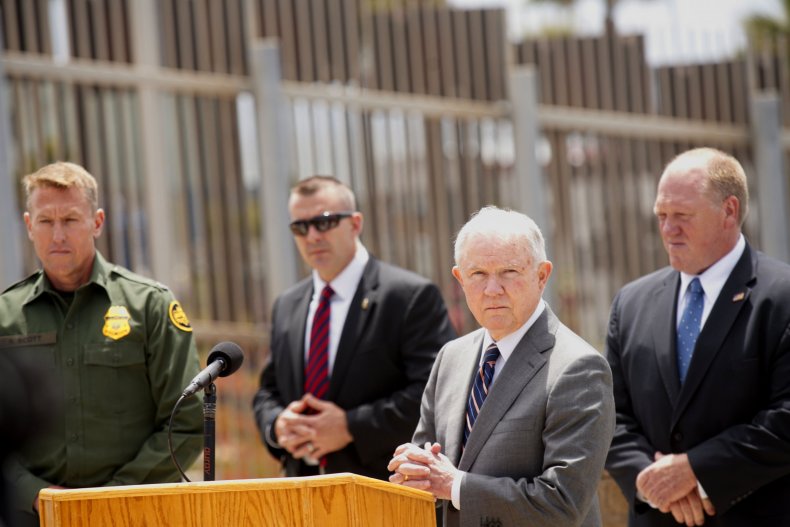 That's especially dangerous this midterm cycle, when there's a president in office insistent on perpetuating false links between immigration and crime, and using the spectre of MS-13 gang members to fuel anti-immigrant sentiment. Unfortunately for Democrats, it can be far easier to couple these things than to uncouple them, making it difficult for Democratic candidates to rebut their opponents' claims about illegal immigration in a way that will be cogent to voters.
"The problem is, Republicans are completely conflating multiple issues—jobs with sanctuary cities, violent criminals with undocumented immigrants," Lizet Ocampo, the political director at People for the American Way, a progressive advocacy group, told Newsweek. "Nobody is for MS-13. Nobody is for raping and killing. But trying to explain why sanctuary cities aren't linked to crime, or how they interact with local law enforcement, can be challenging to explain."
Part of the problem, according to Ocampo, is one of messaging. But she said there are a few strong examples of how Democrats can begin to successfully reorient debates over immigration reform, the most salient being Virginia Governor Ralph Northam's response to Ed Gillespie's virulent anti-immigrant rhetoric.
Despite there being exactly zero sanctuary cities in Virginia, where Gillespie was vying to be governor, the Republican candidate made them a focal point of his campaign, running ads accusing Northam of being "in favor of sanctuary cities that let dangerous illegal immigrants back on the street." In September, he aired a TV spot showing tattooed men he suggested were MS-13 members, but were in fact men photographed in an El Salvadoran prison. In the same ad, Gillespie superimposed the gang's motto—"Kill, Rape, Control"—over an image of a hooded man wielding a baseball bat. Northam, he insisted, wanted to bring this kind of violence to Virginia's streets.
Northam, Ocampo said, addressed Gillespie's attacks head-on, "bullet point by bullet point." But not everyone saw it that way at the time: In November, days before the election, progressive groups like Democracy for America denounced Northam after the candidate told a local news station he would sign a bill banning sanctuary cities in Virginia. With these comments, DFA said Northam had played "directly into the hands of Republicans' racist anti-immigrant rhetoric on sanctuary cities."
Prominent Democratic strategists instead suggest Democrats unite around a common message on immigration. Supporting causes like a path to citizenship for Dreamers isn't a risky position to take, even in battleground states and toss-up districts.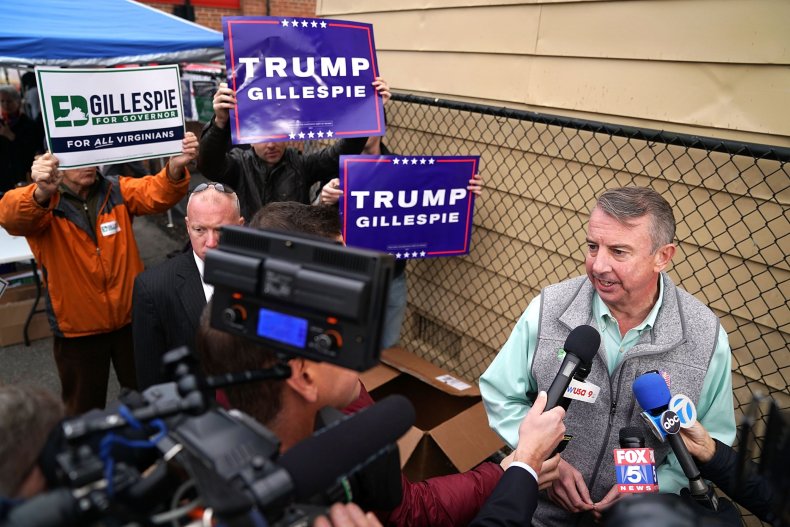 "People often make the mistake that these immigration issues only matter to communities of immigrants and that's been proven wrong," Jesse Ferguson, a political strategist and former senior spokesperson for the Hillary Clinton campaign, told Newsweek. "Suburban and swing voters across the country don't support the deportation of Dreamers even if their families came here on the Mayflower."
Because of the overwhelming popularity of policies like the Dream Act, Republicans who try to take their extreme messages on immigration to a general election will likely be unsuccessful, Ferguson said. But Democrats can put themselves in an even stronger position over their anti-immigrant opponents by putting forth a clear and concise message on immigration at the outset.
"I don't think it's hard to show voters that while Republicans talk about crime, their policy would be deport Dreamers who have done nothing wrong; their policy is to support separation of families," Ferguson said. "This isn't about proving every single immigrant who's ever come to the country has done the right thing—it's proving that the overwhelming majority of them are critical to our country, reflect american values, and if Republicans had their way they'd throw them out."