Republicans Are Blaming Mental Health for School Shootings After Refusing to Fund It | Opinion
Texas Gov. Greg Abbott has blamed the recent Uvalde shooting on the shooter's mental health problems. "We as a state, we as a society need to do a better job with mental health," the governor said last Wednesday in the aftermath of the shooting. "Anybody who shoots somebody else has a mental health challenge. Period. We as a government need to find a way to target that mental health challenge and to do something about it."
I don't think anyone would argue that someone who murders defenseless young children is right in the head. But setting aside the mental state of this particular teenager, if Gov. Abbott believes that mental health is the problem, why hasn't he done more to improve it?
Gov. Abbott has been governor since 2015, and since then, there have been roughly 13 mass shooting events in his state. Yet he has done nothing to expand access to mental health care. Texas has the highest uninsured rate in the country, with 17.3 percent of its population without health insurance. This is roughly twice the national average. Furthermore, Texas also has the most uninsured children in the country—roughly 1 million. Mental Health America rated the state dead last for overall access to mental health services.
But Gov. Abbott hasn't just failed to expand access to health coverage; he has actively cut it. In April he slashed $211 million from the Department of Health and Human Services and redirected it to border security, and this despite the fact the state has a record surplus, in part from federal funding allocated by the American Rescue Plan Act.
Worse, there has been an easy solution available to Gov. Abbott the entire time he has been in office: Texas could expand Medicaid under the Affordable Care Act and reduce the number of uninsured Texans by almost 1.5 million adults, roughly a third of the uninsured population. Though many children are already eligible for health insurance but not enrolled, as the state enrolled their parents, it would also cover their children.
The U.S. Department of Health and Human Services estimated that in 2016 there were more than 400,000 uninsured Texans with mental illnesses or substance use disorders who would be eligible for Medicaid if the state expanded it. The same report showed that Texans with insurance were 50 percent more likely to receive treatment for mental illness or substance use disorders than those who were uninsured. Treating behavioral health conditions reduces unemployment and criminal justice costs.
If the governor believed that improving mental health care access and treatment would reduce gun violence, why hasn't he expanded Medicaid? Expanding the program would bring in billions of federal dollars to expand health coverage and bolster struggling hospitals.
Polls show that roughly 70 percent of Texas support expanding Medicaid. But the governor and his allies in the legislature have said that it would be too expensive and delivers poor outcomes. Yet the data show that expanding Medicaid and increasing access to care helps state budgets and improves health outcomes.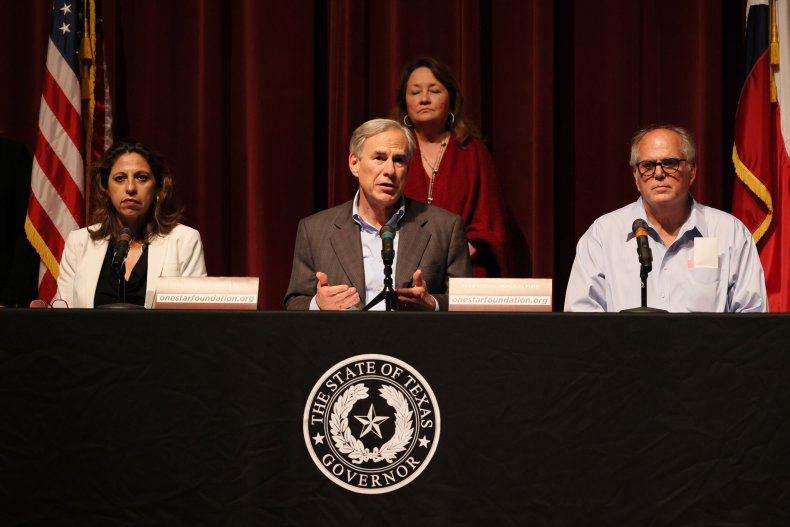 But of course, blaming mental health for mass shootings is a dodge. As U.S. Sen. Chris Murphy notes, the U.S. is not an outlier on mental health, it is an outlier on guns. Roughly one in five American adults have a mental illness—and the majority are productive members of society. In fact, a person with severe mental illness is more likely to be the victim—not the perpetrator—of a violent crime than the general population.
It's true that roughly one third of mass shootings were committed by people with serious mental illness, but that means that the majority of the perpetrators did not have a diagnosis. And overall, people with serious mental illness account for less than 4 percent of all violent acts committed in the United States.
More than mental illness, it's the 120 guns per 100 Americans that leads to the outsized toll of gun violence in the U.S.
Gov. Abbot and other Republicans like to blame mental illness for the simple fact that they don't want to acknowledge that America has more gun violence than any other nation because it has more guns than any other nation.
The governor just wants to defend the status quo and an excuse for inaction. If he actually wanted to stop mass shootings, he could ban certain guns and ammunition, and increase access to health care services.
Instead, he is focused on scapegoating Americans with mental illness, banning books, masks, and abortion.
Arielle Kane is the Director of Health Policy at the Progressive Policy Institute.
The views in this article are the writer's own.