Republicans Are 'Moving On' From Donald Trump, GOP Governor Says
Republicans will not be "settling" for former President Donald Trump in 2024, according to GOP New Hampshire Governor Chis Sununu.
The governor, who may be considering a 2024 run himself, refused to say whether we would become a candidate before calling the former president "yesterday's leadership" during an interview with Fox News anchor Bret Baier on Tuesday. Regardless of the candidates, the governor maintained that Republicans would be "moving on" from Trump in the next election.
"My message about President Trump is: We thank you for your service, great!" Sununu said. "But we're moving on. Americans are not in the mode of just settling, right? We're never gonna say that the best opportunity for tomorrow's leadership is yesterday's leadership."
"We want the next generation," he continued. "So, it is in the American spirit to say that we're going after the next thing and the next individual to lead our country ... It could be a variety of individuals."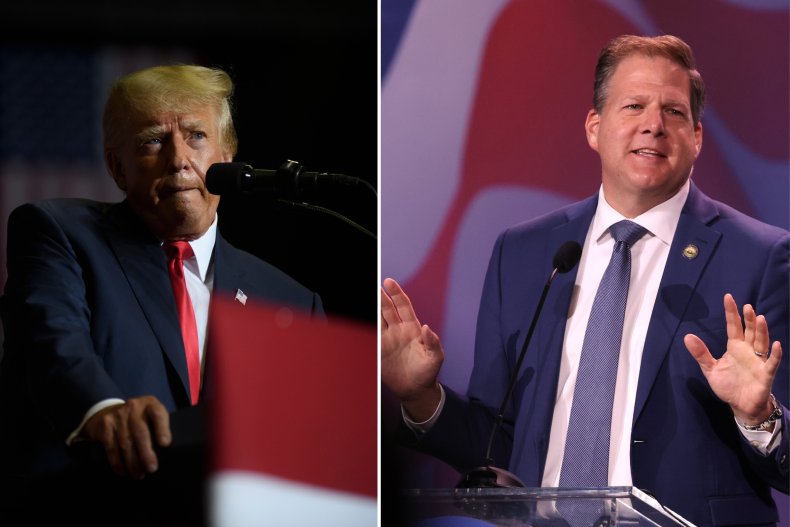 Sununu went on to say that he did not "think anything is gonna get [Trump's] poll numbers up" and there would be "a lot of other options on the table" as the primary elections approach.
Trump's recent polling numbers have been mixed. Some polls have suggested that Florida Governor Ron DeSantis, who is widely believed to be considering a run but has not yet announced his candidacy, could defeat the former president.
Other surveys have shown Trump far ahead of any current or potential Republican rival. A Harvard CAPS-Harris poll released last week showed the former president crushing DeSantis, with GOP voters preferring him by a two-to-one margin.
Sununu, unlike some other moderate Republican governors, backed Trump's 2020 reelection campaign.
Despite recently speaking out against Trump, he also told The New York Times this week that he would still back the former president over any Democrat if he secures the 2024 nomination.
Early hints that Sununu could be considering challenging Trump for the nomination himself appeared in December, when his political action committee began to run social media ads in the early voting states of Iowa and South Carolina.
The ads featured the governor denouncing fiery rhetoric from Trump-style politicians during an interview with CNN's Dana Bash. Sununu lamented that "nobody gets inspired to get more involved in public service by being yelled at or blasted out from a podium or shaking their hands."
Sununu did not rule out a presidential run when asked by Bash about his own ambitions, saying he was "open to any opportunity that might come down the road."
At the moment, former U.S. Ambassador to the United Nations Nikki Haley and Woke, Inc. author Vivek Ramaswamy have officially announced that they will be challenging Trump, while DeSantis and former Vice President Mike Pence are among the most prominent potential challengers.
Newsweek has reached out to Trump's office for comment.