Republicans are Speaking Out Against Trump's 'Debasement of America'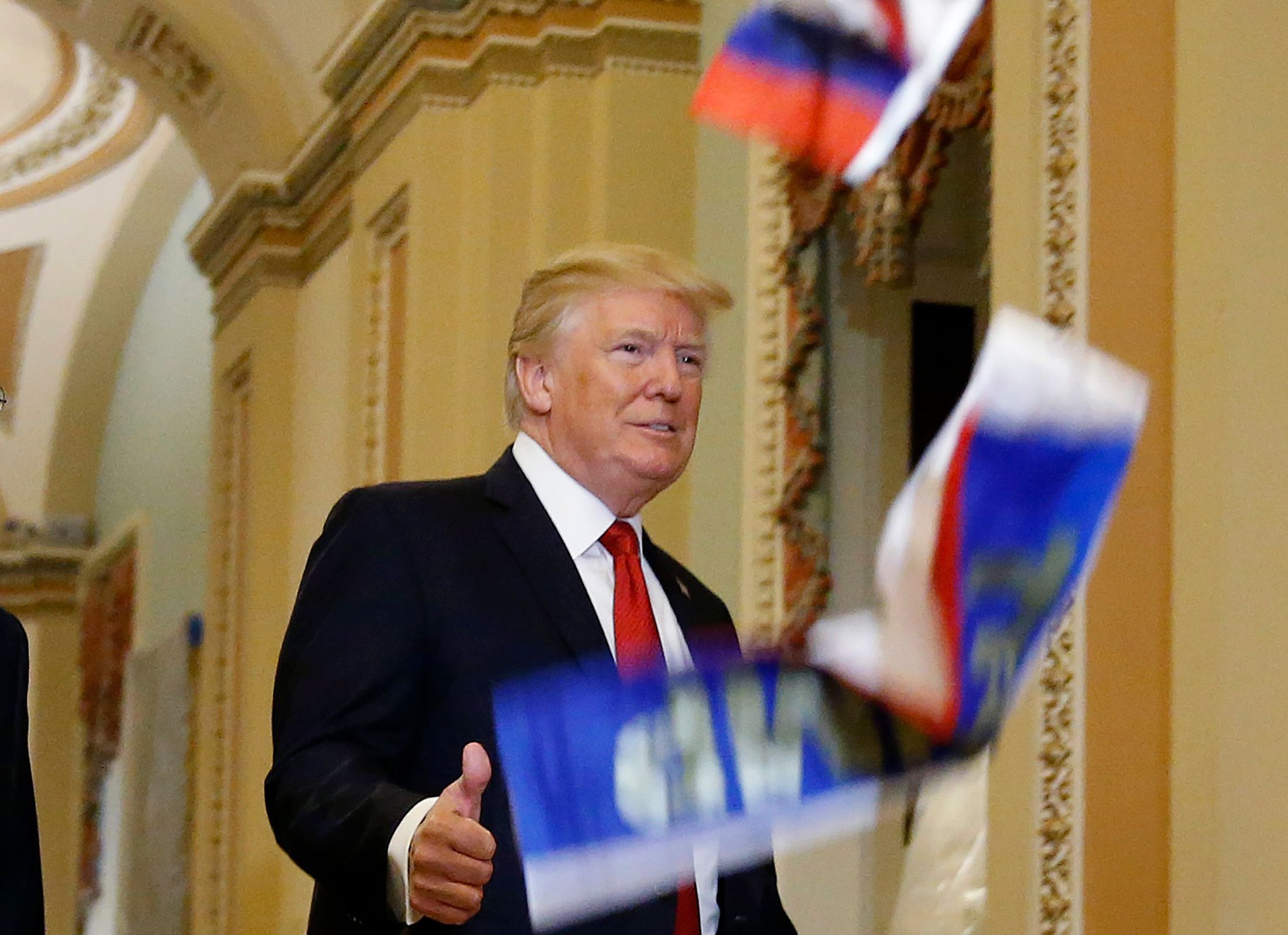 His voice quavering, Arizona Senator Jeff Flake accused President Donald Trump of creating an "alarming and dangerous state of affairs" in American democracy as he announced from the floor of the Senate that he would not run again in 2018.
In the pointed criticism of Trump that followed, Flake joined three other Republican Senators who have turned against the president and who threaten the party's unity and hold on both houses of Congress in the 2018 midterm elections.
"Without fear of the consequences and without consideration of the rules of what is politically safe or palatable, we must stop pretending that the degradation of our politics and the conduct of some in our executive branch are normal," Flake told his fellow Republican Senators, urging them to speak out against Trump's behavior.
"There are times when we must risk our careers in favor of our principles. Now is such a time," Flake said, citing his regrets "because of the coarseness of our leadership." In Senate votes, Flake has supported Trump's position 90 percent of the time.
On Monday President Trump called the widow of a soldier killed in action in Niger a liar for saying she felt mistreated during a phone call he made to her expressing his condolences. The same day he repeated his attacks on the NFL, insisting its players cannot kneel as part of a protest movement. And in recent weeks he has threatened to shut down NBC News, claiming it reports "fake news."
Before Flake's speech, Senator Bob Corker of Tennessee, a senior Republican who chairs the Senate Foreign Relations Committee, told reporters Trump's legacy would be the "debasement of America."
Read more: "Who is Kelli Ward, the Arizona candidate running for Jeff Flake's Senate seat?
In an interview with CNN, Corker singled out Trump's constant "non-truth-telling, the name-calling" as some of the things driving his assessment. "I think he's proven himself unable to rise to the occasion," Corker said, speaking of how he has tried to intervene to improve Trump's behavior.
Corker spoke after Trump lashed out at him on Twitter. The president said he refused to endorse Corker in the 2018 midterms and that he "couldn't get elected dog catcher in Tennessee." Trump blamed Corker for the nuclear deal with Iran and called the congressman "liddle' Bob Corker"—Corker is 5 feet 5 inches tall.
"The president has great difficulty with the truth on many issues," Corker said. "Four times he encouraged me to run and told me he would endorse me. Unfortunately world leaders are very aware that much of what he says is untrue," he said.
"I don't know why he lowers himself to such a low, low standard, and debases our country in the way that he does, but he does," Corker said.
Corker has broken with Trump in recent months after endorsing him during the 2016 election. He has spoken more freely after announcing September 26 that he won't seek re-election to the Senate in 2018.
In early October Corker warned Trump could put the U.S. "on the path to World War III" because he treats the presidency "like he's doing The Apprentice or something."
Both Corker and Flake's opposition to Trump expose deep divides in the Republican Party against the more moderate and hard-right wings of the party.
The pair are joined in their criticism of Trump by senior Republican Senator John McCain, who called out Trump's political ideology as "half-baked, spurious nationalism" during an awards ceremony where he was given the Liberty Medal last week. McCain said that America is shrinking on the world stage under Trump's leadership.
When Trump said the government should intervene to shut down NBC News in early October, Republican Senator Ben Sasse questioned whether Trump takes his Oath of Office to protect the Constitution seriously. Sasse pointed out that the First Amendment protects a free press.
In the Senate Republicans hold a slim 52 to 46 majority over Democrats that could be threatened in the 2018 midterm elections. If the Senate flips to a Democrat majority it will make it much more difficult for Republicans to pass legislation promoting Trump's agenda, such as funding of the border wall he has promised to build between the U.S. and Mexico.
At the beginning of October, Trump's former chief of strategy Steve Bannon vowed to remake the Republican Party and called for Trump's critics like Corker to resign.
Bannon said he will target at least 15 more moderate Republicans during the midterm primaries in hopes of replacing them with more hard-right candidates.
"We're going to cut off the oxygen to Mitch McConnell," Bannon said, taking aim at the Senate's Republican Majority leader during an interview with Fox News' Sean Hannity.
"We are declaring war on the Republican establishment that does not back the agenda that Donald Trump ran on," Bannon said. "This agenda works. The American people voted for it."