Nestled in a recent announcement from the National Republican Campaign Committee (NRCC) on the House districts they're targeting to flip and oust Democrats was further evidence that the GOP continues to see heavily-Hispanic parts of the country as competitive and winnable territory in 2024.
Among the 37 targets are nine districts where Latino voters are a large part of the electorate. They include Colorado's 8th Congressional District, Florida's 9th, New Mexico's 2nd, Oregon's 6th, California's 9th, Texas' 34th, as well as three in Nevada—NV-01, NV-03, and NV-04.
Like the diverse group of voters that make up the Hispanic electorate, each district has its own unique makeup, with 21 percent of OR-6 being Latino, for example, while in CO-08 and FL-09 they total around 40 percent of the district. Then there is TX-34, on the other end of the spectrum, where more than seven in ten voters are Hispanic.
The list of targeted districts comes at a time when Republicans have continued to peel off some Latino voter support from Democrats during the last two cycles. The 2024 election will show if they can continue to do so while flipping districts behind that growing support.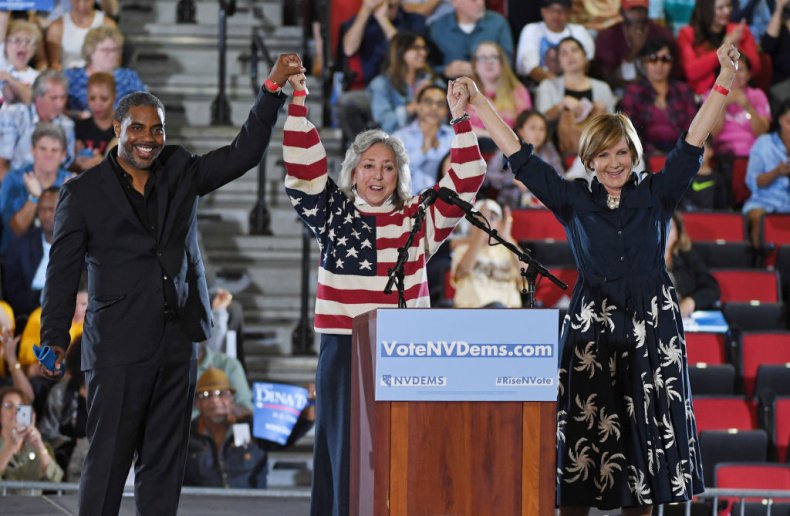 The NRCC told Newsweek of issue-specific reasons they are well-poised to attract the Latino vote.
"Hispanic voters are pro-family and anti-socialism—core principles represented by the Republican Party," spokesman Will Reinert said. "Republicans are making inroads with Latinos throughout the country and we will be playing offense from Colorado to Nevada and beyond."
While Republicans said the list of targets is based on previous margins of victory, they argued that the principles of the Hispanic community—from parent's rights in education, to socialism, the economy, "and not being a victim"— are in line with the Republican message.
Democratic Representative Vicente Gonzalez, who turned back a high-profile challenge from Mayra Flores in November, beating her by 8.5 points, told Newsweek in a text message that he welcomes the challenge to do it again.
"When we win a race by almost double digits against an incumbent, on an off-year, in a new district, with millions of squandered Republican dollars, we always welcome them back," he said. "Republican resources spent in places like South Texas and similar areas is what will guarantee a Democratic majority in '24."
Republicans say they will focus on ads in English and Spanish to get their message out on various issues specific to those regions, noting for example that in TX-34 there isn't comparable cable TV infrastructure to other areas, so digital streaming ads are useful there.
Because many voters in this district do not watch English-language TV stations, it is harder to reach them during a midterm cycle. But a presidential cycle affords better opportunities to engage them due to the scale of outreach and money being spent nationally, the Republican sources said.
They note that although it is early to be discussing the exact issues that will animate voters in a year and a half, they say they will likely be a combination of the national mood and local concerns.
In New Mexico, where Republicans are looking to defeat newly elected Representative Gabe Vasquez, they say they will go after him the same way they beat the last Democrat to hold the seat. Xochitl Torres Small lost in 2020, raising $8.5 million to defend her seat, as well as $2.8 million from the DCCC, but faced more than $11 million in Republican spending, with the largest amount coming in the form of nearly $5 million from the NRCC.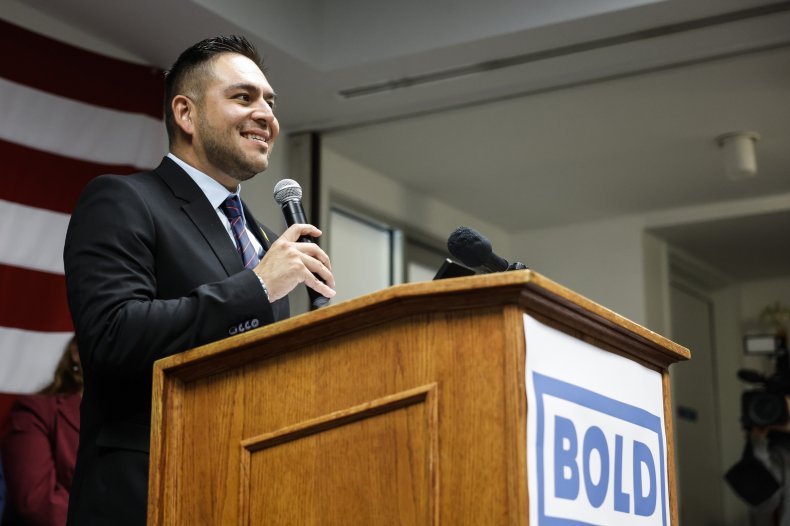 Republicans said direct to camera ads featuring New Mexicans against Torres Small on the danger to oil and gas jobs under her watch were effective.
For his part, Vasquez considers himself the most vulnerable Democrat in the House, with his office noting that both he and Caraveo in Colorado won by just 0.6 points.
In an interview with Newsweek, he said his focus is on workers and the future of communities in his district. While New Mexico has a long legacy of fossil fuel extraction and mining, he said he has also seen some of those communities turn into "ghost towns."
While his Republican opponent is focused strictly on oil and gas, Vasquez said he supports "aggressive renewable energy development" in wind and solar power, while working to ensure that workers and communities in his district still active in the fossil fuel industry are protected.
"Oil and gas is an important part of the economy," Vasquez added, "but we also have to have a broader outlook on what the future looks like in rural communities."
A key target in 2024 for Republicans will be Nevada, where the party is looking to flip three Democratic House seats, where Steven Horsford, Dina Titus and Susie Lee are incumbents.
Each Democrat won tight races with margins of four to six point in districts that range from 20 percent to 40 percent Latino.
"Nevada is a big prize for both Republicans and Democrats," Jesus Marquez, a senior advisor for former Republican Senate candidate Adam Laxalt told Newsweek, calling Nevada a "purple" state.
"The NRCC is going to spend and invest in these three targeted seats," he said. "I just hope they do a better job adapting to the new system."
The "new system" Marquez references is universal vote by mail. which Democrats and their allies like the powerful Culinary Union utilized well, including having hundreds of culinary members available to help "cure" outstanding issues with voter ballots.
Andres Ramirez, a Democratic strategist and veteran of presidential campaign cycles who worked with the Obama administration on health care, said Republicans are falling into the trap of "believing their own hype and false narrative."
"Republicans have not shown any ability to pose a serious electoral threat to Representatives Horsford, Lee and Titus with Latino voters in Nevada," he told Newsweek. "They failed before and they will fail again."
As Republicans enter into Democratic territory where Latino voters will play a pivotal role, Democratic lawmakers hope their party is able to effectively reach these voters on issues that are important to them.
Vasquez underlined the oft-repeated Democratic refrain that Hispanics are not monolithic voters, while emphasizing that they care about the same major issues, such as jobs and financial security, as other voters do.
"It's important for the Democratic Party to understand Latino communities are different across country," Vasquez said.
He identified issues including long-term viability of Social Security and Medicare, extending the child-tax credit, and tackling inflation.
"The same issues that apply to Americans, apply to Latinos," Vasquez said.