A majority of Americans say that made-up news and information is a significant issue but Republicans are three times more likely than Democrats to blame journalists for the rise of fake news, according to a new survey.
The Pew Research Center recently found that a majority of Americans see fake news as a bigger problem for the country than violent crime, climate change, racism, illegal immigration and terrorism. The only issues that ranked higher were drug addiction, health care affordability, income gap and the political system.
Overall, U.S. adults blame political leaders and activists for the creation of made-up news far more than they blame journalists. Though a majority of the public (53 percent) think that news organizations have the greatest responsibility to fix the proliferation of false information.
Republicans are much more likely to hold reporters responsible for the fake news epidemic than Democrats. Fifty-eight percent of Republicans and Republican-leaning independents blamed journalists for the problem, while only 20 percent of Democrats say journalists have created the problem.
Conservatives also see made-up news as a bigger problem than Democrats. Sixty-two percent of those polled who identify as Republican or Republican-leaning independents said that fake news is a danger to the country. Only 40 percent of Democrats or Democratic-leaning independents said that it's a significant issue.
An overwhelming majority of Americans (68 percent) said that fake news and false information has a big impact on their faith in government institutions, according to the survey. Fifty-six percent also said that they think the issue of fake news will only get worse over the next five years.
The Pew Research study polled 6,127 American adults between February 19 and March 3.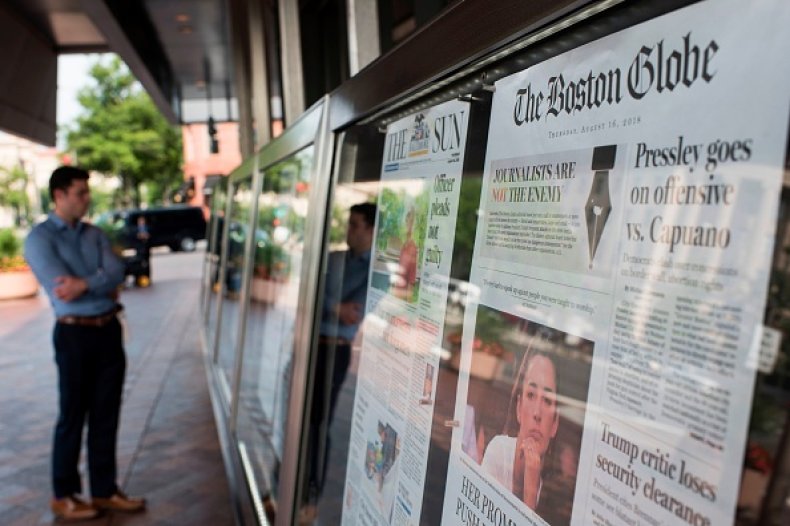 Since being elected, President Donald Trump has ramped up his attacks on the press and deeming reporters as the "enemy of the people." He often derides new coverage he dislikes as false and routinely singles out specific outlets and reporters.
As a result of Trump's antagonistic rhetoric, the American Dialect Society chose In 2017 the "fake news" as its word of the year in 2017. The following year, Dictionary.com deemed "misinformation" as its word of 2018.
In April, after announcing that he would not attend the annual White House correspondents' dinner, Trump issued a scathing tweet about journalism. It was the first time he addressed the entire press corps as fake news, rather than his individual attacks on certain media organizations.
"The press is doing everything within their power to fight the magnificence of the phrase, MAKE AMERICA GREAT AGAIN! They can't stand the fact that this Administration has done more than virtually any other Administration in its first 2yrs. They are truly the ENEMY OF THE PEOPLE!" Trump wrote.