Republicans Are Using John McCain's Image in Attack Ads and His Family Is Not Happy About It
The Republican Party has made the controversial decision to include recently deceased senator John McCain in its new Democrat-targeting adverts.
The video shows McCain criticizing Democrats Ann Kirkpatrick, running for a seat in Arizona, and Elissa Slotkin, running for a seat in Michigan. The ads have not gone down well with McCain's family, who are "disappointed" that he is being used for smear campaigns.
Family friend and former McCain adviser Rick Davis spoke on the family's behalf: "The family is disappointed that John's image is being weaponized this election cycle so soon after his passing, and they had hoped there would be a more appropriate amount of time for people to think about his final message before they began to politicize him," Davis told Politico.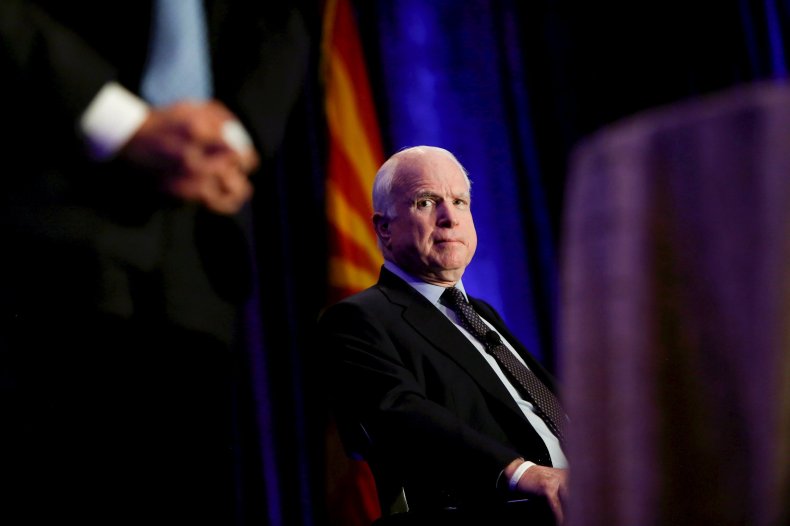 In the ad, McCain lists Kirkpatrick's shortcomings and says she "won't oppose higher taxes. She won't oppose more federal spending. And she won't oppose increased debts that slow economic growth." Speaking about Slotkin, McCain said she "either doesn't know the truth, or are you not telling the truth."
Both statements completely contradict McCain's dying legacy, which he penned in a letter on his deathbed. "We weaken our greatness when we confuse our patriotism with tribal rivalries that have sown resentment and hatred and violence in all the corners of the globe," McCain wrote.
"We weaken it when we hide behind walls, rather than tear them down, when we doubt the power of our ideals, rather than trust them to be the great force for change they have always been.
"We are three-hundred-and-twenty-five million opinionated, vociferous individuals. We argue and compete and sometimes even vilify each other in our raucous public debates. But we have always had so much more in common with each other than in disagreement."
McCain died in his Arizona home on August 25 following a battle with brain cancer. The former presidential candidate was surrounded by loved ones and by the time of his death, had served the United States for 81 years in the military and in politics.
"I love you forever—my beloved father," McCain's daughter Meghan wrote on Twitter. "I was with my father at his end, as he was with me at my beginning. In the thirty-three years we shared together, he raised me, taught me, corrected me, comforted me, encouraged me, and supported me in all things.
McCain was buried at the U.S. Naval Academy Cemetery in Annapolis.