Republicans Are Using Paul Pelosi Attack to Target Democrats on Crime
Republicans and conservative figures have taken aim at Democrats over crime following an attack on Paul Pelosi, husband of Democratic Speaker of the House Nancy Pelosi.
Paul Pelosi suffered a skull fracture and is hospitalized following an attack at the couple's California home where the suspected attacker, David Depape, reportedly shouted "Where's Nancy?" before hitting Paul Pelosi with a hammer.
Several Republicans and conservative media personalities appeared less than sympathetic in comments following news of the attack, with some criticizing Democrats for their approach to crime.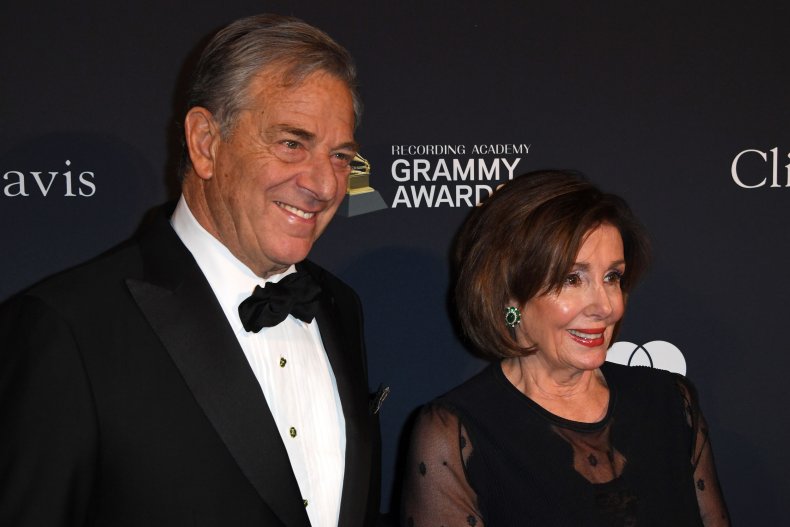 Kari Lake, Republican candidate for governor in Arizona, told Fox News' Laura Ingraham on Friday that people are "realizing that it's the policies of the left that have made our streets more dangerous" during a conversation about the attack on Paul Pelosi.
"They're realizing that the crimes, whether they be a small crime where your car's broken into to a violent attack, it's because of leftist elected officials who have not enforced the laws," Lake said.
Earlier in her show, Ingraham described the attack as "hideous" and "disgusting" and wished Pelosi a quick recovery, but added: "The question is whether Democrats will attempt to use the actions of a lone lunatic to chill political speech."
Republican Representative Marjorie Taylor Greene took to Twitter and blamed President Joe Biden for the levels of crime in the U.S.
"Violence and crime are rampant in Joe Biden's America. It shouldn't happen to Paul Pelosi. It shouldn't happen to innocent Americans. It shouldn't happen to me. (Swatted six times, violence & death threats every day)," Greene wrote.
"Whether it's Atlanta, Chicago, NY, or San Francisco, we need to fund & support police and end the deadly nationwide crime. Praying for Paul Pelosi," she added.
Republicans have made tackling crime a major issue in campaigning for next month's midterm elections as polls show crime ranks high among voters' concerns.
Former Republican Representative Devin Nunes, who is now CEO of the Trump Media & Technology Group, spoke to Newsmax on Friday about the attack on Pelosi's home and condemned it, but Nunes also said he'd been a victim of "these raging lunatics."
"Where were the Democrats and Pelosi when people were outside my home with my young daughters in the home, and my wife, by themselves? Where were they when they targeted my 98-year-old grandmother? Where were they when Antifa showed up on my family's farm?" Nunes said.
Virginia's Republican Governor Glenn Youngkin was criticized for apparently making light of the attack on Friday when he said Republicans would send Speaker Pelosi "back to be with [Paul Pelosi] in California."
A Youngkin spokesperson told Newsweek in a statement: "As the governor clearly said, the assault on Paul Pelosi was wrong and there is no place for violence."
"He wishes him a full recovery and is keeping the Pelosi family in his prayers," the spokeswoman said.
Fox News host Jesse Watters said that he wanted the suspected attacker to be treated as if he'd "attacked anybody else" and suggested he should be released.
"Because a lot of people get hit with hammers. A lot of people get attacked. And a lot of the times, they're out on bail the next day and it's a simple assault charge. So I don't know why this guy is being treated differently," Watters said.
He went on to say that that "the left" had wanted a "social worker" to handle violent incidents like the one at the Pelosi's home, garnering criticism from some social media users.
In a statement following the attack, Speaker Pelosi's office said the family was "thankful for the outpouring of support and prayers" and the family "appreciates respect for their privacy during this time."