Republican Contenders Avoid Speaking Trump's Name as New Hampshire Votes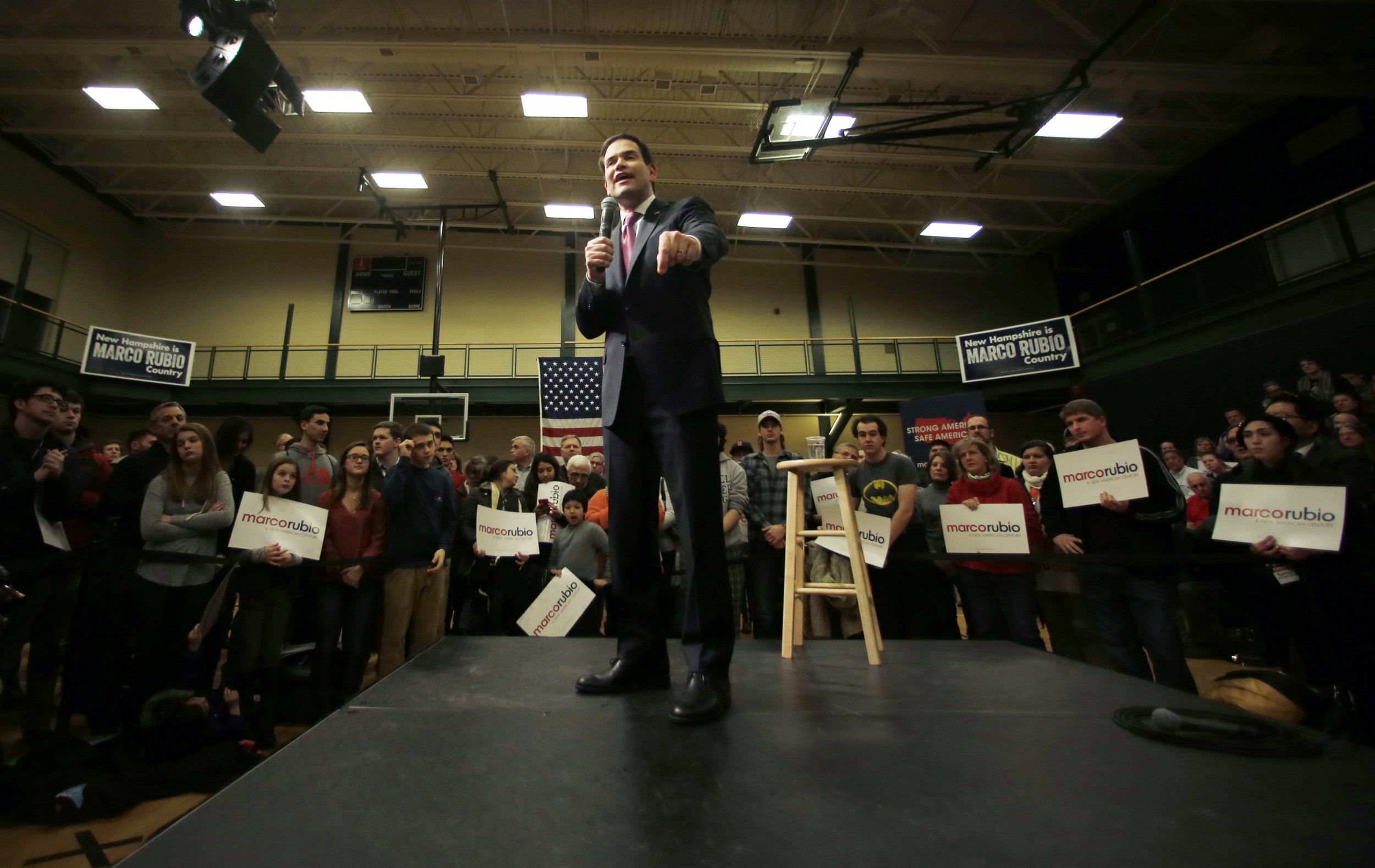 It's one of the great ironies of the New Hampshire primary: Donald Trump's name barely gets mentioned by his opponents even as each vies to be the anti-Trump candidate left standing.
It's a political mantle that's gone by different names—running in the "establishment" lane or appealing to the moderate vote. But essentially, a handful of 2016 Republicans are trying to be the candidate for those that say they would never vote for the voluble real estate mogul. And New Hampshire could be the place that cements who gets to play that role as the primary field narrows.
Only one of them, Jeb Bush, is actually mentioning Trump by name. As Bush pointed out Sunday morning at a Nashua town hall meeting, "Think about it now: Who's the only guy going after Trump?" That full-frontal approach backfired for Bush in early debates this fall—Trump flattened him every time he sought to attack. But in New Hampshire it's been a hit. The line drew sustained cheers from the crowd packed into the elementary school gymnasium Sunday.
The former Florida governor went on to chide his opponents for not following his lead. "There were two opportunities where Ted Cruz and Marco Rubio could have taken on Donald Trump." (Neither took the bait.) "I don't get it," Bush said. "The guy's the front-running candidate of the conservative party, and he's not a conservative and no one else seems to be bothered by it?"
One undecided voter said afterward she liked Bush's aggressive tack. Schoolteacher Susan Carr, 57, of Nashua was still making up her mind on whom she wanted to vote for, but "I know who I do not want." That would be Trump. Compared with the billionaire political neophyte, Bush struck her as "really smart and experienced."
Rubio came to Nashua Monday evening for a rally, and there too supporters made clear they don't like Trump. Political consultant Anthony Del Pellegrino, 48, and DJ Dominic Muscella, 47, drove up to New Hampshire from Manchester Township, New Jersey, in a snowstorm to hear Rubio speak (though they can't vote in New Hampshire Tuesday).
Muscella said that initially he was excited about Trump's campaign. "I believed he would be more articulate," Muscella said as they awaited Rubio. Both men quickly concluded that Trump was driven more by his ego than any desire to lead the country. "You know Teresa Giudice?" Del Pellegrino asked, citing one of the stars of the reality-TV show Real Housewives of New Jersey. "I think she would be somewhat better than Donald Trump" as president, he deadpanned.
Rubio, however, never mentioned Trump once during his short, fiery remarks to a revved-up crowd at Nashua Community College. His pitch has been that he can unify all segments of the Republican Party. So he aimed all his fire at the Democrats, primarily President Barack Obama. "This is a nation that's been divided against itself because we have a president who's deliberately divided us," he told the crowd.
Chris Christie is also bidding for the anti-Trump vote without talking about Trump. He prefers to go after Rubio, gambling that taking down the front-runner among establishment Republicans can boost his own stock with them. The New Jersey governor didn't do it quite as directly on Monday as he did during Saturday's debate in Manchester, when he mocked Rubio to his face for talking in 30-second sound bites. "Here's why that debate was so important," he told the audience at a town hall meeting in Hudson, New Hampshire. "You've got to be ready to be president of the United States."
Christie didn't actually say Rubio's name, but his allusions were clear. "The fact is, you need to have some experience at doing this, because it's nothing like the United States Senate," he said. "I think that what you saw on Saturday night is that when the lights get really bright…you either shine or you melt. We cannot afford to have a president who melts."
And then there's John Kasich, who prefers to not attack anyone. The antithesis of Trump, he makes his contrast with the front-runner an implicit one and is hoping that his upbeat message of renewal will win over New Hampshire voters tired of divisive politicking.
The Ohio governor's town hall meeting Sunday afternoon in Concord took on a tone that, at times, was more group therapy session than political pep rally. Reflecting on all the personal stories New Hampshire voters have shared with him, Kasich said, "I think many of us just feel lonely, we don't know where to go. There's no one around to celebrate some of our victories. And sometimes there's no one around…to just sit and cry with us."
Looking across the audience, seated quietly in rows, he asked, "Don't you want that back in our country again?"
The closest Kasich got to combative was when answering questions afterward. He shot down a 17-year-old boy who asked about the need for a carbon tax, saying, "I don't want any taxes." And he lost patience with an independent female voter who questioned Kasich's pledge to defund women's reproductive health and abortion provider Planned Parenthood.
Afterward, Republican John Norris said he still wasn't sold. "If he was the nominee, I'd vote for him," the Nashua retiree said. But "to me, something's missing."
Some voters, it seems, would like to see their candidate throw a punch now and then. Tuesday night will reveal how many Republicans agree.