The Republicans Still Backing Donald Trump: Lindsey Graham, Tom Cotton and 2024 Hopefuls
Senior Republicans are throwing their weight behind President Donald Trump, taking to Twitter, television news networks and even donating large sums to his campaign's legal fund as GOP leaders fight to keep their candidate in the race.
Expressions of support for the president, who is trailing Joe Biden in terms of Electoral College votes and faces an uphill battle in several key battleground states, appeared to snowball after an appeal from Trump's sons on Thursday night for party leaders to "have some backbone."
Donald Trump Jr. accused "virtually all of the 2024 GOP hopefuls" of a "total lack of action," adding: "They have a perfect platform to show that they're willing and able to fight but they will cower to the media mob instead. Don't worry @realDonaldTrump will fight & they can watch as usual!"
Eric Trump tweeted, but then deleted, a message saying: "Where is the GOP?! Our voters will never forget..." To which Rudy Giuliani, the president's personal lawyer, replied: "NO, THEY WON'T!"
Trump, his sons, and some of his Republican backers, have made unsubstantiated claims of election fraud, with the president's campaign threatening or having already launched legal action in a number of states. Others, though, expressed support for the president but stopped short of repeating unproven allegations that the result had been "rigged."
Several of those declaring their support for Trump are considered to be in contention for the GOP ticket in 2024.
Former UN Ambassador Nikki Haley, who is among a list of senior Republicans considered likely to run in a future primary contest, wrote: "We all owe @realDonaldTrump for his leadership of conservative victories for Senate, House, & state legislatures. He and the American people deserve transparency & fairness as the votes are counted. The law must be followed. We have to keep the faith that the truth will prevail."
Senator Lindsey Graham of South Carolina donated $500,000 to Trump's campaign legal fund. Graham announced his donation in an appearance on Fox News, saying he "stands with [the] President" because "he stood with me."
Eric Trump tweeted in response that Graham was "a good man! Thank you for having spine! Fight this fraud!"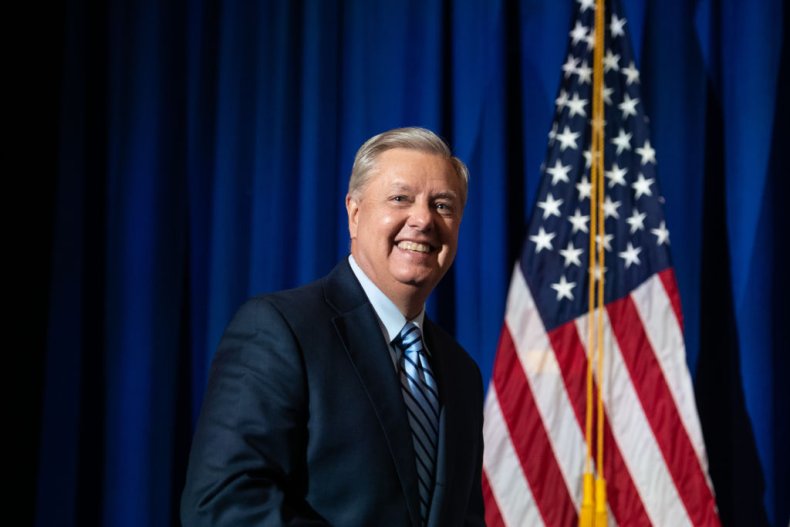 Marco Rubio, the Senator for Florida, who has explicitly not ruled himself out of the 2024 race, tweeted on Thursday night that "if a candidate believes a state is violating election laws they have a right to challenge it in court and produce evidence in support of their claims," having said a day earlier that "taking days to count legally cast votes is NOT fraud."
Senator Ted Cruz of Texas also came to the president's defense, repeating claims election observers were being kept away from vote counting and suggesting that the Justice Department and US Supreme Court could get involved, during an interview with Fox News host Sean Hannity. "I am angry, and I think the American people are angry," he said. "By clouding the vote counting in a shroud of darkness, they are setting the stage to potentially steal an election."
In a short message that did not reference election "fraud," Vice President Mike Pence, another name considered likely to run in 2024, tweeted: "Stand With President @realDonaldTrump. We must count every LEGAL vote."
Tom Cotton, the senator from Arkansas, appealed for donations to Trump's defense fund, writing: "All votes that are *legally* cast should be counted. There is NO excuse not to allow poll watchers to observe counting."
Josh Hawley, Republican senator from Missouri, wrote: "The American people, whatever their party, deserve total transparency in the election vote. Allow poll watchers to be present as ballots counted. Full accounting of all ballots."
Ronny Jackson, the Representative-elect for Texas's 13th congressional district, referred to his party colleagues as RINO—"Republican in name only"—and said they needed to "STAND UP for President Trump and fight back against the Democrats and their election fraud."
Potential 2024 Republican contenders are likely to include President Trump himself, were he to lose this time around, as well as Trump Jr, Pence, Haley and Secretary of State Mike Pompeo.