Republicans Bash Zelensky Visit Ahead of Appeal for Aid: 'Welfare Queen'
Ahead of Ukrainian President Volodymyr Zelensky's surprise visit to Washington D.C. on Wednesday, several Republicans preemptively criticized what they expect to be an appeal for additional aid to help fight Russia in the war.
"Zelensky is basically an ungrateful international welfare queen," Donald Trump Jr. tweeted Wednesday.
He was responding to an excerpt from an Associated Press report on Zelensky's visit, which mentioned remarks that the Ukrainian president made earlier this week during another surprise visit to the embattled city of Bakhmut in Ukraine. After being handed a Ukrainian flag during that trip, Zelensky hinted that he would deliver it to U.S. officials.
"We are not in an easy situation. The enemy is increasing its army. Our people are braver and need more powerful weapons. We will pass it on from the boys to the Congress, to the president of the United States. We are grateful for their support, but it is not enough. It is a hint—it is not enough," Zelensky said, according to the AP.
Newsweek reached out to Ukraine's Foreign Ministry for comment.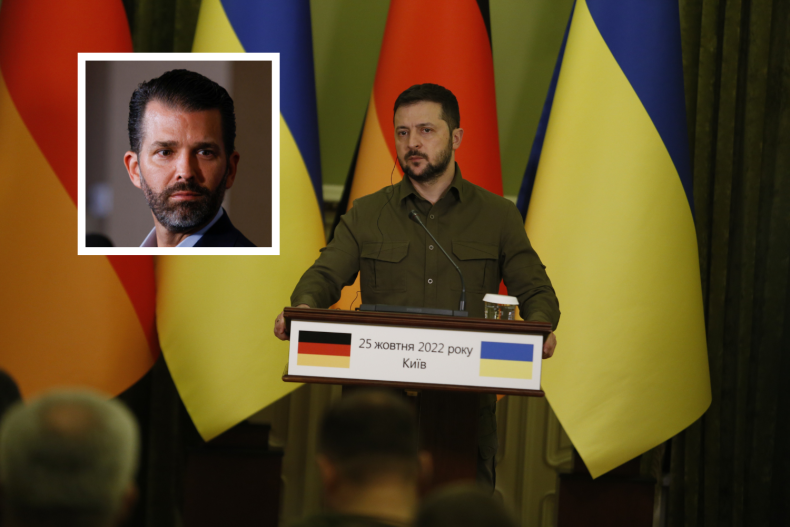 This visit, during which Zelensky is expected to address a joint meeting of Congress, came as Republicans are fighting over an omnibus bill that could provide an additional $45 billion in aid to Ukraine.
Republican Representative Chip Roy of Texas suggested in a Twitter thread on Wednesday that the timing of Zelensky's visit as lawmakers consider the bill wasn't an accident. Retired U.S. Navy Vice Admiral Robert Murrett said in a statement to Newsweek earlier Wednesday that the visit was "well-timed" while citing the ongoing work regarding the spending legislation and Ukraine's continued efforts to resist Russia's aggression.
GOP Representative Marjorie Taylor Greene also responded to the news of Zelensky's first trip outside of Ukraine since the war began in late February.
"Of course the shadow president has to come to Congress and explain why he needs billions of American's taxpayer dollars for the 51st state, Ukraine," the tweet read. "This is absurd. Put America First!!!"
Though he did not directly mention the Ukrainian president's trip, Arizona Republican Representative Andy Biggs also shared the following post on Twitter Wednesday morning: "No more blank checks to Ukraine."
Between January 24 and November 20, all the support for Ukraine agreed to by the Biden administration and Congress, ranging from security to humanitarian assistance, totals around $48 billion, according to the Kiel Institute for the World Economy.
President Joe Biden authorized up to $1 billion in additional aid to Ukraine on Wednesday ahead of Zelensky's visit.