Republicans Blast Fox News for Promoting LGBTQ Pride Month
Republicans are turning against Fox News for promoting LGBTQ Pride month.
The network, which has built a reputation for its conservative perspective, launched a Pride month promotional video earlier in June inviting viewers to "celebrate Pride month with Fox News," "meet important voices of the LGBTQ+ community" and "go inside their incredible contributions."
They also aired a Pride month special segment featuring a transgender teenager named Ryland whose parents allowed him to transition when he was 5 years old. In the special, his mother, Hillary Whittington, said she allowed her son to transition because she would "rather have a living son than a dead daughter."
The pro-Pride content, however, has left the network at odds with some of its conservative allies. The backlash comes as there have been several anti-LGBTQ incidents in recent weeks during a month usually spent celebrating and honoring the LGBTQ community.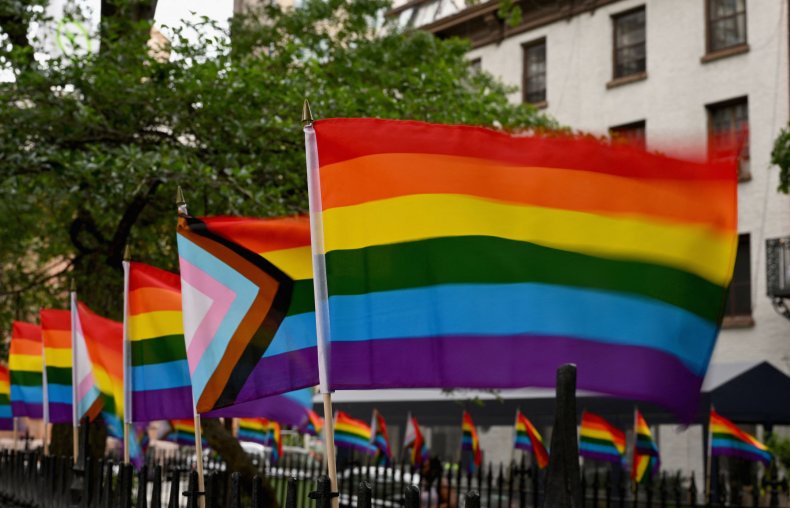 Jenna Ellis, a former attorney for former President Donald Trump, last week shared a photo of the promo on Instagram, where she slammed the channel for voicing support for the LGBTQ community. She wrote: "Uh.. what's up with this, @foxbusiness? Conservatives, this is NOT your home."
In a tweet, she went on to accuse the network of "celebrating evil."
The network is also facing conservative backlash for airing a Pride month special segment featuring conservatives, many of whom have voiced opposition to LGBTQ rights and have since expressed outrage over the segment. Conservative commentator Ben Shapiro wrote in an opinion piece for the Daily Wire that the segment is a "complete betrayal of anything remotely resembling conservatism or decency."
"Fox News's embrace of child gender transition shows that it's not enough to be unwoke. It's not even enough to just be "conservative." Without a moral foundation, every entity will eventually compromise," commentator Allie Beth Stuckey wrote.
Others praised the segment. Writer Emily St. James wrote: "Meanwhile a very sweet(?) story about a little trans boy on Fox News(?????) to celebrate(???????) Pride Month(????????????)."
The backlash comes as many in the LGBTQ community are sounding the alarm about an uptick in homophobia and transphobia. Over the weekend, members of the far-right group Patriot Front were arrested in Coeur d'Alene, Idaho, as they planned to crash a Pride event.
Meanwhile, the Proud Boys, another far-right group, disrupted a drag-queen story hour for children and families in California. Some Republicans, including Texas state Representative Bryan Slaton, have proposed banning children from attending drag shows. Some have also accused LGBTQ people of trying to "groom" children, an accusation considered to be homophobic.
Newsweek reached out to Fox News for comment.