Republicans Blast Michael Cohen's Claim He Has New Evidence Against Trump, Democrats Remain Silent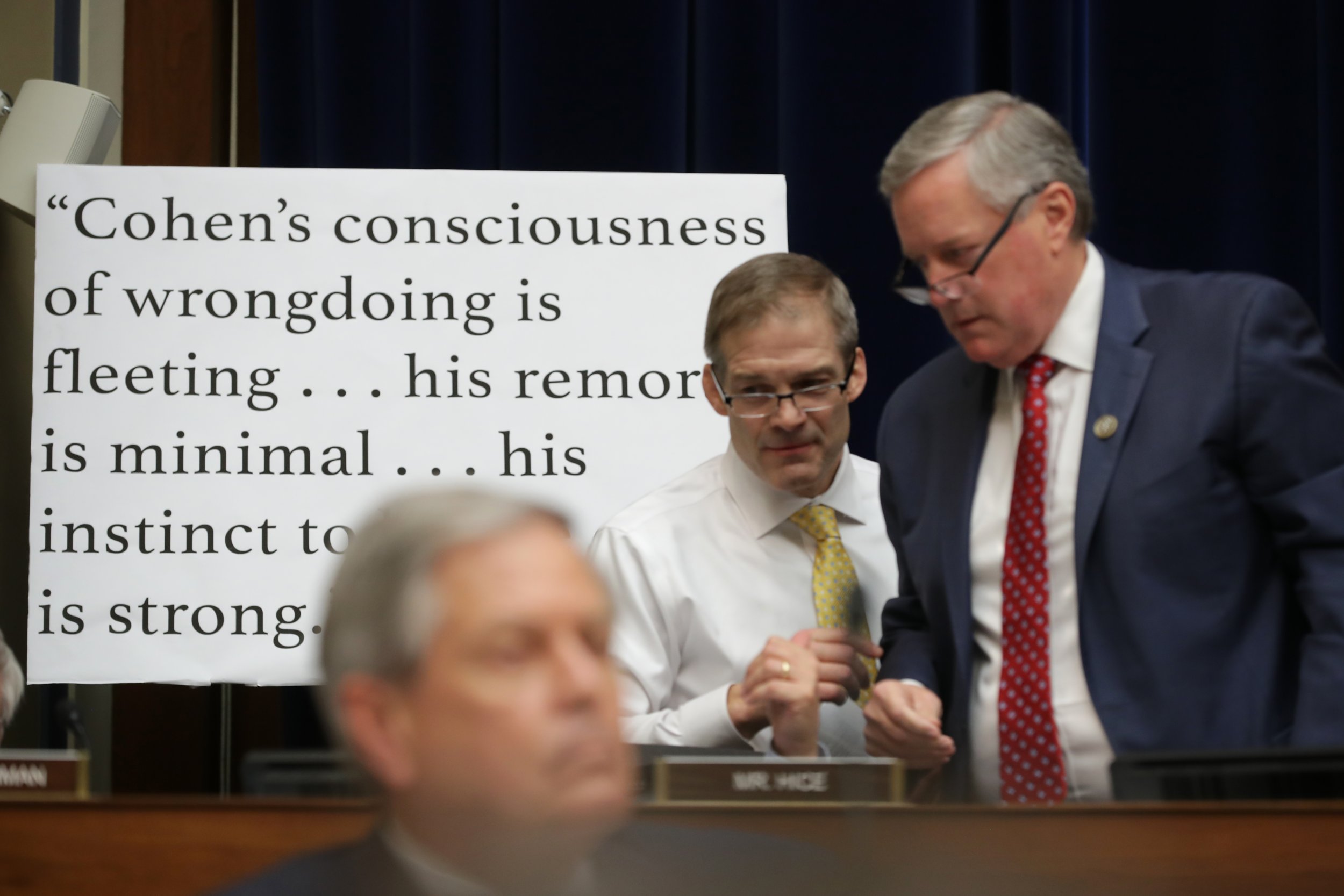 In the wake of President Donald Trump's former personal attorney Michael Cohen telling key House Democrats he has new evidence against his former boss and that he wants them to help keep him out of prison for as long as possible, Republicans are lambasting his claims and credibility. Democrats, on the other hand, have remained largely silent on the matter, making it unclear whether they will adhere to the latest plea from the president's former "fixer."
In a letter and attached documents sent to the congressional Democrats Thursday, Cohen's attorneys—Lanny Davis, Michael Monico and Carly Chocron—said their client has "only recently able to access a hard drive" containing over 14 million "e-mails, voice recordings, images and attachments" that would be of "significant value to the various congressional oversight and investigation committees."
In order to peruse through the information and provide Congress with continued cooperation, his attorneys are asking congressional Democrats to write a letter to the Southern District of New York to help "substantially" postpone his surrender date of May 6 and to reduce his three-year sentence for campaign finance violations, lying to Congress and tax and bank fraud.
"There is no doubt that Mr. Cohen's testimony, both public and private, has contributed substantially, with documents and other evidence, to triggering additional areas for investigation by law enforcement authorities and the Congress," Cohen's lawyers wrote. "He has done so despite intense personal pressures and stresses he faces for himself and his family. However, with 30 days left before he surrenders to prison, time is no longer a luxury he is capable of."
Newsweek subscription offers >
But House Republicans aren't buying it, and Democrats on the House Oversight, Judiciary and Intelligence Committees have been silent on the issue.
"This latest Michael Cohen request should end any debate about his motive, 'Keep me out of jail so I can give you NEW info...that I kept from Mueller, the SDNY, and 4 congressional committees,'" North Carolina Republican Mark Meadows, a member of the Oversight Committee, said on Twitter. "This guy wants to get out of prison. And he'll say or do anything to make it happen. "
Ohio Congressman Jim Jordan, the top Republican on Oversight and a member of the Judiciary, also questioned Cohen's motives.
"Dems' first big hearing—Michael Cohen—who's going to prison for lying to Congress. When he testifies, he lies again, but Dems don't do anything about it," Jordan tweeted. "NOW he asks the Dems to keep him out of prison so he can tell more lies!"
Newsweek subscription offers >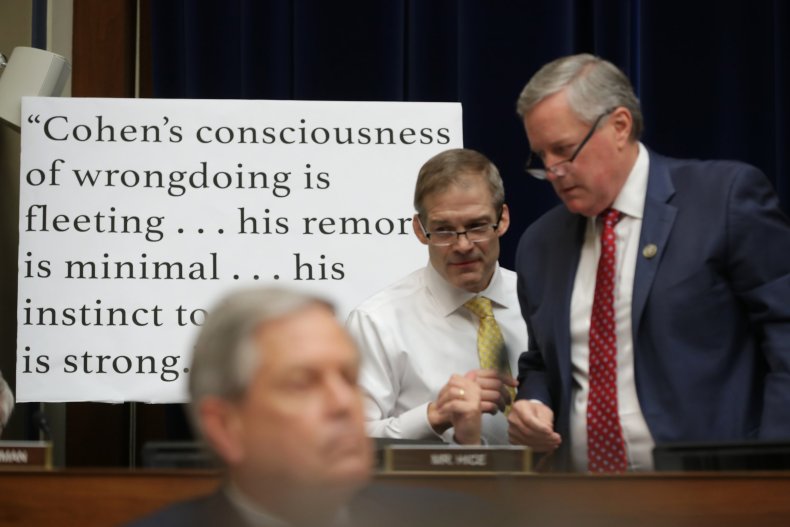 Meadows and Jordan, both to the press and during committee hearings with Cohen, have blasted the former Trump lawyer as not credible, labeling him an "admitted liar" for past false statements made to Congress. Cohen pleaded guilty for, in part, knowingly lying to the Senate and House Intelligence Committees about Trump Tower Moscow discussions with Russia during the campaign after Trump indirectly encouraged him to, according to Cohen's February testimony to the House Oversight Committee.
Democrats, however, have been silent on Cohen's latest request, making it unclear whether they will agree to Cohen's offer of more information in exchange for helping him postpone his surrender date and reduce his sentence. The Democratic—and Republican—staff of the House Judiciary, Oversight and Intelligence Committees either did not respond to Newsweek's inquires on Friday or did not wish to speak on the record.
Cohen's attorneys said in their letter to Democrats that while they did not send the same letter and evidence to any House Republicans due to "virtually every single Republican member during the public and private testimony [using] all their time to attack Mr. Cohen personally," they "would be happy to send them a copy," if they are interested.
Along with their letter to key House Democrats was a 12-page memo and more than 100 pages worth of documents, which was obtained by BuzzFeed News, that Cohen's attorneys said provides further evidence detailing their client's claims he was directed by Trump to lie to Congress.
Cohen's attorneys also laid out their argument to lawmakers about why they believed his sentence was "disproportionate," given the fact that some of his crimes, such as the campaign finance violations, were at the behest of then-candidate Trump to make a hush-money payment to adult film star Stormy Daniels for an alleged extra-marital affair with Trump years prior.
"It is a fact that Mr. Cohen remains the only member of the Trump Organization, including Mr. Trump himself, who has been prosecuted and who is going to prison for conduct almost all of which was for the benefit of Mr. Trump personally and indeed directed by him," Cohen's attorneys wrote. "In our opinion, there is something unjust here. In addition, it is our professional opinion that the length of the sentence to which Mr. Cohen was subjected is, most respectfully, disproportionate given the particular facts and circumstances underlying each of the crimes to which Mr. Cohen pled guilty."
Republicans Blast Michael Cohen's Claim He Has New Evidence Against Trump, Democrats Remain Silent | U.S.