Republicans Block Proposed Increase in Food Assistance in Coronavirus Aid Package
Senate Republicans' negotiations over a $1.6 trillion coronavirus stimulus package have reached an impasse partly due a Republican opposition to a Democratic proposal to provide additional funding for the Supplemental Nutrition Assistance Program (SNAP), a federal program that provides low-income individuals and families with an Electronic Benefits Transfer (EBT) card that works like a debit card for purchasing food in local stores.
The U.S. Department of Agriculture, which manages the program, said that requests for emergency food benefits went up by $2 billion last month as more than 22 million Americans found themselves unemployed due to the ongoing epidemic. Before the epidemic began, SNAP cost the federal government $4.5 billion to fund each month.
The federal government funded last month's $2 billion increase to SNAP through the Families First Coronavirus Response Act which was signed into law by President Donald Trump on March 18. The law also gave states the flexibility to expand SNAP benefits for recipients during the epidemic.
However, the $2.2 trillion Coronavirus Aid, Relief, and Economic Security (CARES) Act stimulus bill signed by Trump on March 27 lacked any SNAP benefit increases.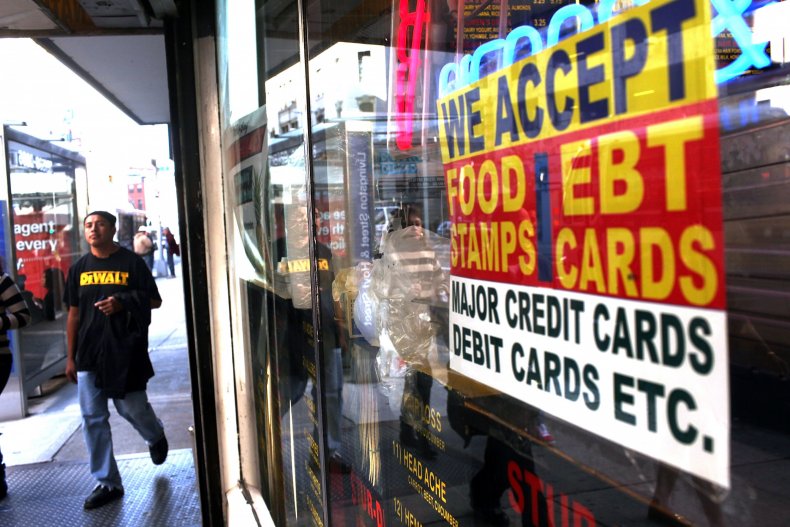 Nearly a month has passed since then, and congressional Democrats and Republicans are currently at odds over proposed funding for SNAP in the upcoming $1.6 trillion package.
Senate Majority Leader Mitch McConnell (R-Ky.) reportedly tried to include an additional $250 billion to fund the Paycheck Protection Program (PPP), an initiative that gives loans and grants to businesses with 500 or fewer employees.
However, a spokesman for Senate Minority Leader Charles Schumer (D-N.Y.) told The Hill that McConnell hadn't consulted with Democrats about the funding beforehand. Democrats also wanted some fixes to the PPP to ensure that its funds reach its intended recipients.
As a counter-proposal, congressional Democrats suggested an additional $100 billion for hospitals and health centers, $150 billion for state and local governments and a 15 percent increase for SNAP funding.
Republicans turned down the proposal. "The president has already indicated that he would not sign it," McConnell said.
While negotiations over the final package continue, New York City and 22 Democratic attorneys general have written a letter to USDA Secretary Sonny Perdue asking the department to avoid finalizing a proposed rule to would deny automatic SNAP enrollment to individuals already enrolled in other social assistance programs.
"The rule's human costs would be bad enough, but the rule also will impose substantial additional administrative burdens on the States in the midst of a pandemic in which the States already are the front-line public health and economic responders," the attorneys general wrote in the letter.