Republicans Block Fourth Election Security Bill Despite Mueller's Warning Russia is Interfering 'As We Sit Here'
Robert Mueller issued a stark warning to Congress on Russian election interference Wednesday: "They're doing it as we sit here."
Still, Senate Republicans have blocked four pieces of legislation that sought to bolster the security of U.S. elections since the former special counsel's daylong congressional testimony, the latest of which came on Thursday when Majority Leader Mitch McConnell, a Kentucky Republican, blocked two unanimous consent votes.
"The Republican leader has already indicated his intention to bury this bill in the legislative graveyard," said Minority Leader Chuck Schumer, a New York Democrat, on the floor just prior to McConnell's block. Schumer was one of two Democrats who tried to force a vote on one of the bills. "That's a disgrace."
In his testimony before the House Intelligence Committee Wednesday, Mueller elaborated on his report, which concluded that Russia tried to interfere in 2016 in a "sweeping and systematic fashion."
"It wasn't a single attempt. They're doing it as we sit here, and they expect to do it during the next campaign," Mueller said of Russia. "Much more needs to be done in order to protect against these intrusions—not just by the Russians, but others as well."
The measure Schumer attempted to force a vote on, known as Securing America's Federal Elections Act and in which was passed by the House last month, would have provided $600 million for states to strengthen election security, given states $175 million biannually for election infrastructure, required post-election audits and more safeguards in electronic voting machines, such as federal elections backing up their electronic voting machine tallies with paper ballots. GOP Representative Brian Mast was the lone House Republican to vote for it.
McConnell said his opposition arose from his belief the legislation was "highly partisan" and came from the "same folks who hyped up a conspiracy theory" about Trump-Russia collusion.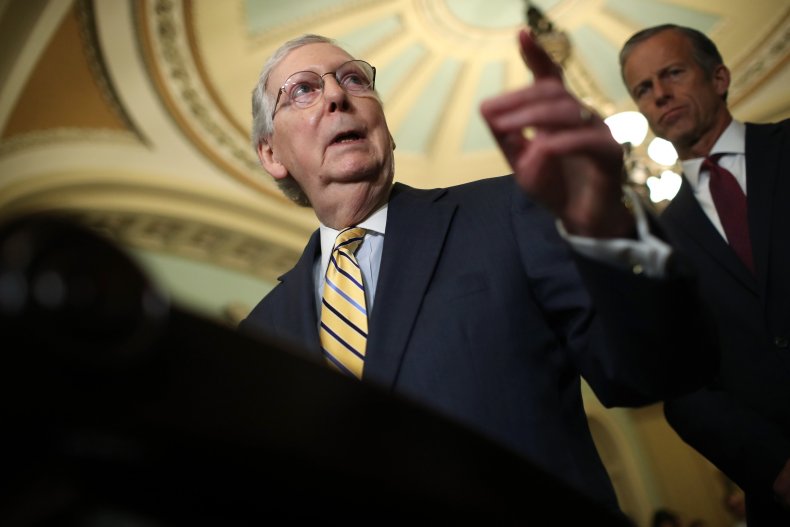 "It's so partisan that it received one—just one—Republican vote over in the House. Clearly, this request is not a serious effort to make a law," McConnell continued. "It's very important that we maintain the integrity and security of elections in our country."
Schumer suggested that McConnell bring a different elections security bill to the floor for debate. McConnell did not respond.
Democratic Senator Richard Blumenthal's move to force a vote on a separate elections security bill, the Duty To Report Act, which would require candidates, campaign officials and their family members to notify the FBI and the Federal Election Commission within 24 hours if they receive or are offered foreign contributions, was also blocked by McConnell.
Republican Senator Cindy Hyde-Smith blocked the same move by Democrats Wednesday evening to pass similar election security bills. The Mississippi lawmaker did not state her reason for opposing the measures.
Current law already prohibits accepting or seeking foreign assistance in elections. However, neither campaigns nor candidates are required to report to the U.S. government any offers from foreign governments.
Even in the wake of the Russia probe that delved into the foreign adversary's attempts to subvert the 2016 elections and Mueller's conclusion that it is "among the most serious" issue that "deserves the attention of every American," Trump has said he would accept damaging information on an opponent from a foreign government.
"I think you might want to listen," Trump said in an interview with ABC News last month. "There isn't anything wrong with listening." The president later walked back his remarks.