Republicans Break With Trump, Say Biden Should Have Access to Classified Briefings
While President Donald Trump refuses to concede the 2020 election, several top Republicans are saying it's time for Joe Biden to have access to classified briefings as he prepares for a transition of power.
On Thursday, Senators Chuck Grassley (R-Iowa) and John Thune (R-S.D.) told CNN that Biden should receive the intelligence information.
"I would think—especially on classified briefings—the answer is yes," Grassley said.
Thune told the news outlet that "it probably makes sense to prepare for all contingencies" and that "as these election challenges play out in court, I don't have a problem with—and I think it's important from a national security standpoint—continuity. And you've seen other members suggesting that."
Senator John Cornyn (R-Texas) said the same when asked Thursday if Biden should have access to daily intelligence briefings, telling reporters he didn't know of any justification for withholding the information.
Other Republicans who said on Thursday that Biden should have access to classified briefings were Senators Lindsey Graham (R-S.C.), Rob Portman (R-Ohio) and Ron Johnson (R-Wis.).
Their comments come a day after Senator James Lankford (R-Okla.) told local radio station KRMG that he will "step in" if Biden doesn't begin to receive the briefings.
"There's nothing wrong with Vice President Biden getting the briefings to be able to prepare himself so that he can be ready," Lankford said Wednesday. "If that's not occurring by Friday, I'll step in as well and to be able to push him to say, This needs to occur so that, regardless of the outcome of the election, whichever way it goes, people can be ready for that actual task."
However, Lankford made it clear that he supports Trump's legal challenges to the election, based on unsubstantiated claims of voter fraud. In a tweet on Thursday, the senator wrote that the president "is fully in his right to ask for recounts and for every legal question to be fully vetted and resolved. It is important for the 71 million Americans that voted for President Trump that, at the end of all this, their questions are answered."
Biden, who was projected the election's winner on November 7, has yet to receive the president's daily brief about pressing national security matters—an unusual restriction for a president-elect.
That's because the General Services Administration (GSA) has not made an "ascertainment" on the winner of the race, which would unlock critical resources like briefings and funding for the president-elect. The agency said it would do so once a "clear" winner was determined.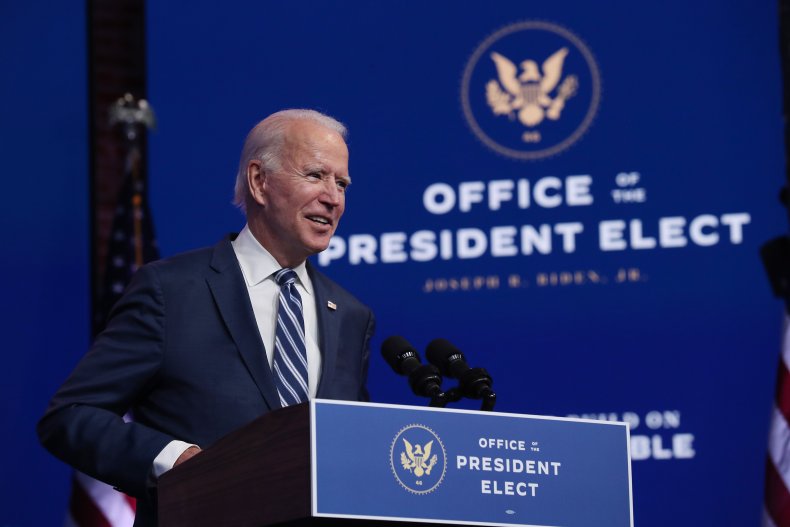 Several other Republicans have called for Biden to have access to transition tools in order to avoid national security risks.
"We need to have that contingency in place," Florida Senator Marco Rubio told Bloomberg News. "I don't think allowing the GSA to move forward on some of the transition work prejudices in any way any of the legal claims the president intends to make."
Senator Pat Toomey of Pennsylvania said during an interview with Pittsburgh's Action News 4 that "we're on a path [where] it looks likely Joe Biden is going to be the next president of the United States. It's not 100 percent certain, but it is quite likely. So I think a transition process ought to begin."
As of Thursday morning, Biden had 290 electoral votes, compared with Trump's 217. But the president has refused to concede and has repeatedly claimed, without evidence, that the election was rigged and stolen from him. The Trump campaign and Republican allies have launched several lawsuits to challenge the vote count in key swing states like Arizona, Georgia, Michigan, Nevada and Pennsylvania.
But the Democrats said on Thursday that it's time for Republicans to move on from the election and accept Biden as president-elect.
"The election is over. It wasn't close," Schumer said during a press conference. "Senate Republicans: Stop denying reality."
Newsweek reached out to the White House for comment but did not hear back in time for publication.