Republicans Break with Trump for Threatening to Veto Defense Funding Over Big Tech Protection: 'I am Disgusted'
Republican lawmakers issued searing rebuke on Wednesday in response to President Donald Trump's threat to block the must-pass annual defense spending bill that Congress has approved, without fail, for more than half a century.
In a tweet Tuesday night, the commander in chief said that unless Congress abolishes Section 230 of the 1996 Communications Decency Act, which provides social media companies legal protections against what content is shared on their platforms by third parties and users, he would "be forced to unequivocally VETO" the National Defense Authorization Act (NDAA).
Update: Trump Veto Threat Sparks Republican Revolt on Defense Bill in Big Win for Democrats: Republicans ignored Trump's veto warnings and struck a deal with Democrats that excludes Section 230 while including a provision that requires the renaming of military bases with Confederate names.
Section 230, which Trump labeled "a serious threat to our National Security & Election Integrity," is entirely unrelated to the NDAA, a crucial piece of annual legislation that funds the country's military.
Despite the threat, top Republicans said they were forging ahead without the president's wish and would test his veto. The Senate decided via unanimous consent Wednesday morning to officially go to conference on the NDAA and hammer out the differences between their version and the House's.
"Section 230 has nothing to do with the military," Senate Armed Forces Committee Chairman Jim Inhofe (R-Okla.) said, adding that he told the president their plans to proceed without nixing Section 230. "You can't do it in this bill."
GOP lawmakers were none too pleased, characterizing Trump's threat as inappropriate, with one going so far as to say he was "disgusted."
"As a member of House Armed Services I am disgusted with these threats to veto the NDAA," Rep. Paul Mitchell (R-Mich.) said. "It is a strong bi-partisan DEFENSE policy bill. Not the place for a rush job last minute whack at social media."
Rep. Chip Roy (R-Texas), a conservative and loyal ally to Trump, said "sec 230 should NOT be mixed with NDAA & used by" the president to veto.
Sen. Mike Rounds (R-S.D.), an Armed Services Committee member, told Newsweek he "would hope" the president wouldn't follow through on his threat, and suggested Trump was trying to illustrate how deep his frustrations run with the tech protections.
"I think what he's suggesting is how strongly he feels about section 230 and the need to reform it, and there's a lot of us that feel very strongly about it," Rounds said. "Personally, I would not want to see that as being a reason for not signing the NDAA. I think that would be a mistake."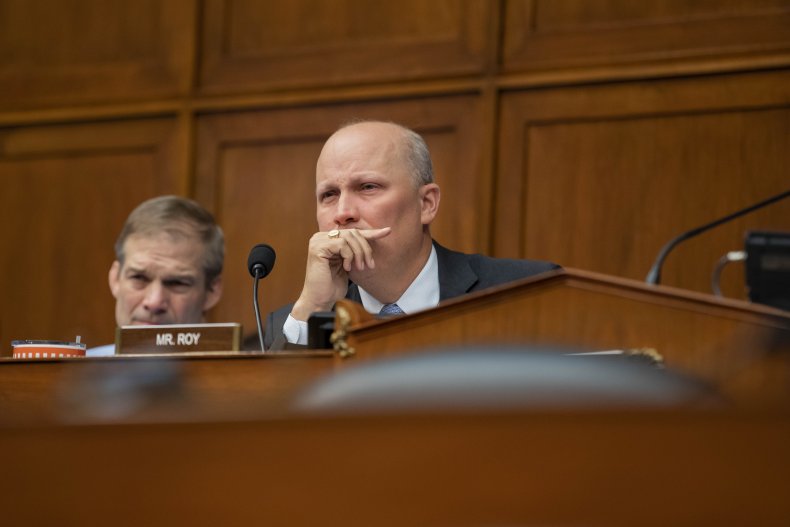 Trump's gripe with Section 230 mirrors that of concerns from conservatives and Republicans that they're unfairly censored by big tech companies on social media platforms like Facebook and Twitter. But the consensus from GOP lawmakers was that the issue is for another time and place—not within a key military bill.
Trump's tweet was yet another reminder that the president, although a lame-duck leader with just a few remaining weeks in office, still possesses the ability to complicate what would otherwise be a fairly mundane process. Congress has approved an NDAA for the past 59 years, and lawmakers are already scrambling to work out disagreements before leaving town for Christmas.
"[I]f the very dangerous & unfair Section 230 is not completely terminated as part of the National Defense Authorization Act (NDAA), I will be forced to unequivocally VETO the Bill when sent to the very beautiful Resolute desk," the president tweeted. "Take back America NOW."
Democrats suggested Trump was using a veto threat for something much larger than simply Section 230.
"He's just trying to use the NDAA as a way to punish companies that he thinks are not pushing his propaganda," Sen. Elizabeth Warren (D-Mass.) said.
This wasn't Trump's first veto threat to the legislation.
This year's NDAA was already more complicated than usual, as Congress seeks to include a ban on Confederate names for military bases. Democrats back the provision and while many Republicans do, the GOP is more split. Trump has also threatened to veto the authorization over the issue.
House Majority Leader Steny Hoyer indicated to reporters Wednesday that stripping the Confederate names was a non-starter: "If that language is not included," the Maryland Democrat said, "I would be reluctant to put that bill on the floor."
Senate Majority Whip John Thune (R-S.D.) also disagreed with Trump's move and said that it's likely the case that the renaming legislation remains in the final version in some fashion.
Congress could pass the military spending bill with a veto-proof majority, as it usually does. But in the current political climate and the Confederate names issue still unresolved, that could prove to be a tougher task than normal.
"Some people might reconsider their vote if the president had a good reason for offering a veto," Rounds warned, adding that they knew the Confederate base names would already complicate the process.
Sen. Lindsey Graham (R-S.C.), a Trump confidant, expressed confidence that the conundrum would somehow resolve itself.
"I think that'll probably resolve itself," Graham said Tuesday. "Just the way it always does."