Republicans Break With Their Voters to Support Ukraine
When Russia invaded neighboring Ukraine last spring, Americans across the political spectrum were more or less united behind lending the Ukrainian government the money and weaponry it needed to fend off the occupying Russian forces.
At the war's start last February, nearly two-thirds of the country—including 65 percent of Republicans—supported providing the Ukrainian military with weapons, according to an AP-NORC poll at the time, with other, later polls showing majority support for continuing military aid persisting through the 2022 midterm elections.
The Republican base today is steadily losing interest. Their party's leaders, however, are not.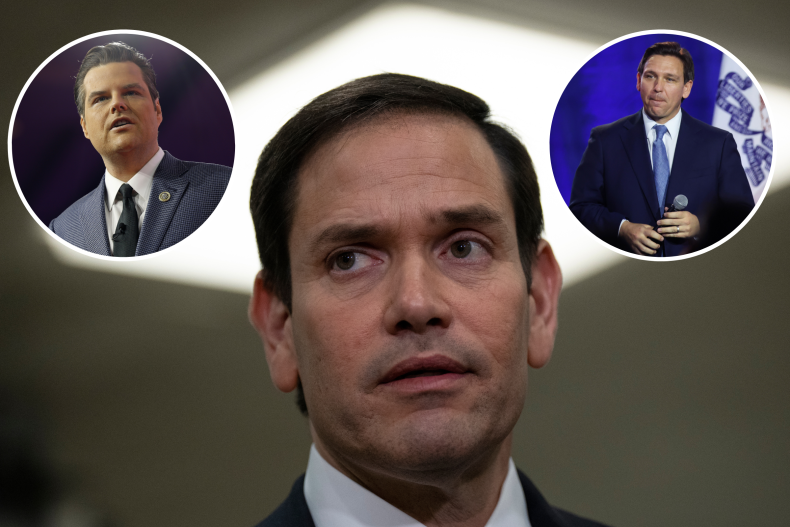 In the lead-up to last fall's elections, some Republican politicians ran on platforms pledging to limit—if not abandon—the idea of additional aid to Ukraine amid the cratering support of the Republican base.
Current House Speaker Kevin McCarthy pledged he would say no to any more "blank checks" for the Ukrainian war effort if they retook control of the House. And many members of the party lashed out at Republican Senate Minority Leader Mitch McConnell and 17 other Senate Republicans following their support of a $1.7 trillion spending bill in December that contained approximately $47 billion in new aid for Ukraine.
Some of the most powerful Republicans in Congress, however, have remained steadfast, bucking their party base to continue their support of Ukraine.
After Florida Republican Governor Ron DeSantis claimed earlier this week that U.S. support of the Ukrainian war effort was not "vital" ahead of his likely run for the presidency in 2024, a series of Republican lawmakers—including Florida Republican Senator Marco Rubio, Texas Republican Senator John Cornyn, and GOP presidential hopeful Nikki Haley—released statements appearing to condemn his remarks, with Rubio telling conservative radio host Hugh Hewitt, "I don't know what he's trying to do or what the goal is."
"He doesn't deal with foreign policy every day," Rubio said in pointed remarks Tuesday.
However, the scope of that aid could be in question ahead of debate on a Biden budget proposal that includes a $28 billion increase in defense spending with an eye on prolonged conflict in Ukraine and potential future conflicts with Russia and China.
In her own statement to Fox News commentator Tucker Carlson, Haley reprised McCarthy's "blank check" rhetoric. While in Congress, Republicans like Florida Congressman Matt Gaetz have reportedly formed a "Ukraine Fatigue" caucus of nearly a dozen members of the House Republican conference who oppose the war, and believe the U.S. should pressure Russia and Ukraine to enter into peace talks.
Additional oversight of Ukraine funding is likely as well. In hearings on Capitol Hill last month, Republicans grilled Pentagon officials on the methods they used to monitor the recent influx of American munitions into Ukraine following a cumulative $113 billion in military and economic assistance for the country last year, with the Pentagon poised to request even more in preparation of a prolonged conflict.
McCarthy, meanwhile, has kept his cards close to his chest. Last week, the Republican Speaker of the House reportedly declined an invitation from Ukrainian President Volodymyr Zelenskyy to visit the war-stricken country as questions remain over how much additional aid his caucus would be willing to support.
"Let's be very clear about what I said: no blank checks, OK? So, from that perspective, I don't have to go to Ukraine to understand where there's a blank check or not," McCarthy told CNN in an interview. "I will continue to get my briefings and others, but I don't have to go to Ukraine or Kyiv to see it. And my point has always been, I won't provide a blank check for anything."
Newsweek has contacted McCarthy's office for comment.