In the aftermath of Tuesday's Uvalde, Texas, school shooting, Republican members of Congress are calling for a return for God as opposed to tighter gun control laws, saying the tragedy was a result of "decades of rejecting good moral values."
The mass shooting left 19 children and two adults dead after an 18-year-old gunman stormed Robb Elementary School, Texas Governor Greg Abbott said on Tuesday. The suspect, identified as Salvador Ramos and who is believed to have acted alone, was killed by police.
The devastating news has renewed the Democrats' push for gun control legislation, but members of the GOP insisted on Tuesday that gun laws were not to blame for the deadly shooting.
"Our nation needs to take a serious look at the state of mental health today. Sometimes meds can be the problem. America is failing our youngest generations from decades of rejecting good moral values and teachings," Georgia GOP Representative Marjorie Taylor Greene tweeted. "We don't need more gun control. We need to return to God."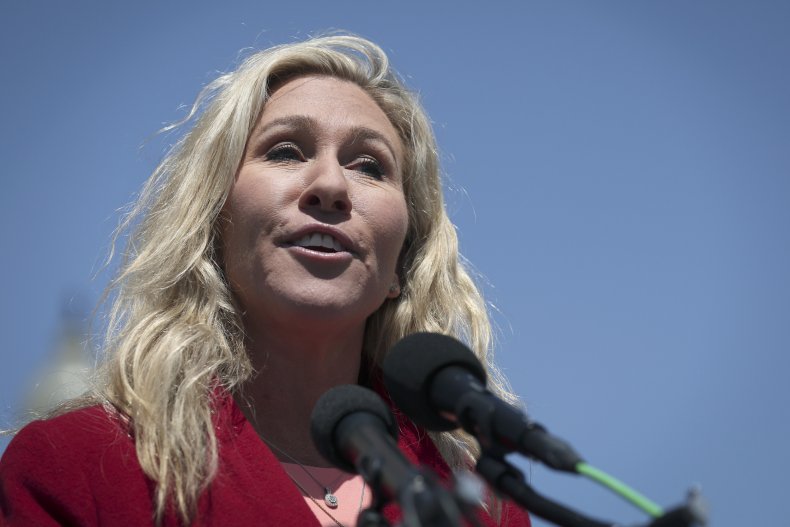 "It's time to arm the teachers and bring back prayer in our public schools," Oklahoma GOP Senate candidate Jackson Lahmeyer echoed on Twitter.
Walking off the Senate floor on Tuesday, Connecticut Democratic Senator Chris Murphy called Republican remarks blaming the shooting on a national mental health crisis "bulls**t."
"Spare me the bulls**t about mental illness. We don't have any more mental illness than any other country in the world," Murphy told reporters. "You cannot explain this through a prism of mental illness because we're not an outlier on mental illness. We're an outlier when it comes to access to firearms."
During an impassioned speech from the floor, Murphy said: "This isn't inevitable. These kids weren't unlucky. This only happens in this country and nowhere else. Nowhere else do little kids go to school thinking that they might be shot that day."
"I understand my Republican colleagues will not agree to everything that I may support but there is a common denominator that we can find," Murphy said of gun control legislation. "There is a place where we can achieve agreement that may not guarantee that American never ever again sees a mass shooting... but by doing something, we at least stop sending this quiet message of endorsement to these killers."
Tuesday's tragedy in Uvalde is now the second-deadliest school shooting since 2012, when 20 children and six adults were killed at Sandy Hook Elementary in Newtown, Connecticut.
Update 05/24/22, 8:40 p.m. ET: This article was updated with additional information and background.
Update 05/25/22, 3:06 p.m. ET: This article was updated with additional information and background.
Correction 05/25/22, 3:25 p.m. ET: An earlier version of this story misstated that Jackson Lahmeyer is a congressman. He is a Republican running for Oklahoma's Senate seat.