Republicans to Clinton Foundation: Policy Change on Donations 'Too Little, Too Late'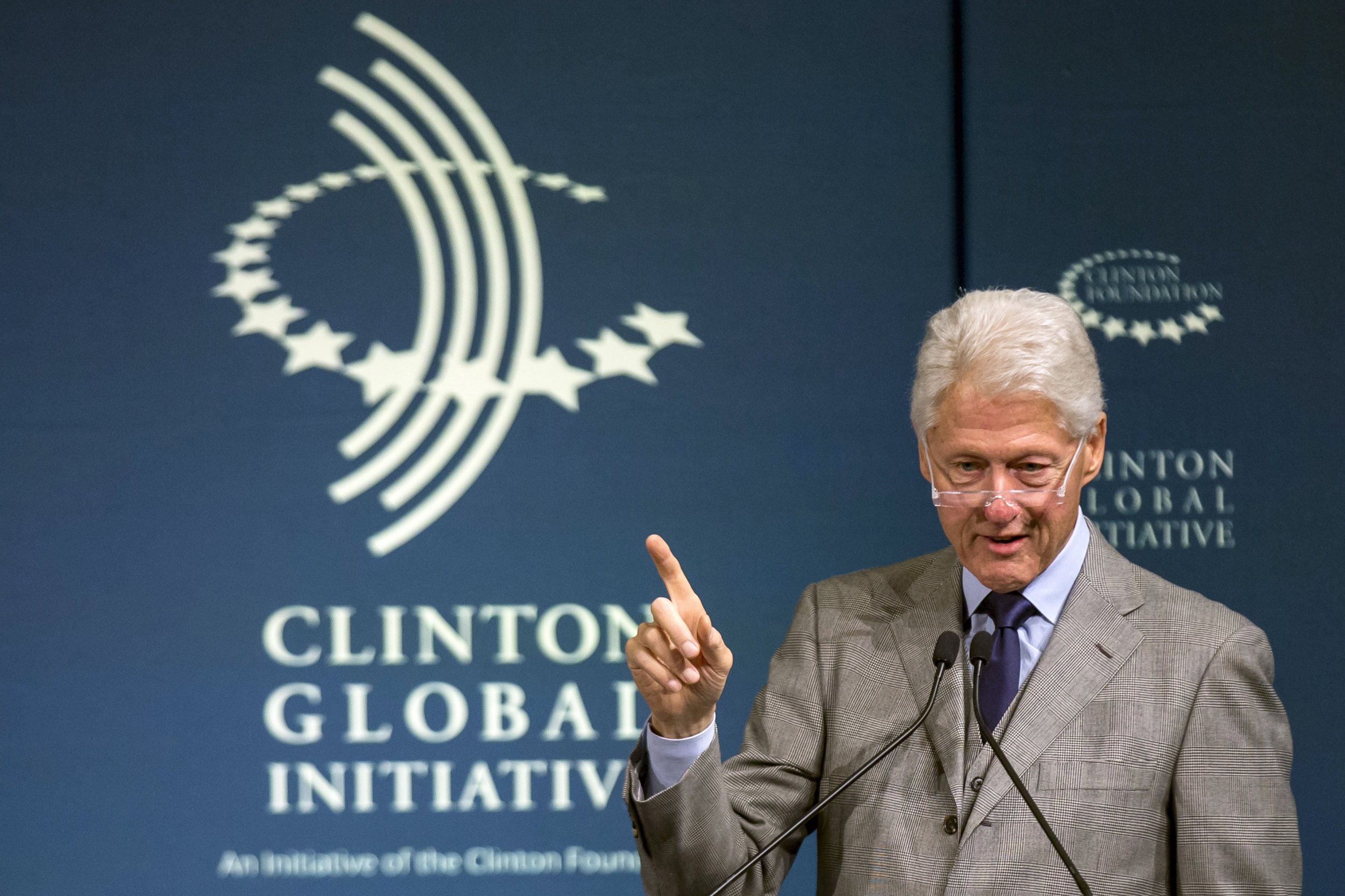 Updated | Donald Trump's campaign and others are questioning why the Clinton Foundation waited until this week to announce its plans to stop accepting foreign donations, including from corporations, non-profits and governments, if Hillary Clinton wins the November election.
Bill Clinton announced the changes during a meeting with foundation staff on Thursday, adding that his family didn't face any pressure to make the moves. But the foundation, which has raised more than $2 million for causes that focus on the environment and health and wellness in developing countries around the world, has for years been viewed by some as a conflict of interest for the Democratic presidential candidate.
Before Trump ran for president, he and his daughter Ivanka gave at least $100,000 to the Clinton Foundation because of its work with Haiti in the aftermath of the 2010 earthquake, among other projects. Now, the Republican nominee often criticizes Clinton for what he says is her lack of transparency involving the foundation.
During a town hall with Fox on Thursday night, Trump initially said Americans should give Clinton and the foundation "the benefit of the doubt" when it comes to questions about taking money from foreign countries, such as whether there is a pay-for-play type of system at work. But then the presidential hopeful said they should return donated money to countries known for poor treatment of LGBT individuals, Jewish believers and Christians.
Meanwhile, Trump's eldest son, Donald Jr., on Thursday used Twitter to question the timing of the foundation's policy change.
The newly promoted Trump campaign manager, Kellyanne Conway, also reacted, saying people should "follow the money" when it comes to the Clintons.
"They're low-class grifters and gifters at every turn, whether it's the money they make giving speeches, whether it's the pay-for-play at the State Department, whether it's what you just showed, which is they actually have the audacity to release a statement saying if she's elected, if we win, we'll actually do the right thing," she told Fox News on Thursday.
Republican National Committee Chairman Reince Priebus called the move "too little, too late."
"Now that they have admitted there is a problem, the Clinton Foundation should immediately cease accepting foreign donations and return every penny ever taken from other countries, several of which have atrocious human rights records and ties to terrorism," he said in a statement.
Bill Clinton founded his family charitable foundation after he left the White House in 2001. Hillary Clinton stepped down from its board after she launched her presidential campaign in April 2015, but her husband and their daughter, Chelsea, remained on the board. If Clinton wins the presidency this year, both her husband and daughter plan to step down from the board, and the organization will then only accept contributions from U.S. citizens and independent charities.
The family's critics have specifically targeted the donations the foundation has taken from foreign entities, saying those contributions might have influenced Clinton's decisions during her tenure as secretary of state in the Obama administration.
The organization continues to defend its philanthropic mission. The final Clinton Global Initiative gathering will be in September, regardless of the election results. Those annual meetings typically include current and former heads of state and corporate leaders.
This article has been updated to include specific information about the policy changes.