Republicans Are 'Very, Very Concerned' About Donald Trump's Immigration Purge With More Officials Set to Leave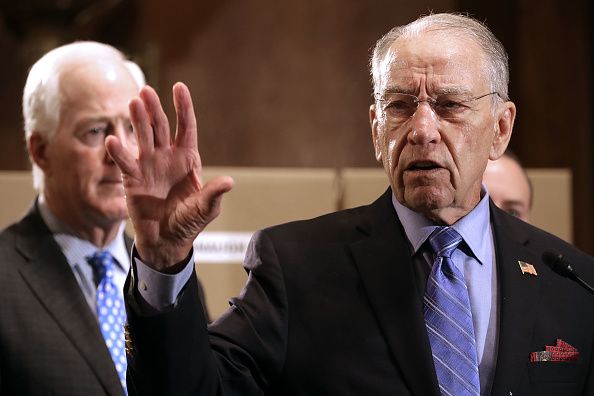 As Donald Trump continues to oust high-ranking officials in the Department of Homeland Security and other federal agencies, Senate Republicans worry that the president has only made it more difficult for his administration to solve the country's immigration crisis.
Senator Chuck Grassley told The Washington Post on Monday that he was "very, very concerned" about reports that Trump may fire Lee Francis Cissna, the director of U.S. Citizenship and Immigration Services. Cissna would be just one of several top officials to be ousted from the administration over the past week.
"One, those are good public servants," Grassley told The Post. "Secondly, besides the personal connection I have with them and the qualifications they have, they are the intellectual basis for what the president wants to accomplish in immigration."
Last Friday, the White House announced that the president was withdrawing his nomination of Ronald Vitiello to run Immigration and Customs Enforcement (ICE). Trump's reason for the withdrawal was that he wanted the agency to go in a "tougher direction."
The president also announced the resignation of the Department of Homeland Security Secretary Kirstjen Nielsen, who became the face of the administration's hardline immigration proposals, including the unpopular "zero tolerance" policy that resulted in family separations. Trump announced Nielsen's departure in an April 7 tweet, where he briefly thanked her for her service.
Following Nielsen's forced resignation, the White House said on Monday that Secret Service Director Randolph Alles would also be removed from his position. The New York Times reported that Alles had fallen out the president's favor after the agency blamed the Mar-a-Lago staff for a security breach at the club.
Senator John Cornyn told Politico "it's a "mess," referring to the situation on the border and in Washington. He said that Trump's rapid-fire dismissals struck him as "just a frustration of not being able to solve a problem."
Trump's immigration purge came amid what top officials deemed was a "breaking point" at the U.S.-Mexico border. The number of migrants and asylum seekers has continued to swell, despite Trump's warnings that he would shut down the border entirely.
And even though Trump issued a national emergency declaration earlier this year, sidestepping Congress in order to gain more funding for border security, little has been done to construct his long-promised wall.
During a visit to the border in Calexico, California, last week, the president declared that "our country is full" and insisted the immigration system was overburdened.
"The system is full. We can't take you anymore," Trump said at a roundtable event with law enforcement officials and local leaders at a border patrol station in Calexico. "Our country is full... Turn around."