Republicans Condemn 'Disgusting' Gov. Andy Beshear Effigy Hung in Kentucky by Second Amendment Protesters 
About 100 gun rights protesters who congregated at the Kentucky State Capitol on Memorial Day weekend were condemned by both democrats and republicans for hanging an effigy of Gov. Andy Beshear from a tree.
The rally, organized on Facebook by the Take Back Kentucky group, was created "to celebrate freedom and fight back against the unconstitutional shutdown over the Coronavirus."
A model dressed in a blue shirt, white pants, gloves, shoes and a photo of Gov. Andy Beshear hung with the words "sic semper tyrannis." The phrase, Latin for "thus always to tyrants," was the same phrase John Wilkes Booth allegedly shouted before assassinating President Abraham Lincoln.
The event's Facebook page explained that it was hosting speakers including "Chris Wiest, the lawyers who has successfully sued Governor Andy Beshear for overstepping his powers under the KY Constitution."
At the event, tempers ran high over decisions made by the Beshear Administration as a result of coronavirus. Since march, COVID-19-prevention legislation in Kentucky has included statewide non-essential business closures. Protesters at the Memorial Day weekend event, according to The Courier-Journal, chanted "come out, Andy" and "resign Andy."
"This is a new low and it is disgusting and wrong," said Kentucky's Senate Democratic Leader Morgan McGarvey. "I wish I were more surprised but this vitriol comes from the top. I hope Republican leaders join me in condemning violent threats against any elected official."
The Republican Party of Kentucky strongly condemned the actions of the small number of protestors who hung the effigy. "What occurred at today's rally was unacceptable and has no place in Kentucky's political discourse. The Republican Party of Kentucky strongly condemns the violent imagery against the Governor in today's protest."
The Republican Party's Speaker David Osborne issued a statement on behalf of the House Majority Caucus: "I am outraged that a group hung an effigy of Governor Beshear today at the Capitol and the House Majority Caucus condemns this act of hatred. The party of Lincoln will not condone this. There is no place in a civil society for it, nor is there any good to be accomplished from it. This weekend we honor those who died defending our right to speak freely. Today's actions are an insult to their sacrifice and the kind of incendiary action that can only cause harm."
The effigy of Gov. Andy Beshear was hung near where the Governor, First Lady, and their two young children live, and the act "reeks of hate and intimidation and does nothing but undermine our leading work to battle this deadly disease and restore our economy safely," said House Democratic Leader Joni Jenkins, House Democratic Caucus Chair Derrick Graham and House Democratic Whip Angie Hatton said in a statement on Sunday evening.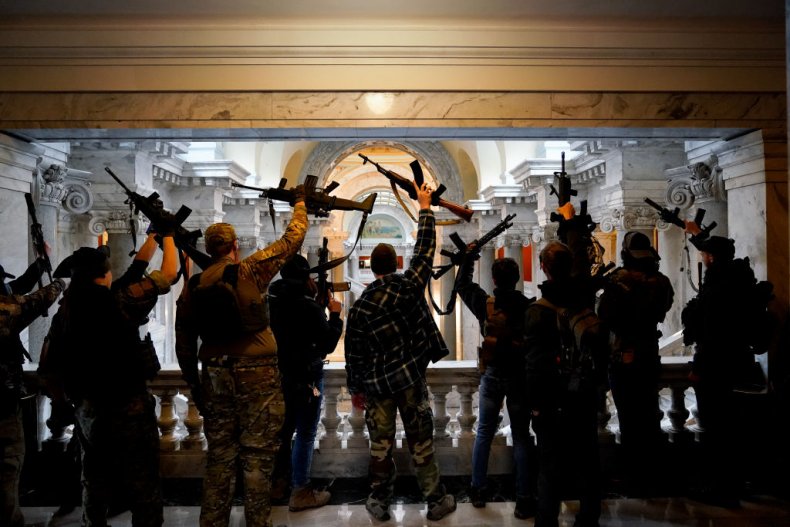 Coronavirus-prevention legislation in Kentucky included a statewide "Healthy at Home" policy issued in March, in which 'non-life-sustaining' businesses, not including gas stations, grocery stores, firearm retailers and hardware stores were forced to temporarily close.
Residents were also told not to leave the state. Gov. Beshear announced the state would record the license plates of people attending Easter church services, and those found going to church would be asked to self-quarantine for 14 days. He also asked residents to wear masks in public when businesses began to reopen.
Those including museums, libraries and outdoor attractions will begin to reopen in Kentucky from June 8.
Newsweek has requested comment from Gov. Beshear and Take Back Kentucky.