Republicans Condemn Firing of Space Force Commander Over 'Partisan Political Activity'
Republicans have condemned the firing of a commander of a U.S. Space Force unit for making partisan political comments during a public podcast.
On Friday, Space Force Lt. Gen. Stephen Whiting dismissed Lt Col. Matthew Lohmeier, commander of 11th Space Warning Squadron at Colorado's Buckley Air Force Base, due to a lack of confidence in his leadership abilities, according to Military.com.
"This decision was based on public comments made by Lt. Col. Lohmeier in a recent podcast," a Space Force spokesperson said in a statement to the outlet. "Lt. Gen. Whiting has initiated a Command Directed Investigation on whether these comments constituted prohibited partisan political activity."
This month, Lohmeier published a book titled Irresistible Revolution: Marxism's Goal of Conquest & the Unmaking of the American Military. The author appeared in an episode of Creative Destruction's Information Operation podcast to promote his book about the impact of the neo-Marxist agenda on the U.S. armed forces.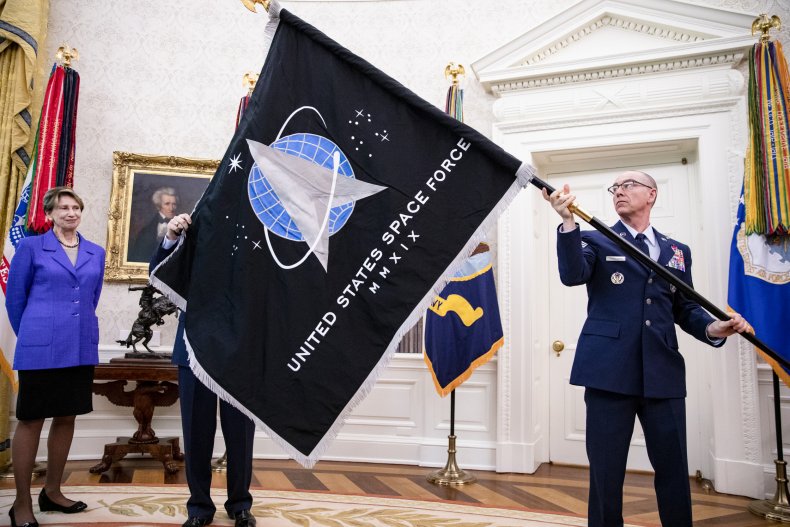 During the interview, Lohmeier reportedly discussed the "divisive" effects of diversity training.
"The diversity, inclusion and equity industry and the trainings we are receiving in the military ... is rooted in critical race theory, which is rooted in Marxism," he said.
Lohmeier claimed that his book is not political. Rather, he told the host that it's intended to educate Americans about the increased politicization of the U.S. armed forces.
"My intent never has been to engage in partisan politics. I have written a book about a particular political ideology (Marxism) in the hope that our Defense Department might return to being politically non-partisan in the future as it has honorably done throughout history," he added in an emailed statement to Military.com.
Republican figures took to social media on Sunday to criticize Lohmeier's removal from his command.
Texas Senator Ted Cruz called the report "troubling."
Florida Rep. Byron Donalds tweeted: "Lt. Col. Matthew Lohmeier is a hero, not only for putting on the uniform every day to defend our nation but also to defend the freedoms of the leftist mob attempting to cancel him. CRT should have no place in our classrooms, Armed Forces, or country as a whole."
"It's outrageous that Lt. Col. Matthew Lohmeier was removed from his command in the Space Force for voicing concerns that the U.S. military is promoting Marxist ideologies." Colorado Rep. Ken Buck wrote on Twitter.
Willie H. Montague, a 2020 GOP Florida congressional candidate, posted: "Please contact me, I would like to speak with you! Thank you for standing up for what's right!"
"@matthewlohmeier Thank you for your boldness and faithfulness. Promise prayers for you and your family, seek the face of the Lord and stay strong!" said Dan Beeman, a priest at Norfolk's Holy Trinity Catholic Church.
Jesse Kelly, a 2012 Arizona congressional candidate, tweeted: "Just want everyone to know this man is a hero. I don't use the term lightly. He knew The System would destroy his career for dissent, but he spoke up anyway. It will take men like this for us to win. Lt. Col. Matthew Lohmeier deserves to be honored."
Newsweek reached out to the U.S. Space Force for comment. This story will be updated with any response.