Republicans Condemn Trump Supporters Storming U.S. Capitol: 'This Is a Coup Attempt'
Republican lawmakers condemned supporters of President Donald Trump who stormed the U.S. Capitol during a joint session of Congress on Wednesday, with at least one GOP congressman describing their actions as a coup.
Hundreds of the president's supporters—whom Trump urged to come to Washington, D.C., for "wild" demonstrations—marched to the Capitol with little pushback from law enforcement. Although a small contingent of Capitol Hill Police were at the site, the Trump supporters—some of whom were carrying Confederate flags—quickly breached the barriers and entered the building.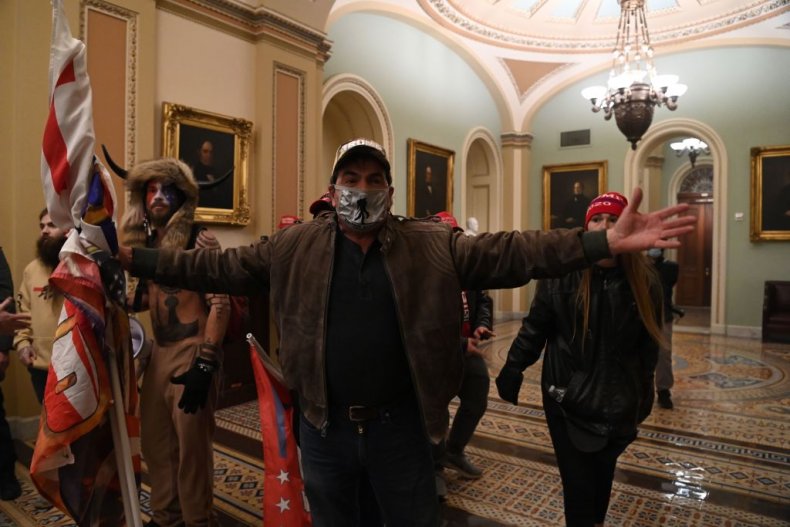 Lawmakers, who were meeting to formally count the electoral votes and certify President-elect Joe Biden's win, have been evacuated, while some law enforcement officers are reportedly in an armed standoff with demonstrators.
"This is a coup attempt," Representative Adam Kinzinger, an Illinois Republican, tweeted. The congressman has been highly critical of Trump's unsubstantiated claims of widespread voter fraud.
"You are not protecting the country. Where is the DC guard? You are done and your legacy will be a disaster," Kinzinger wrote in a follow-up Twitter post, retweeting a post by Trump criticizing Vice President Mike Pence.
"We can disagree but we should not take it to this level. This is unacceptable.... You do not do what is happening right now. People are being hurt. This is unacceptable," GOP House Minority Leader Kevin McCarthy told Fox News, confirming that shots had been fired inside the Capitol.
Representative Mike Gallagher, a Wisconsin Republican, took aim at Trump and blamed the president directly for the violence.
"The president needs to call it off. Call it off! Call it off! It's over. The election is over. And the objectors need to stop meddling with the primal forces of our democracy here," Gallagher told CNN.
"United States Capitol Police saved my life," GOP House Minority Whip Steve Scalise tweeted. "Attacks on law enforcement officers trying to do their jobs are never acceptable. Period. We can passionately protest without being violent," he wrote.
Senator Ted Cruz, a Texas Republican, said the demonstrators' actions were "unacceptable."
"Violence is always unacceptable. Even when passions run high. Anyone engaged in violence—especially against law enforcement—should be fully prosecuted," Cruz wrote on Twitter. "God bless the Capitol Police and the honorable men & women of law enforcement who show great courage keeping all of us safe."
Meghan McCain, the daughter of the late Republican Senator John McCain of Arizona, also criticized the demonstrations.
"This accomplishes nothing. Pray for our country and Capitol police," she wrote.
Laura Ingraham, a Fox News opinion host, called out the demonstrators actions as well.
"Anyone who thinks this is going to grow the MAGA movement is delusional. It hurts the movement, the Trump legacy, and, of course, the country," she tweeted.
Even Donald Trump Jr. criticized the protesters.
"This is wrong and not who we are. Be peaceful and use your 1st Amendment rights, but don't start acting like the other side. We have a country to save and this doesn't help anyone," the president's son tweeted, sharing a clip of the clashes outside the Capitol.
Kellyanne Conway, the president's former senior adviser, urged the demonstrators to stop as well.
"STOP. Just STOP. Peace. Law and Order. Safety for All," she tweeted.
As the Capitol was evacuated, with demonstrators walking through the building and clashing with law enforcement, the president also urged his supporters to be peaceful.
"Please support our Capitol Police and Law Enforcement. They are truly on the side of our Country. Stay peaceful!" he wrote.
Newsweek reached out to the Capitol Hill Police for comment but did received a reply before publication
Updated January 6, 2021 at 3:38 p.m. ET: This article has been updated with additional Republican reactions.