Republican strategist Amanda Carpenter has suggested that supporters of President Donald Trump may be "setting up" acting White House Chief of Staff Mick Mulvaney to take the fall for the president in one of the ongoing impeachment inquiry's most important claims.
"I think there is a strategy coming together at play where they think they could scapegoat all of the crazy meetings, all the conspiracy theories on Rudy Giuliani—but leave the discussion about aid somewhere else," said Carpenter on CNN's The Lead Wednesday. "Because there's really only one person that I think can answer that question and it is probably Mick Mulvaney. They are setting him up, I believe. And we'll see where that goes."
Carpenter was part of a panel discussing the Trump impeachment inquiry testimony of U.S. Ambassador to the European Union Gordon Sondland. The ambassador appeared to have caught Republicans off guard Wednesday by apparently confirming that the president had attempted to pressure Ukraine President Volodymyr Zelenskiy into investigating political rival Joe Biden. Sondland said he was involved in the scheme "at the express direction" of Trump. He also claimed that "everyone was in the loop" about the arrangement, including Mulvaney.
In October, Mulvaney appeared to acknowledge that a "quid pro quo" arrangement involving Trump withholding aid to Ukraine in exchange for an investigation of Democrats had occurred, saying in a press conference that such arrangements happen "all the time" and people need to "get over it." He quickly denied that he had made the remarks in a statement. However, video of the press conference exists, which shows Mulvaney making the comments.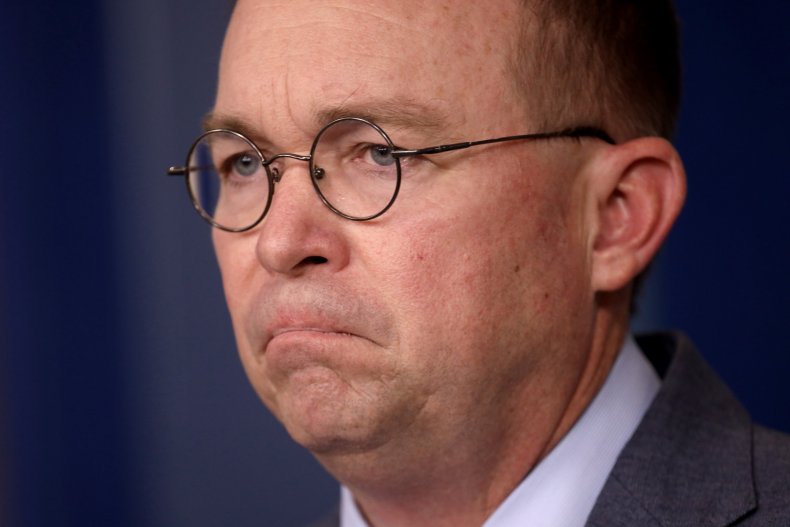 Carpenter said she believes that although Sondland implicated Trump and White House staff in an alleged quid pro quo arrangement involving withheld visits to the White House, he purposefully avoided talking about the alleged withholding of aid, something which Mulvaney could potentially be blamed for later.
"What I found interesting about the testimony from Sondland today is that he's trying to draw a big distinction between the quid pro quo regarding the White House visits and the aid," said Carpenter. "He owns up to the fact, yeah, we pretty much held up the White House visits for these investigations. He doesn't deny that. But every time the discussion got to the money, [he] didn't want to hear anything about this."
Carpenter seemed dismissive when anchor Jake Tapper asked what she thought about the denial issued by White House Press Secretary Stephanie Grisham, who appeared to disagree with most observers by claiming that Sondland's testimony suggested "no quid pro quo ever occurred."
"Who cares what she thinks," said Carpenter.