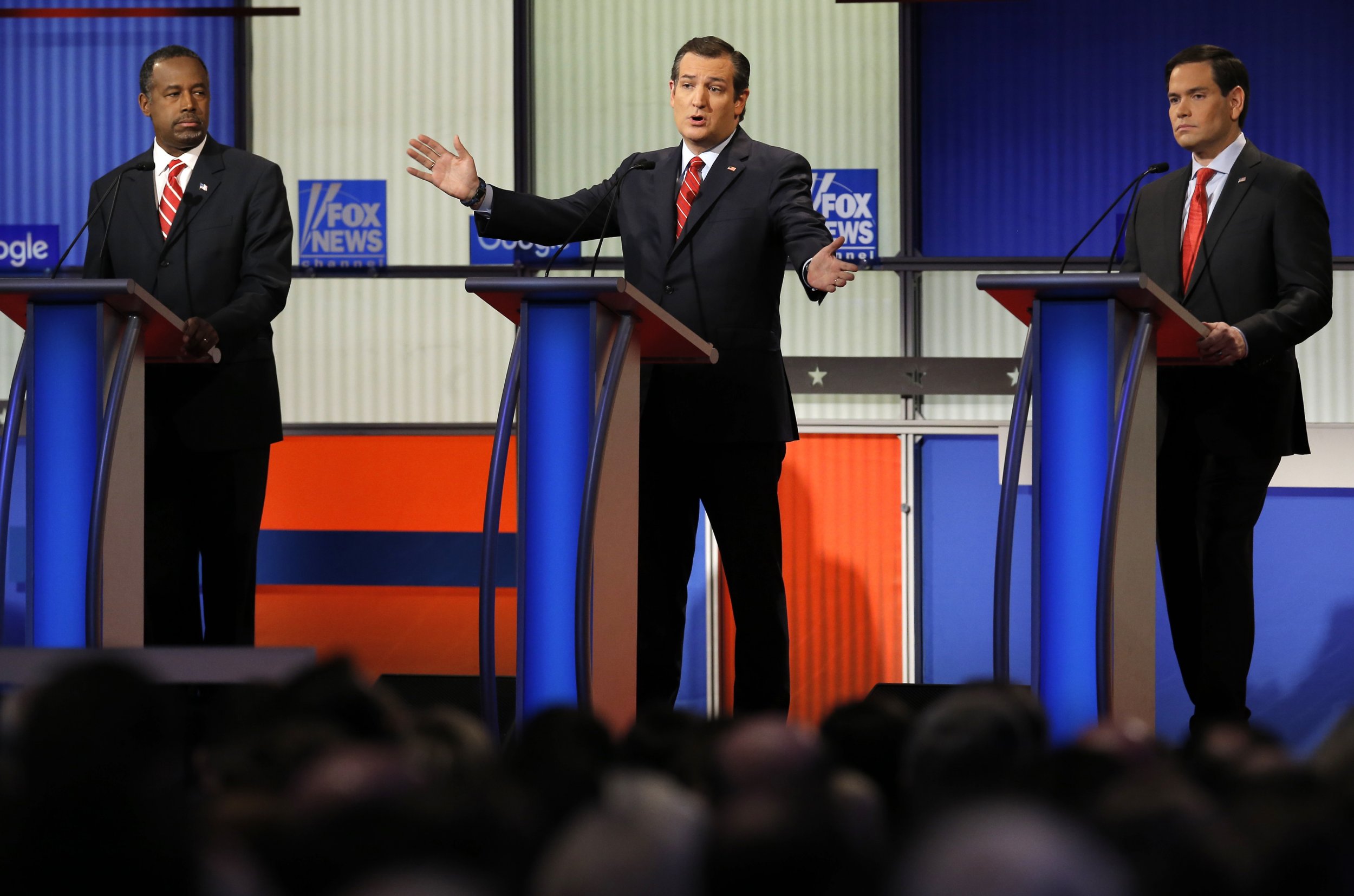 Things felt a lot more predictable in the Republican debate Thursday night in Des Moines, Iowa, without the party's bombastic front-runner.
Real estate mogul Donald Trump made good on his promise not to show up for the debate after feuding with Fox News over its moderators, a risky move just days before Iowa's caucuses kick off the election season next week. But Trump's opponents made sure he was not forgotten.
"I'm a maniac, and everyone on this stage is stupid, fat and ugly," Texas Senator Ted Cruz said at the debate's outset. "And now that we've got the Donald Trump portion out of the way..."
Trump's absence meant less ad-hominem attacks, but also a lot less spontaneity. Most of the exchanges felt familiar, a rehashing of many of the same disputes seen in previous debates. Cruz once again attacked his Senate colleague, Florida Republican Marco Rubio, for flip-flopping on immigration when he worked on a failed bipartisan reform plan. Rubio, in turn, critiqued Cruz for not supporting defense budgets in the Senate.
The moderators pushed both men—the two front-runners in Iowa behind Trump—on their policy inconsistencies, playing video of the two senators' previous statements to document how they've shifted their stances. Marshalling that sort of evidence has proven necessary given how, in previous debate, candidates flat-out lied about past positions, suggesting the media was making up their statement. And it put both Cruz and Rubio on the defensive.
At one point, Cruz joked, "If you guys ask one more mean question, I may have to leave the stage."
The three Fox News hosts, Chris Wallace, Brett Baier and Megyn Kelly, were consistently tough, shutting down Cruz and Ohio Governor John Kasich when they tried to interrupt and countering candidates who quarreled with the substance of their questions.
Cruz and Rubio dominated in terms of the amount and duration of their exchanges, but neither jumped out as a clear winner. Senator Rand Paul, who returned to the main debate stage after dropping to the early debate at the beginning of the month, seized several opportunities to contrast himself with the rest of the field. With a raucous cheering section in the Iowa Events Center in Des Moines hollering at his every statement, Paul highlighted his support for criminal justice reform and his opposition to NSA spying programs, saying Americans don't have to trade their civil liberties to gain security.
New Jersey Governor Chris Christie pitched himself as a solutions-oriented chief executive. "There is no reason why you can't stand for principles and also...be able to get things done in government," Christie insisted. Retired neurosurgeon Ben Carson demonstrated he's been studying up on policy, offering some of his most fluid responses to national security questions and deftly explaining why his background qualifies him to be president. "I've had more 2 a.m. phone calls than everybody here put together, making life and death decisions," Carson noted.
Kasich and former Florida Governor Jeb Bush promised to be uniters who could bring more people into the Republican tent. But all of them struggled to inject themselves into the discussions.
In the "undercard" debate earlier on Thursday, the four Republicans polling the lowest in national surveys made their pitch to be the upset candidate of 2016. Two of them—former Arkansas Governor Mike Huckabee and former Pennsylvania Senator Rick Santorum—played that role in 2008 and 2012, respectively. But their odds are looking incredibly long this time around, and their closing remarks at the end of the hour-long forum took on an almost bittersweet tone, as they noted their time spent in Iowa and thanked the state's voters.
And former CEO Carly Fiorina sought to endear herself to conservative voters by taking potshots at Clinton, refusing to backtrack from a jab at Clinton's marriage she made at the last debate. Fiorina didn't flinch when Fox moderator Martha Maccallum noted she had promised earlier this year to wage a positive campaign. " It wasn't a personal attack," Fiorina insisted. "I was pointing out the fact that Hillary Clinton will do anything to gain and hang on to power, anything. Listen, if my husband did what Bill Clinton did, I would have left him long ago."
Former Virginia Governor Jim Gilmore, meanwhile, got his first shot on the debate stage—any debate stage—since the party's first forum back in August. "I think it's been a wonderful opportunity," he enthused in his closing remarks.