Top Republicans Blame 'Socialist Colleagues' To Defend Trump's Racist Tweets
Top Republican leaders in the House came to the defense of President Donald Trump Tuesday, instead choosing to lambast their Democratic counterparts as "socialists" who were playing political games in the wake of the president doubling down on his racist tweets against minority congresswomen.
The failure to condemn Trump was in contrast to some rank-and-file GOP members of Congress, but it was largely in step with the party and came just hours before the House was set to vote on a resolution that would formally condemn the nation's top leader for telling four progressive lawmakers, three of whom were born in the U.S. and all of who are American citizens, to "go back" to the "crime infested places" they "came from."
"I believe this is about ideology. This is about socialism vs. freedom," House Minority Leader Kevin McCarthy, a Republican, told reporters.
Asked whether Trump's remarks, which have been labeled by both Democrats and Republicans as "racist" and "xenophobic," were racist, McCarthy responded in the negative. "Let's not be false about what is happening here today," he continued. "This is all about politics and beliefs of ideologies of what individuals have."
House Majority Leader Steny Hoyer, a Democrat, later labeled those comments as "baloney."
The four minority congresswomen whom Trump targeted were Alexandria Ocasio-Cortez of New York, Ilhan Omar of Minnesota, Rashida Tlaib of Michigan and Ayanna Pressley of Massachusetts—all outspoken critics of the administration's handling of migrant detention centers along the southern border and who represent the caucus' left-wing. They've been dubbed the nickname "The Squad," a term they've come to embrace.
McCarthy further said he would push Republicans not to support Democrats' resolution, which "strongly condemns President Donald Trump's racist comments." Some Republicans have already signaled they may vote in favor of it based on their public condemnation of Trump's remarks. However, that number is expected to be insignificant.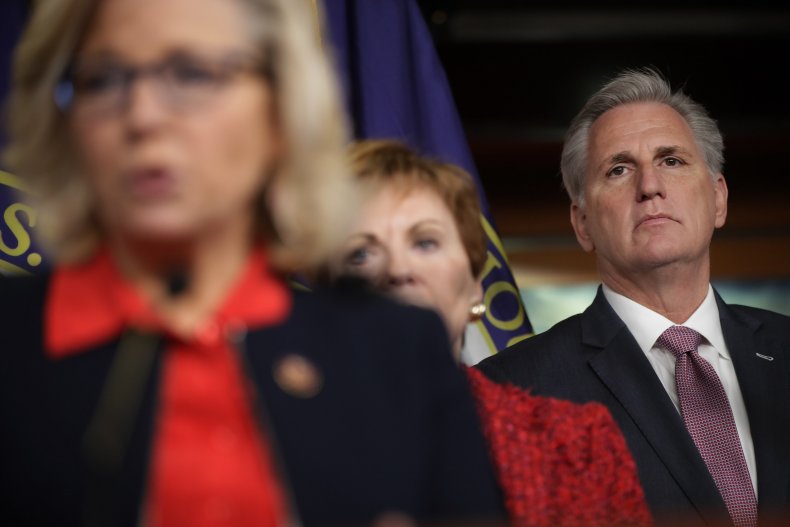 Several Republicans, including Will Hurd of Texas and the chamber's lone black GOP member, Chip Roy of Texas and Paul Mitchell of Michigan, labeled Trump's racist tweets as "racist" and "xenophobic," "wrong" and "beneath leaders," respectively. GOP Representative Mike Turner of Ohio also called the tweets "racist."
But Mitchell said in a statement Tuesday that despite his condemnation, he viewed the resolution as "yet another partisan action" and would therefore not support it.
"This is, I hope, one where we will get Republican support," House Speaker Nancy Pelosi said during a closed-door caucus meeting Tuesday morning, according to an aide in the room. "If they can't support condemning the words of the President, well that's a message in and of itself."
Rules Committee Chairman Jim McGovern, a Democrat, urged caution to his colleagues during the caucus meeting, according to the aide. He said for members to choose their words carefully when speaking on the House floor so as to not violate formal rules and provide political ammo to Republicans.
House Republican Conference Chairwoman Liz Cheney and Minority Whip Steve Scalise, who flanked McCarthy at a press conference, also tried to make socialism the brunt of the issue.
"I want to make absolutely clear that our opposition to our socialist colleagues has absolutely nothing to do with their gender, with their religion or with their race," said Cheney. "It has to do with the content of their policies. They're wrong when they attempt to impose the fraud of socialism on the American people."
Scalise suggested that House Democrats have treated Trump worse than how House Republicans treated President Barack Obama, in part based on a growing swath of Democrats who advocate for opening an impeachment inquiry into Trump.
"As [Cheney] laid out, there a lot of policies that we had disagreements on with Speaker Pelosi and her socialist Democrats, just like we had disagreements with a lot of Barack Obama's policies," Scalise said. "But we never disrespected the office. I called him president of the United States, as we all did."
Pressed on whether he believed it would be racist if someone suggested for his wife, Elaine Chao, Trump's Department of Transportation secretary who is an immigrant and naturalized citizen, to "go back" to her country, Senate Majority Mitch McConnell, a Kentucky Republican, deflected and declined to condemn Trump. He stated that he is "a big fan of legal immigration" and it was "about time we lowered the temperature all across the board."
"The secretary... came here at age 8—legally—not speaking word of English and has realized the American dream," McConnell said. "As I said, the legal immigration has been a fulfilling of the American dream. The new people who come here have a lot of ambition, a lot of energy, tend to do very well and invigorate our country. And my wife is a good example of that."
Trump continued to not back down Tuesday morning from his controversial remarks, saying in a series of tweets that his prior statements on the social media platform "were NOT Racist." He urged members of his party to vote against the resolution.
"I don't have a Racist bone in my body!" Trump tweeted. "The so-called vote to be taken is a Democrat con game. Republicans should not show 'weakness' and fall into their trap."
Ahead of the resolution vote, some more progressive members believed it did not go far enough, such as Representative Steve Cohen. He filed a resolution on Monday to censure Trump, a move that some other members said they supported and which would be a step further than a resolution, despite carrying no legal consequences with it.
"Some people feel strongly that censuring is a tougher response," Democrat Bill Pascrell of New Jersey told reporters. "And, you know, I would agree with that. But I'm going to support the resolution."
Democratic leadership pushed back against censuring the president following the morning caucus meeting. Caucus chair Hakeem Jeffries said a resolution was the "right approach to take at this moment."
"There will be accountability measures that we'll have to consider as we move forward," Jeffries added.
This story was updated to include comments made by Senate Majority Leader Mitch McConnell.