Democrats Taking More Precautions Than Republicans Amid Coronavirus Spread, Poll Shows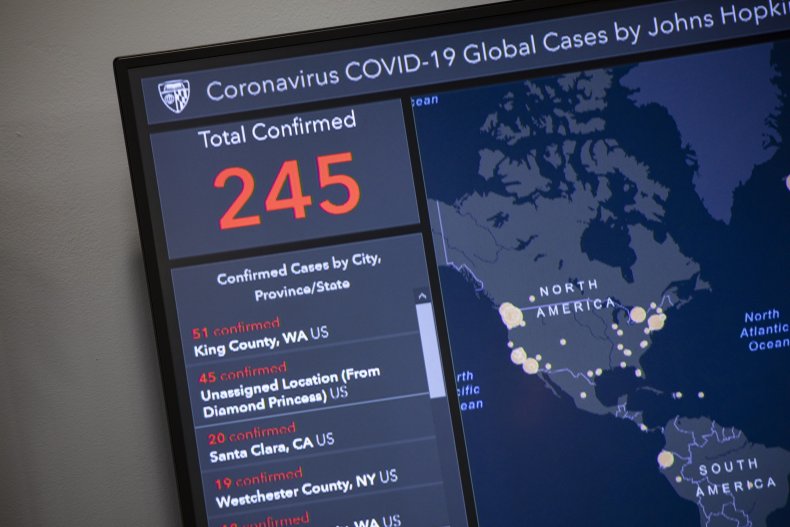 Democrats are more likely than Republicans to be taking precautionary measures in response to the spread of the coronavirus in the United States, a new Reuters/Ipsos poll has found.
In the survey, conducted from March 2 to 3, about 48 percent of Democratic respondents said they washed their hands more often to prevent transmission of the virus, 10 percentage points higher than the same share of Republicans.
Twenty-one percent of Democrats reported taking steps to avoid physical contact with others, 7 percentage points higher than Republicans who report the same. And 8 percent of Democrats have recently altered travel plans, nearly three times the share of Republicans who have also done so.
In fact, 54 percent of Republicans said they haven't changed their daily routine whatsoever, compared with just 40 percent of Democrats who say they haven't.
Panic and concern over the virus have caused stocks of masks, hand sanitizer, disinfectant and other hygienic equipment to deplete swiftly. At least 17 people in the United States have died from COVID-19, the disease cause by the coronavirus.
President Donald Trump, his administration and an ad hoc task force led by Vice President Mike Pence have sought to allay fears, but questionable claims and misinformation has imperiled their grip over the public-facing portion of the crisis.
Pence recently promised that "roughly 1.5 million tests" for COVID-19 would be made available, after critics noted that the government did not appear to have an effective plan to account for the potentially rapid spread of the virus.
However, an estimate from The Atlantic concluded that fewer than 2,000 people, it appears, have actually been tested in the United States.
Trump himself has contributed to the flow of misinformation, which, critics contend, may be leading fervent supporters to dismiss scientific best practices.
The president said in a recent interview that people sick with the virus could convalesce "by sitting around and even going to work," contradicting advice that prescribes self-quarantines for individuals suspected of being ill.
He also said he doesn't believe the actual death rate of the virus is as high as 3.4 percent, which is the number officials at the World Health Organization have currently ascertained.
"I think the 3.4 percent is really a false number," Trump told Fox News host Sean Hannity. "Now, this is just my hunch...but based on a lot of conversations with a lot of people that do this, because a lot of people will have this, and it's very mild. They will get better very rapidly. They don't even see a doctor."