Republicans Scramble for Arguments Against Donald Trump Impeachment
Republican lawmakers opposing President Donald Trump's potential impeachment have harked to Democrats' calls for unity as they argue against such action.
Calls have mounted for Trump's power to be stripped prematurely following the violent scenes at the U.S. Capitol on January 6, which left five people dead.
Vice President Mike Pence has been urged to invoke the 25th Amendment and install himself as acting president for the remainder of Trump's term, though with no such action forthcoming Democrats have pursued impeachment.
While some Republicans have similarly spoken of ousting Trump, many hold reservations and have questioned the impeachment route.
A common thread in arguments has been the concern that this would exacerbate partisan splits in the nation, at a time of already heightened political tensions.
Rep. Tom Reed (R-NY) outlined in a New York Times opinion piece that while he thinks Trump "needs to be held accountable for his actions," impeachment "isn't the answer."
"A snap impeachment will undoubtedly fuel the divisions between our citizens at a time when the wounds of January 6 are still raw," he wrote.
His piece concluded: "We cannot and should not support a rushed, divisive action simply because the emotions of the moment demand it.
"That is not the American way."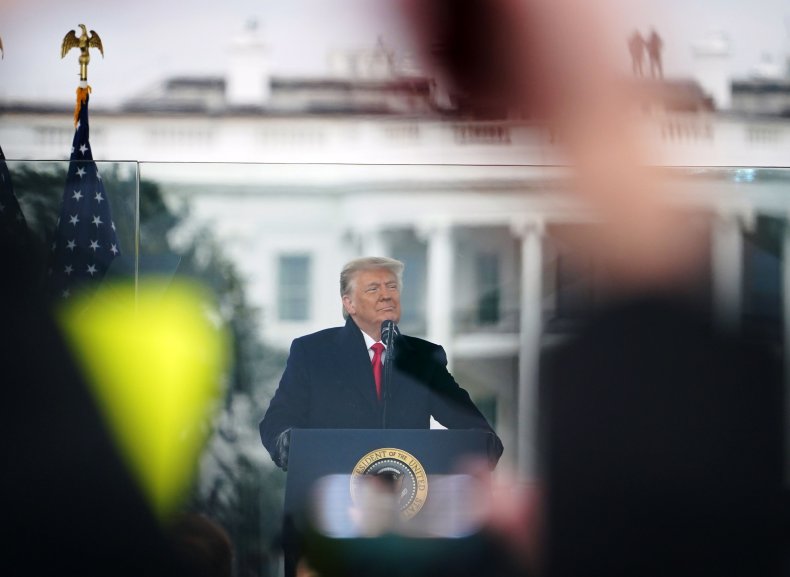 Rep. Yvette Herrell (R-NM) said she does not think either invoking the 25th Amendment or going through another impeachment would be "healthy for the nation."
"I think it puts fuel on the fire and I'm not in favor of that," Herrell said in a tweet.
Impeachment was branded "unnecessary" and "divisive" by Rep. Matt Gaetz (R-FL), who said it is "only being done because Democrats want to keep the focus on President Trump so they can hold together their fragile coalition."
House Minority Leader Kevin McCarthy (R-CA) similarly argued against the suggestion of impeachment last week when he suggested it "will only divide our country more" in a statement.
President-elect Joe Biden's election campaign centered around a desire to unite the nation, as have addresses he has made since his victory.
"The work of the next four years must be the restoration of democracy and the recovery of respect for the rule of law, and the renewal of a politics that's about solving problems—not stoking the flames of hate and chaos," he said in a recent post.
Polling has suggested that impeachment would prove divisive, with a clear partisan split in regard to believing ousting Trump is appropriate.
A January 11 survey of 18,985 U.S. adults conducted by YouGov found that while 73 percent of Democrats strongly support impeachment, 65 percent of Republicans strongly oppose it.
Julie Norman, a lecturer in politics and international relations at University College London, previously told Newsweek that while impeachment will garner support in the House, the Senate is less likely to support a vote to oust the president.
Norman also raised the concerns of divisions, adding: "The question remains as well if impeachment would just further rend the country, deepen divisions inside and outside Washington, stoke the grievances of Trump's base, and make things even harder for Biden, who reportedly has not advocated for pursuing impeachment as yet."
Newsweek has contacted the lawmakers mentioned for further comment.
The graphic below from Statista highlights polling where respondents were asked if Trump should be removed from office early.